These type of 'every day' blog post entries are so we can look back in time and remember our routines.
We tend to forget what we do on a daily basis and the blog side of the website will act like a photo album as well as a recorded space of the things we do if you see what I mean.
This particular one belongs to a couple of times we've been to Los Gigantes in the south of Tenerife (just found that Google Travel Guide link, very cool indeed).

By Diego Delso, CC BY-SA 3.0, Link
Check out Los Gigantes in Wikipedia here. I'm not really interested in writing about areas of interest within the region, how big/small the town/beach is, kilometres from blah to blah, weather throughout the year, etc etc. You can check all of that here, here and here. What interests me is to tell you about the places we're enjoying at the moment and post a few photos of the area. Simple!
 By Daniel Gaínza (Tenerife) – Own work, CC BY-SA 4.0, Link
Can you feel the energy from the photos? This excites me, yes. In October I'll be doing my VortexHealing course in London and I can't wait. As my awakening unfolds energy levels are more and more sensed. It feels very natural to sense energy before anything else… and Tenerife in general is PACKED with it.

By Werner Hölzl – Own work, CC BY-SA 3.0, Link
The arial view below is wonderful. Los Gigantes is quite small, but very, very sweet. Opposite to another popular holiday area in Tenerife (Los Cristianos), Los Gigantes is quiet and small enough to walk in no time.

By Wouter Hagens – Own work, CC BY-SA 4.0, Link
And there's me : )
We didn't have a good photo of the two of us, so it had to be me in the end.
We had a great time and we will be coming to this beach many times. The cliffs are incredible and I think that's what gives them power.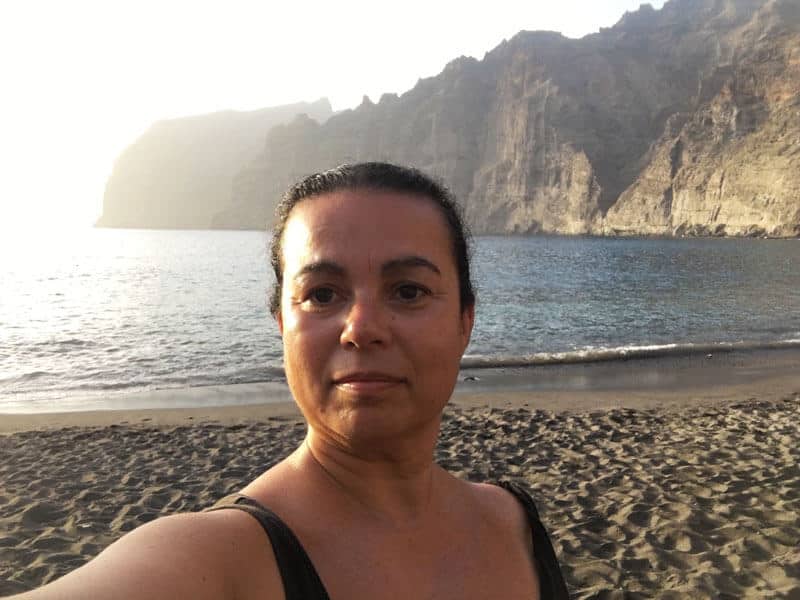 If you ever come to Tenerife, Los Gigantes will be waiting for you!
I am a lay person without medical qualifications. Back in 2010, my life spun out of control and I've had to gradually turn it over in order to adopt a healthier, more natural approach to wellbeing in general. This has not been an easy task! Years and years of conditioning, habits and addictions got in the way, and a lot had to be undone. Oh, boy, slowly but surely, I must say I've come far. That's how this website was born. I now formulate natural skincare, prepare daily herbal remedies and use the power of essential oils to deepen my sense of wellbeing on a daily basis. At present, I'm going through the acclaimed Formula Botanica course "Diploma in Organic Skincare Formulation", practice with a herbalist on a hands-on course around Traditional Herbalism in the Canary Islands (Spain), improve my skills through an online Aromatherapy course with the award-winning health and beauty brand Neal's Yard Remedies and, needless to say, continuously read and learn about natural health and wellbeing. In the summer of 2017, I experienced a profound spiritual awakening, and realised that this journey has only just started…