Herbatint Hair Color: Herbatint Review with Before & After Photos
Last updated on April 2nd, 2023 at 06:29 pm
Herbatint Hair Color Review & Why we Bought this Product 
I had never heard of Herbatint hair color til Lynn needed to dye her hair and we suddenly were forced to look for a natural solution that worked.
We had never used any natural hair dye brands before, and I'm not an expert in applying permanent color to the hair either, so it was all a little cumbersome. I was willing though, and she was desperate.
On our visit to a herbalist we found Herbatint amongst other natural dyes and after much deliberation we decided to purchase it.
Find below about the product, what we thought and results.
Herbatint Hair Dye as a Natural Option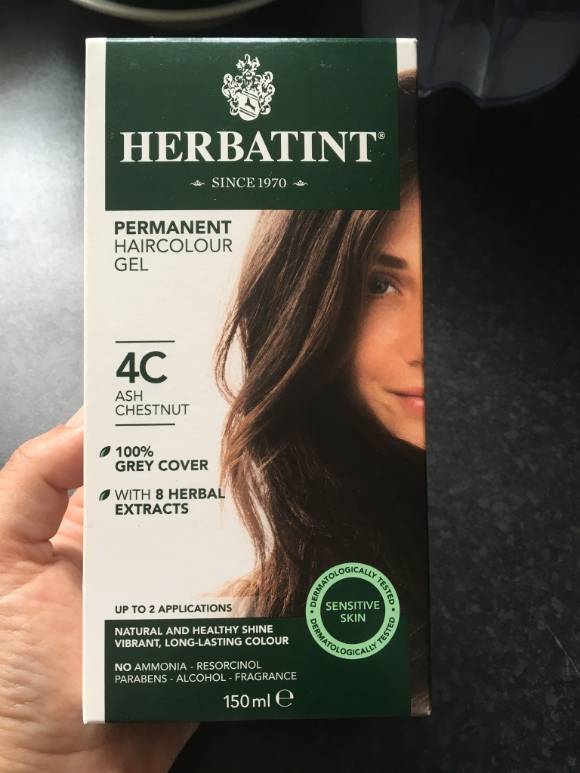 According to the box, Herbatint permanente haircolor does a 100% grey cover, it has 8 herbal extracts (more on that below), it is free from ammonia, resorcinol, parabens, alcohol and fragrance and apt for sensitive skin.
We were attracted to the idea of a natural dye and Herbatint checked all the boxes.
Product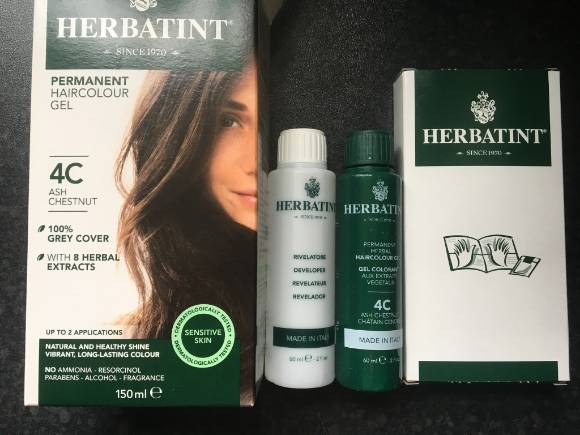 Herbatint permanent herbal haircolour is a permanente hair color dye kit that comprises 1 box containing: 1x Herbatint haircolor gel container (60ml), 1x developer plastic container (60ml), 1x Normalizing shampoo sachet, 1x Royal Cream (conditioner) sachet, 1x pair of plastic gloves and 1x instructions on 8 different languages (for photos see Herbatint Application Kit below). The box has up to 2 applications.
1 bottle Herbatint haircolor gel 60 ml / 2 fl oz.
1 bottle Developer 60 ml / 2 fl oz
1 sample of Royal Cream 15 ml / 0,5 fl oz
1 leaflet containing directions for use and gloves
There are 36 available color shades and you can also mix and match to find your own color tone for a more natural look. So, in general, a good range!
For first time users, please note that the Herbatint Application Kit, containing a brush, measuring cup and protection cape is sold separately. This reduces waste as all items included are made to be re-used.
Description
Since 1970
100% Grey Cover
With 8 Certified Herbal Extracts
Up To 2 Applications
Natural and Healthy Shine Vibrant, Long-Lasting Color
No Ammonia – Alcohol – Parabens
Sensitive Skin – Dermatologically Tested
Gluten Free
Cruelty Free and Vegan
How Long Does it Last
It says permanent, so we think until it grows out. So depending on how fast your hair grows.
Our Rating
We're going to give Herbatint a 5 our of 5. The results are impressive, but also we like the brand and how Herbatint was created, the ingredients and company policy in general. So, yes, we're going to give this a 5 out of 5.
Who Benefits from this Natural Hair Dye?
Anyone who wants to cover grey hair or add a tint to their hair tone. Anyone who wants to use natural ingredients and also wishes to benefit from organic herbal extracts. Anyone committed to using natural products will probably like Herbatint.
A Little on the Company and Brand
Herbatint is made by Antica Erboristeria in Italy (website here:). It was founded in Rome by Michele Albergo (in the 60s), an expert on the beneficial properties of the plants. 
…in a sector dominated by large multinational companies producing ammonia-based hair colouring […] Antica Erboristeria introduced a totally innovative formula: a permanent hair colouring containing herbal extracts without the use of ammonia and with a very low percentage of hydrogen peroxide. [Source]
The above together with green packaging, cruelty free ethos, vegan ingredients, Zero Impact Website and their commitment to respecting the planet make this a brand that sparks our interest. More on their sustainable products here. Also worth mentioning Herbatint awards and acknowledgements, more on this here in case you are interested.
Also, in April 2016 they were recognised as a certified B Corporation.
We believe all of these things are important when choosing the company you purchase products from, as we need to become aware of where our money is going.
How We Came Across Herbatint
With Herbatint permanent haircolor we wanted to dye Lynn's hair because she was desperate to get rid of some blonde peroxide highlights, which to be honest were not looking that great in the end (pics below).
On our visit to Baldwin & Co, in London, we unexpectedly bumped into a range of natural dyes. There was enough there for us to make a choice and the shop assistant also gave us a hand in deciding the shade (Lynn settled for 4C Ash Chestnut). Out of different natural hair dyes somehow Herbatint stood out for us. For starters, it was permanent, which was ideal for Lynn.
Our First Impressions…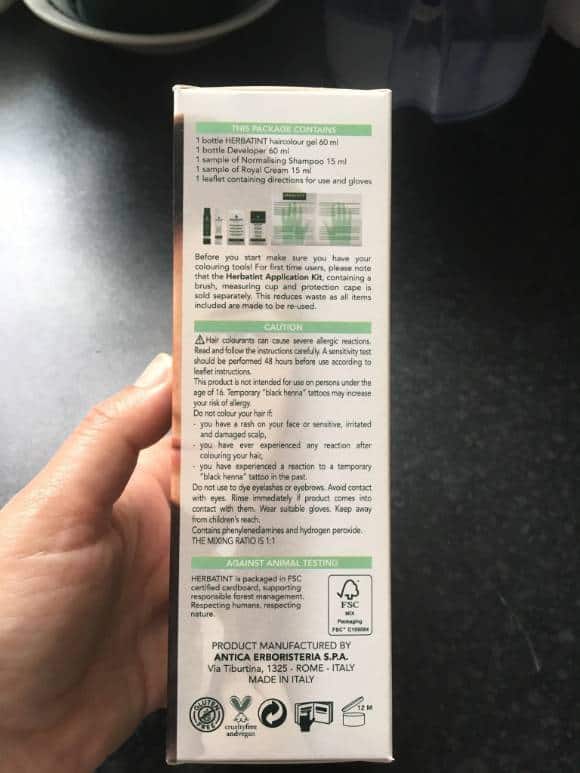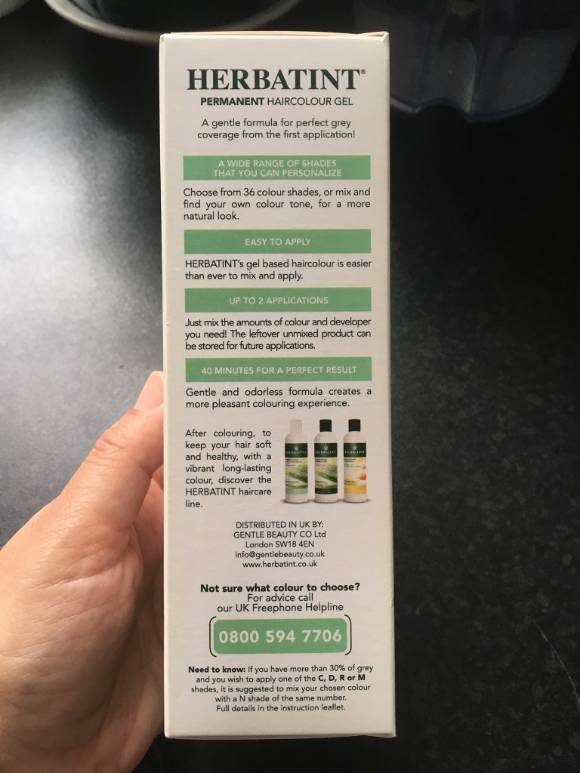 The first thing that we liked was the price (really competitive). The great color range also helped because we knew we would find the needed shade (although it took us long to pick the right color). Also, this was the only natural hair dye which gave permanent results, exactly what we were looking for. But basically price and permanence ticked the boxes for us.
When opening the box at home we LOVED the gloves! Not as thin as the gloves you get with other products! They were also easier to put on. There was plenty of product for 2 applications, which makes Herbatint an attractive option. The shampoo and conditioner were lovely! Plenty of it for the first application anyway, and really, really nice. These things might not look important, but they are. These are the touches that make a good product great.
Even though Herbatint didn't come with the brush and mixing container (which you can buy separately) we quite liked the idea about it saving on plastic waste. We are very much in favor of recycling so using the same utensils again and again is totally fine with us.
We didn't really look at any Herbatint color reviews after buying it (we didn't want to prejudice us). I almost looked at a few Herbatint reviews prior to writing this article, just to check out the general sentiment around the product, but a last minute rethink made me stop. I wanted this review to have no influence from others, it felt right that it should be 'untinged' from what others' experiences had been. So there you have it.
Herbatint Ingredients
Let's have a look at both the herbal ingredients and full ingredients list.
Herbal Ingredients
Look at all the herbs this natural hair dye has! I am impressed – I'm not sure how 'unnatural' peroxide based dyes are, but this one surely got me excited.
Let's go through each of the ingredients on the list and their benefits, which I think is important.
The herbal extracts are organic, which is a great plus. Here's what the box says:
Herbatint's unique formula is enriched with the properties of 8 highly pure organic herbal extracts that perform a toning and soothing action, also protecting and enhancing colours. A true synergy between nature and technology, to protect the skin while colouring and nourishing the hair restoring its health and beauty.
So, let's have a look at each of them (the descriptions below are a mix of package description and their website herbal extract description.
Protects and nourishes the hair while colouring. Vitamins and minerals perform an intense natural nourishing and anti-inflammatory action, also conveying the colour inside the hair fibers without damaging them.
Limnanthes Alba (Meadowfoam)
Moisturizes and adds shine thanks to the oil extracted from its seeds that effectively restores the natural lipid barrier. E-F vitamins, protein, fiber, amino acids and glucose, give body and shine resulting in nourished hair, intense and long-lasting colour.
Betula Alba (White Birch)
​Toning and soothing properties. Its re-mineralizing and toning properties combined with its emollient effect regenerate and protect hair and scalp.
Strengthens and protects the scalp. Its bark extract tones and strengthens the scalp, thanks to its sebum-regulating action it protects both hair and skin.
Hamamelis Virginiana (Witch Hazel)
Rich in flavonoids and essential oils, protects the scalp. Rich in essential oils, including acid oils, and flavonoids, it gives strength and shine to the hair, while performing an invigorating, soothing and purifying action.
​​​​​​Natural purifying agent and moisturizer. Its skin-purifying and natural soothing action is performed by its active ingredients, including oils, acids, betaine and polysaccharides. Hydration, regeneration and nutrition of the hair associated with the protection of the skin.
Intensifies colors, purifying agent. The antiseptic properties and nutrients of walnuts intensify and enhance the colour while maintaining the pH balance of hair and skin.
Color enhancer and skin conditioner. It intensifies the colour and protects the skin giving brightness and tone to the hair, fixes the colour and performs an anti-inflammatory action.
Full Ingredients List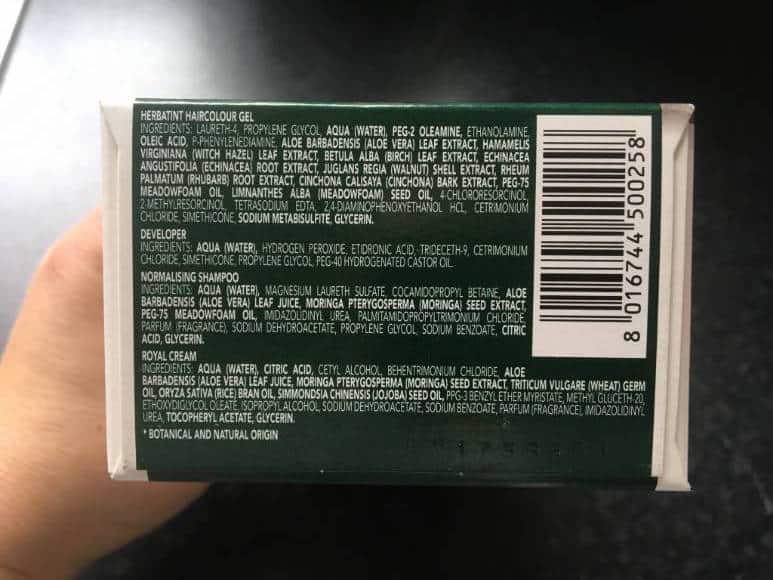 Herbatint Haircolor Gel Ingredients: Laureth-4, propylene glycol, aqua (water)*, PEG-2 oleamine*, ethanolamine, oleic acid*, p-phenylenediamine, 4-chlororesorcinol, aloe barbadensis (aloe vera) leaf extract*, hamamelis virginiana (witch hazel) leaf extract*, betula alba (birch) leaf extract*, echinacea angustifolia (echinacea) root extract*, juglans regia (walnut) shell extract*, rheum palmatum (rhubarb) root extract*, cinchona calisaya (cinchona) bark extract*, PEG-75 meadowfoam oil*, limnanthes alba (meadowfoam) seed oil*, tetrasodium EDTA, cetrimonium chloride, simethicone, sodium metabisulfite*, glycerin*.
Developer Ingredients: Aqua (water)*, hydrogen peroxide, etidronic acid, trideceth-9, cetrimonium chloride, simethicone, propylene glycol, PEG-40 hydrogenated castor oil.
Royal Cream Ingredients: Aqua (water*), citric acid*, cetyl alcohol, behentrimonium chloride, aloe barbadensis (aloe vera) leaf juice*, moringa pterygosperma (moringa) seed extract*, triticum vulgare (wheat) germ oil*, oryza sativa (rice) bran oil*, simmondsia chinensis (jojoba) seed oil*, PPG-3 benzyl ether myristate, methyl gluceth-20, ethoxydiglycol oleate, isopropyl alcohol, sodium dehydroacetate, sodium benzoate, parfum (fragrance), imidazolidinyl urea, tocopheryl acetate*, glycerin*.
*Botanical and Natural Origin
Contains phenylenediamine and hydrogen peroxide.
The mixing ratio is 1:1.
**The above information has been copied from iherb, but you can check against the photo above to confirm they're all as specified.
Herbatint Application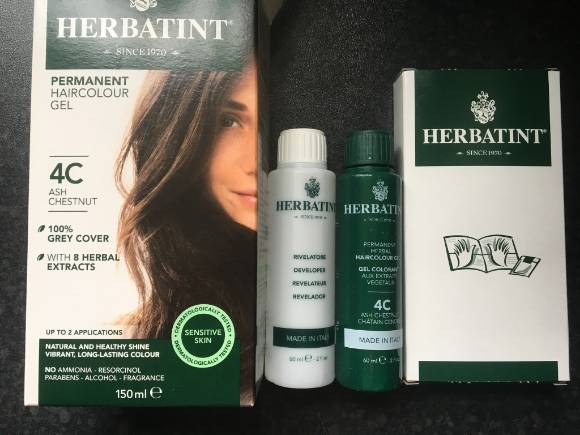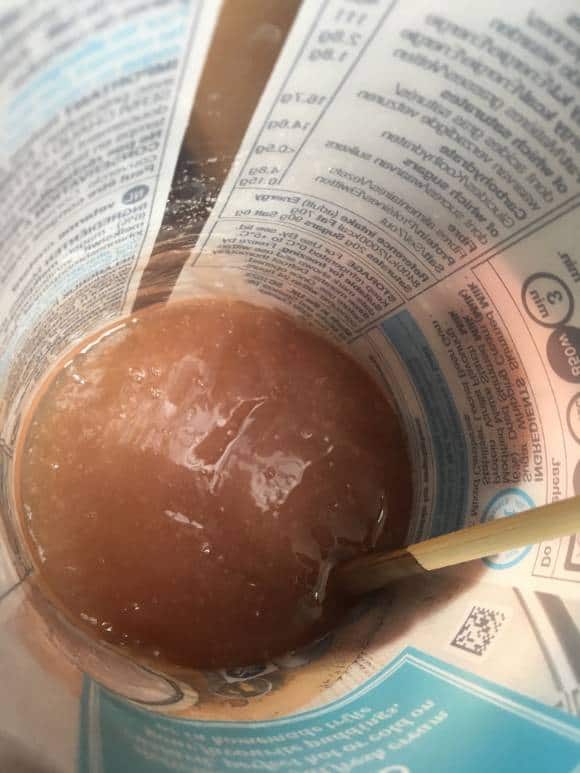 Instructions were easy to follow. Find below what is printed on the side of the box:
Easy To Apply
Herbatint's gel based hair color is easier than ever to mix and apply.
Up to 2 applications
Just use the amounts of color and developer you need! The leftover unmixed product can be stored for future applications.
40 minutes for a perfect result
Gentle and odorless formula creates a more pleasant coloring experience.
Need to know: If you have more than 30% of grey and you wish to apply one of the C, D, R or M shades, it is suggested to mix your chosen color with a N shade of the same number. Full details in the instruction leaflet.
And, yes, it was very easy to mix and apply. Just the time it took to cover the hair basically. The rest, no problem at all.
Herbatint Before and After
BEFORE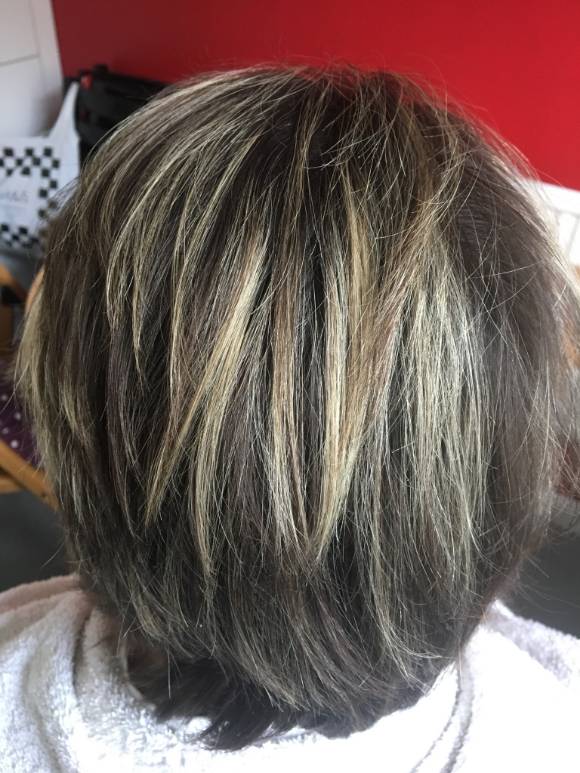 Lynn wanted to get rid of all the peroxided 'bits'.
AFTER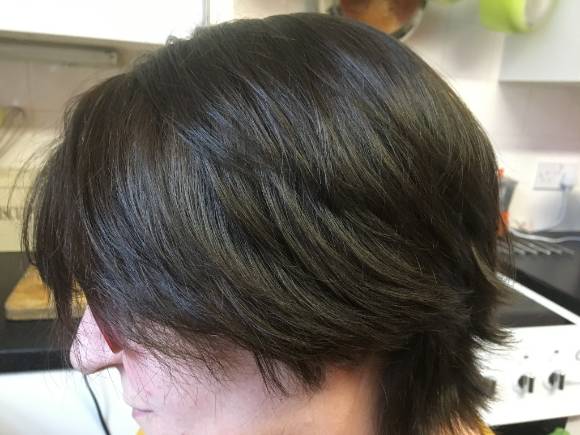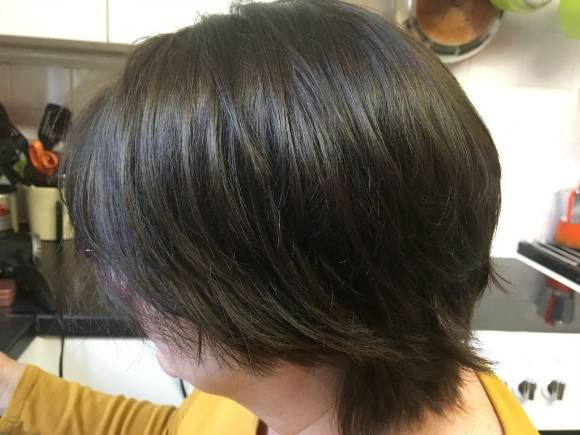 Stunning results! The photos don't really do justice to the fantastic results to be honest – so healthy looking and shiny! Gorgeous color as well!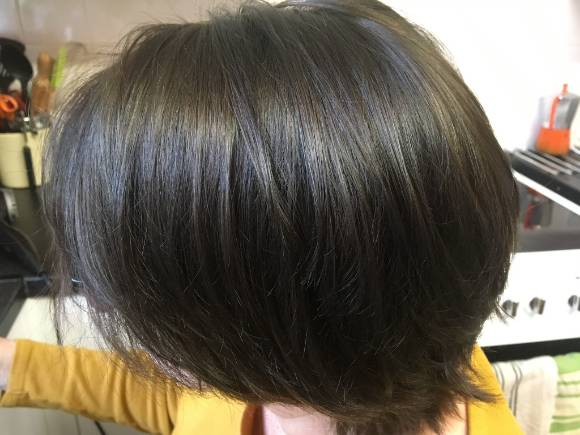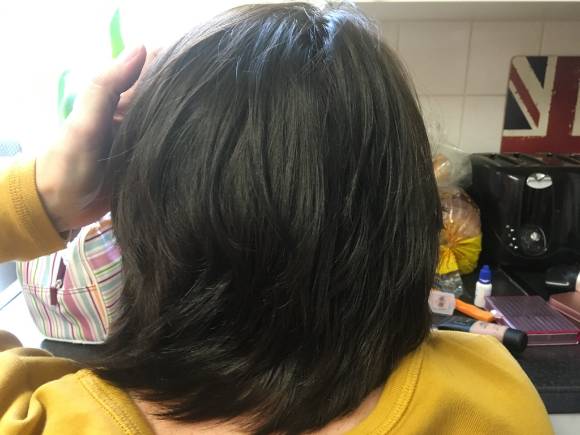 You can see a little of the shine on the first pic. Look at the second pic, so lush! So lovely!! As it says on the box: rich and deep color, hair looks beautiful and healthy. Yep, very true!
Lynn wants to add that it didn't sting and also it didn't have that strong ammonia smell other non-natural products have. 
Final Thoughts
We liked HERBATINT a lot and we will be using it for the second application for sure. It's been 3 weeks since Lynn had her hair dyed and she doesn't feel like it's faded at all. It still feels very soft and it hasn't dried out. The covering of the bleach went really well and it is all very even. 
Does it Work?
Yes!! Lynn's hair looked ABSOLUTELY GORGEOUS!! She's dyed her hair so many times in the past and I've NEVER seen it this beautiful. So shiny and healthy looking! I loved it. We both did.
What are the Pros & Cons?
PROS
All natural, with 8 organic herbal extracts
Easy to follow instructions
Price is very competitive
Good range of colors to choose from
Smell is lovely, product didn't sting
Gloves are fantastic (the best we've ever had)
No fading, no dryness (3 weeks in)
CONS
Probably not that easy of a product to find (herbalists and specialized places)
Brush and container not included – it wasn't a problem for us because we like the idea of recycling but others might prefer to have it all in one
Overall Rating…
5 out of 5. Lynn says this is the best dye she's ever had (it's also our first natural one, so we're comparing with non-natural dyes). So far, natural is not just as-good-as, but better!
Where to Buy Herbatint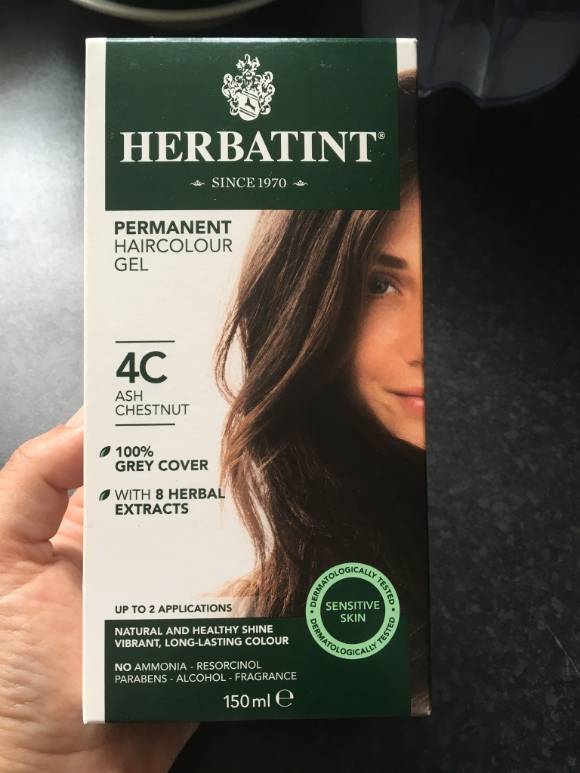 If you want to buy Herbatint online I suggest you go to Amazon. We bought ours in Baldwin & Co. as mentioned before, which means you'd probably find it in natural, herbal oriented stores. But if you don't have any around you Amazon is always a good option.
Before Herbatint hair color we didn't know where to buy or if something like this existed; besides being EXTREMELY impressed with the results (I've never seen Lynn have such lovely hair from a dye!) we were really happy to stumble into it. Find below the Amazon link.
Keywords: herbatint, herbatint haircolor, herbatint review, herbatint reviews, herbatint hair color, herbatint hair dye, herbatint ingredients, herbatint hair colour, herbatint hair color reviews, herbatint hair color review, where to buy herbatint, herbatint where to buy