Shea Butter Night Cream: Brand Reviews
There's no doubt I have integrated shea butter into my life.
My routine is simple: wjen my feet hurt from walking I rub shea butter all over my soles and the pain is gone STRAIGHT AWAY [see here]. When I need to diminish the effect of a scar, I put shea butter on it [see here]. When I want to buy lots of shea butter at a good rate, I know where to go [see here].
My love affair with shea butter started when I started this blog – I got hooked to the way it is made, where it is made, how it helps the women communities in Africa and how good it is for you [see here]. I make my own homemade whipped shea butter [see here] and I love L'Occitane' shea butter as the perfect option for taking it around with me [aff link].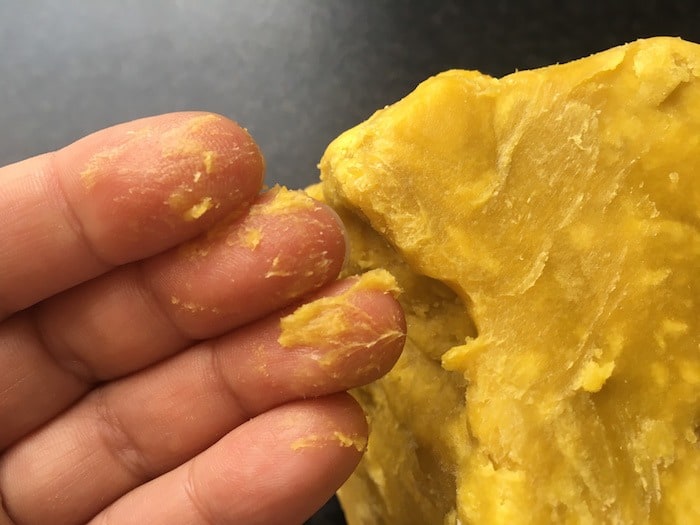 All of the above has helped me form a special relationship with shea butter. Needless to say I loved making DIY skincare with it when I did my Naturally Thinking cosmetic course in London [see here]. 
Finding a good shea butter night cream has not been easy. At home I mix pure, raw shea butter with my favourite face cream and come up with a mix that really works for me. I put this on this at times, when I want to get the benefits from the shea butter without having to feel its greasiness (it can be too heavy for the face on its own).
I find that the mix is PERFECT because, for some strange reason, my face ends up without ANY of the greasiness that shea butter inherently has, which is remarkable. Yep, not a trace. I'm not sure how this works, but every time I apply the mix I'm left with perfectly moist, non-greasy skin. And, believe me, I add A LOT of shea butter to the mix (see pictures below). So, for me, this works really well.
Still, I understand some people would prefer to buy a shea butter night cream instead, as having to mix both products could feel a little messy.
I've done a bit of research to find the shea butter night cream I would buy myself if I didn't use my own mix. 
First I'll show you how I create my own shea butter night cream and then I'll talk about the night creams with shea butter I recommend if you prefer this option. I hope you agree with my choices.
Without further ado, let's get started!
Difference Between Day Cream & Night Cream
Just a quick note regarding the difference between day cream and night cream for those who don't know: day creams are primarily focused on protection and support due to the damaging effects of the sun. They can be light and non-greasy which is also perfect for applying make-up on top if you wished to do so. They can also contain antioxidants to fight free radicals [more info on this here], SPF to prevent sun damage and other ingredients apt for daytime care.
Night creams, on the other hand, are formulated to work throughout the night so they can be more powerful which means they are usually richer as well as heavier. As the skin restores itself while we sleep, strong strong ingredients like glycolic acid and retinols can be absorbed slowly. More on this here.
OPTION 1: Homemade Shea Butter Night Cream
Considering the above, using shea butter as a night cream is "the perfect way to capitalize on the natural renewal and repair that your skin receives at night." [Source]. I agree. It continues to say:
While you sleep, the high percentage of oleic acid found in shea butter delivers optimum hydration and moisture into your skin, allowing it to stay plump and smooth. Linoleic acid nourishes your cell membranes, keeping them flexible and intelligent so that your skin functions optimally. The vitamin A in shea butter encourages and speeds up cell turnover, promotes skin cell regeneration, and keeps your skins texture smooth and complexion bright, while vitamin E fights free radicals and keeps the skin young, moisturized and supple. 
A powerful concoction of vitamins and acids that can get their way in peacefully at night.
This below is such a simple way to create your own shea butter night cream! Very effective, I love using this method. And it DOESN'T LEAVE you with greasy skin, which is unbelievable (shea butter can be very greasy on its own). 
Method
Just mix shea butter (pure shea butter please!) with your favourite night cream (I make my own creams) and apply. Around 40% shea butter and 60% cream. That's it! See pics below.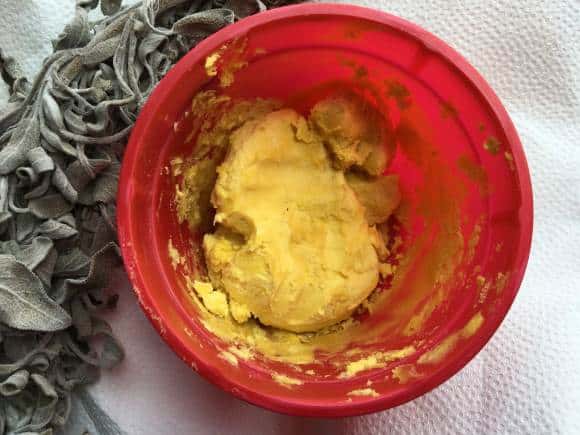 1. Use pure/raw shea butter. Here's a good one we recommend in one of the articles [aff link]. And here's a link to the article.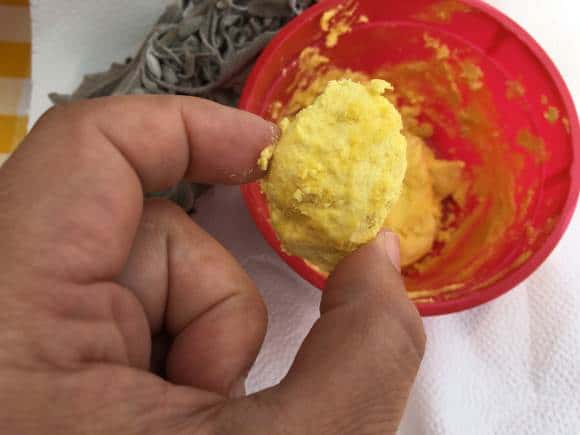 (You can see the quality, really good).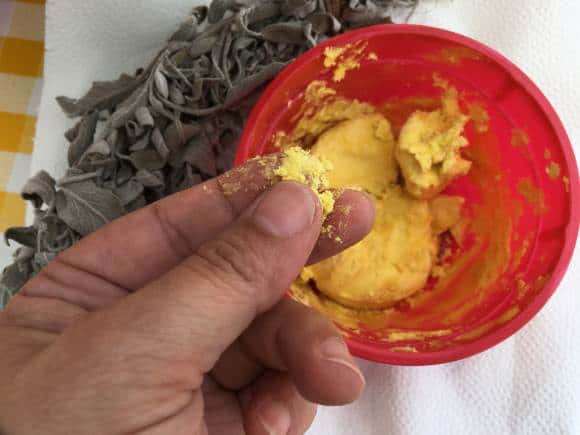 2. Just take a bit off the bigger chunk. Mine is soft, if it's a little hard use a wooden stick (like an ice cream wooden stick if you have one). I should have use one myself, it is cleaner (in order to not contaminate the rest).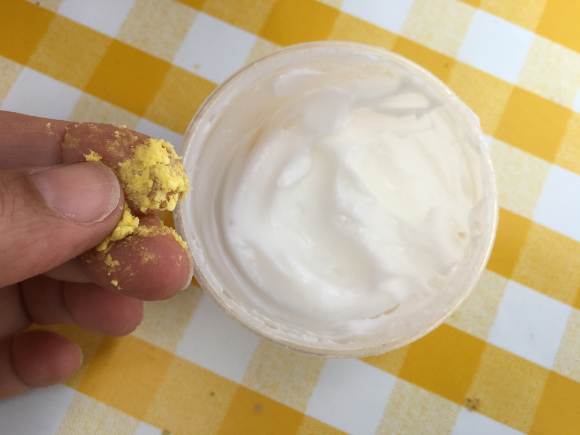 Above is a small container with some of the cream I'll mix with the shea butter. I ABSOLUTELY LOVE LOVE LOVE this moisturizer!! I made it myself and it is the best cream I've EVER had. Amazing. With a beautiful glide, the essential oils I added are simply divine, the smell it has is just out of this world and it truly heals me as I apply it on my skin. Pure perfection. And, believe me, I am being totally honest when I say it is the best facial cream I've ever had, I'm totally amazed at this fact, was never expecting it when I made it!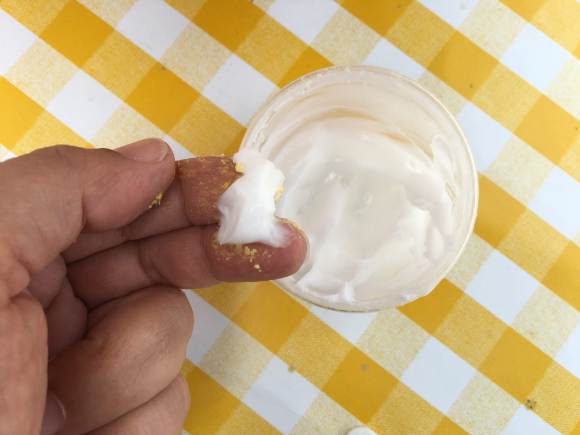 3. Take a bit of your favourite night cream (use a different wooden ice cream holder if you've got one to scoop it out).
4. Mixed them both. The amounts will depend on how much shea butter you want to add to your night cream. I add around 40% shea butter, 60% moisturizer.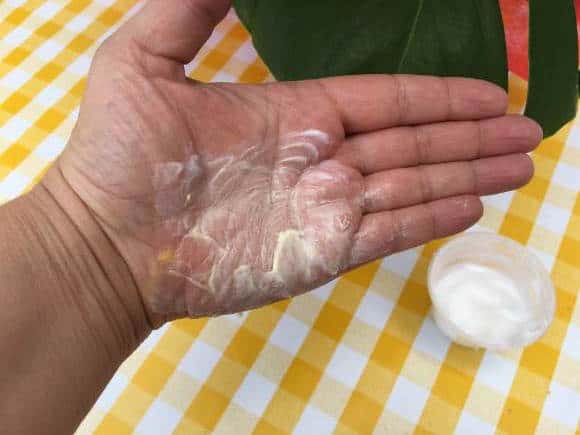 Done! So simple! I love it. It leaves my skin feeling beautiful and non-greasy, which is almost a miracle I have to say. I love this method.
OPTION 2: Purchase Your Shea Butter Cream
If the above is too messy or you just prefer a quick, hassle free night cream with shea butter (or shea butter that's been formulated to work as a night cream) then the below options are best for you.
I've gone ahead and researched the ones I would buy myself if I wasn't using the above method. The products I recommend all look like fantastic options; it wasn't easy finding them but I'm happy with my choices. Let's have a look.
1. Sisley Botanical Restorative Facial Cream with Shea Butter
2. Alaffia – Handcrafted Shea Butter,  Lavender Mint and Spearmint Oil
3. L'Occitane Ultra-Rich 25% Shea Butter Face Cream for Dry to Very Dry Skin
Final Thoughts
You can try both options if you want to stick to a preferred way (homemade or purchase). I like to mix my own ingredients but I also love the ethos and values of some of the brands. I've spent some money on L'Occitane's shea butter (even though I buy pure, raw shea butter from the market at a much cheaper price!) because I really, really like the brand. Here's an article where we offer it as an option if you're considering using shea butter on face at night.
So sometimes it is a matter of thinking about the many factors involved besides cost. In the end it is all about feeling good with yourself and about yourself.