Exploring the Shea Butter World in Brixton Market, London, UK, Europe
Brixton Market is situated in South London, UK, and it has become Europe's biggest Afro-Caribbean food market. So, as you can imagine, a delight for me to get lost in it in search of pure, raw, unrefined shea butter!
I've lived in London in the past for many years so I know where the African and Caribbean communities gather to sell their products. Brixton is the largest and so I took the time to travel from Paddington to South London to embark on my little discovery journey.
Since falling in love with shea butter and the production process my aim has been to discover as much as I can about the product and bring it into this blog. I hope to find out the ins and outs of every part of the process when it comes to the production of this magnificent butter – from travelling to Africa to be able to experience the production process to visiting markets and trying different brands/products and see how they all differ.
So, back to Brixton, let's get started with my journey! 
**Also make sure to check out my shea butter on face before and after post.
Brixton Market, the Largest Afro-Caribbean Market in Europe
As I arrived I started taking pics of the area. Thankfully it was a sunny day in London so the pics turned out good I thought.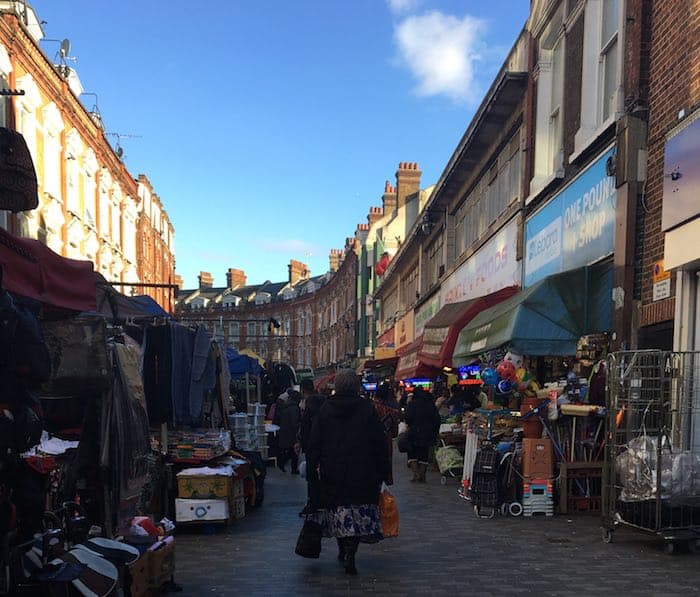 Along the streets there are many cosmetics shops which will sell different products, among them the shea butter. It was fantastic to see so much raw, unrefined yellow and ivory shea butter available and in so many different sizes! (see pic below).
These shops also sell other products like argan oil related products, cocoa butter and oil related products, etc. To be honest it is a feast to the eyes and my hunger for knowledge as well as raw products got bigger, as one of my aims is to collect raw, unrefined products and mix with essential oils etc to make my own homemade cosmetics/recipes.
TUBBED SHEA BUTTER
Inside the Shops: Two Shea Butter Predominant Brands 
I went to 3 shops (not the market but high street shops) and explored their shea butter section. All the shea butter they sold was inside tubs, and I found that there were mainly two brands being sold.
Beauty World Cosmetics
Right as you enter the market, underground exit side, there's 'Beauty World Cosmetics'. Out of all the not-market shops this is the one I liked the most (probably because it was my first one along with the fact that it was fairly big).
I have a feeling there are many more shops along the different streets offering these types of products, but I was quite happy visiting these 3 stores.​
The two shea butter brands that predominated the high street shops were:
"Kuza" Shea Butter
The first one I noticed dominated the shelves is called "Kuza 100% African Shea Butter" (creamy). When asking the girl what the difference was between the two dominant brands she said she didn't really see any difference.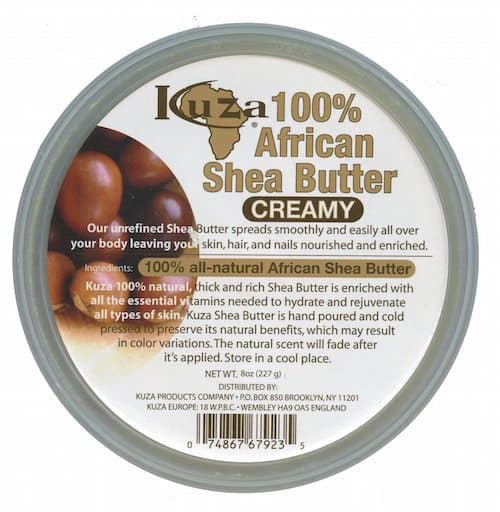 CHECK THE PRICE
"Ghana's Best" Shea Butter
This is the second brand that dominated the shelves. I would say there was more tubs of this brand (Ghana's Best) than Kuza's. 
The amazing thing is that you could purchase all sort of different available weights (from a tiny tub, perfect to use as lip balm or for travelling all the way to the bigger 500gr tubs. I didn't see 1kg shea butter tubs).​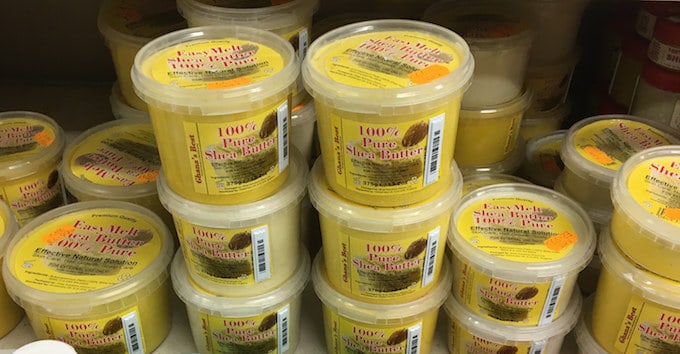 LOOSE SHEA BUTTER
Inside the Market
Which brings me to the loose shea butter (inside plastic bags).
I wasn't expecting to find any other type – and I must say I was already pretty happy with what I have found. I mean, this was shea butter heaven!​
Kumasi Market, Afro Caribbean Shop
I entered the market (it has shops inside, but more like 'stalls' if that makes sense. A mix of shops and stalls, a sort of 'in-between') and had a stroll around.
I felt I wouldn't be lucky enough to find more cosmetic shop-stalls and just had a look around anyway because it was interesting to check out the different offerings.
I asked someone if there was anyone selling shea butter and they told me to visit Kumasi Market. I did, and, oh my! There I found my second haven of the day.​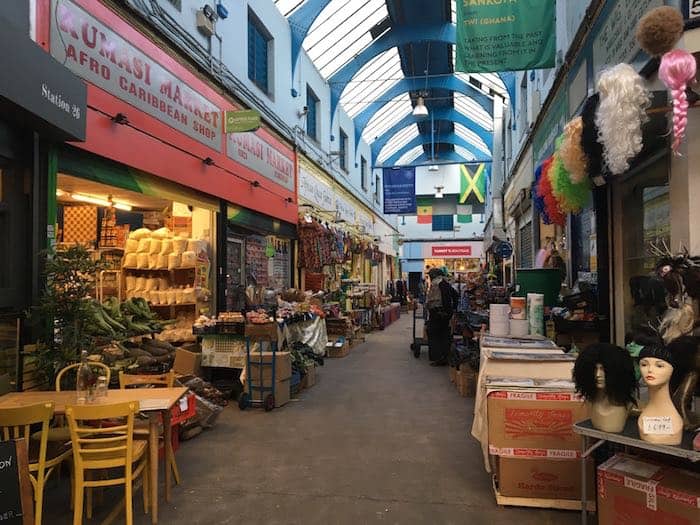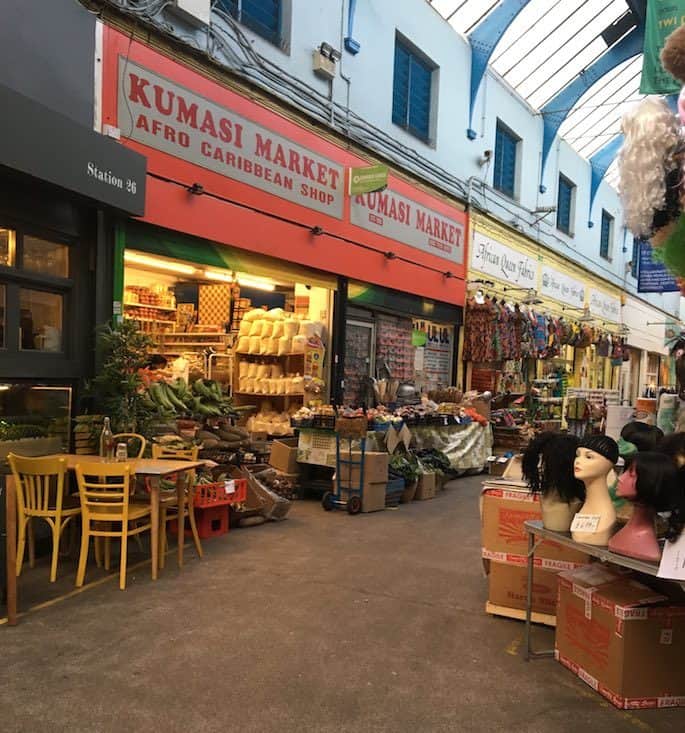 Two boxes filled with beautiful yellow shea butter inside see-through plastic bags! One box had half a kilo bags, the other 100+gr bags.
Yes. Heaven!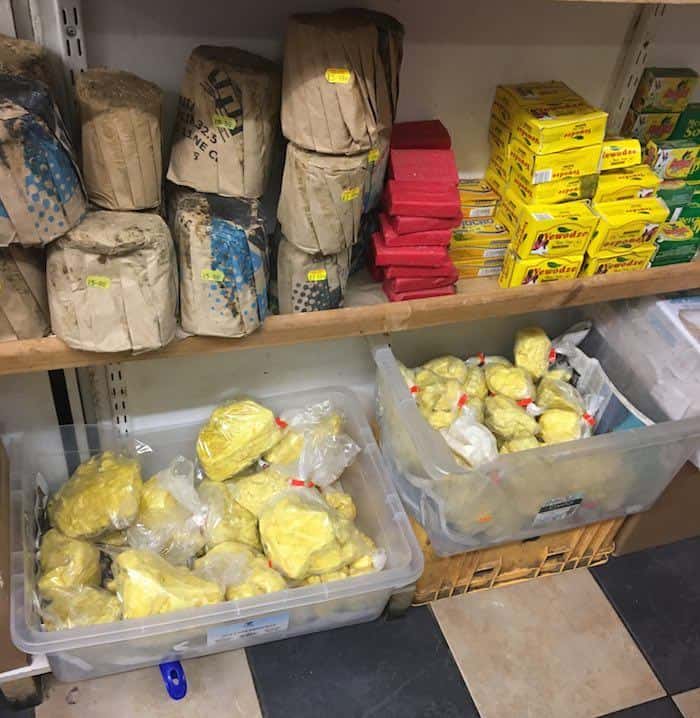 What I Decided to Buy
I went for the loose shea butter in the end. How could I not? This was pure, raw, unrefined beautiful shea butter inside a bag ready for me to take home. I purchased 485gr of the yellow shea butter and 100gr of the ivory shea butter.
Unrefined, Raw, Yellow Shea Butter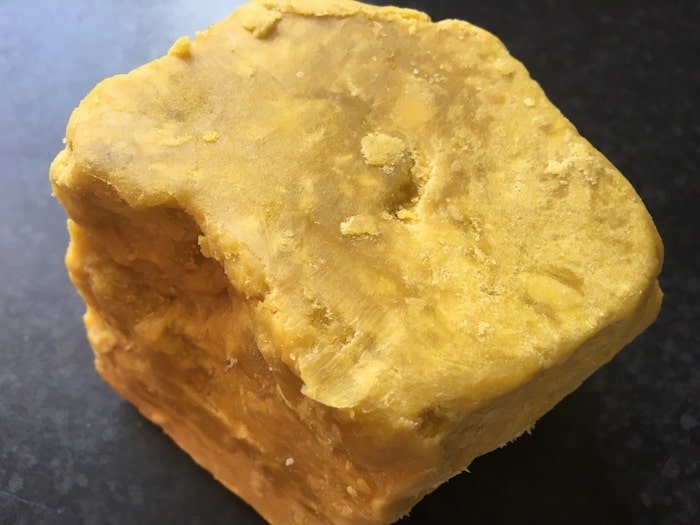 Nice big block.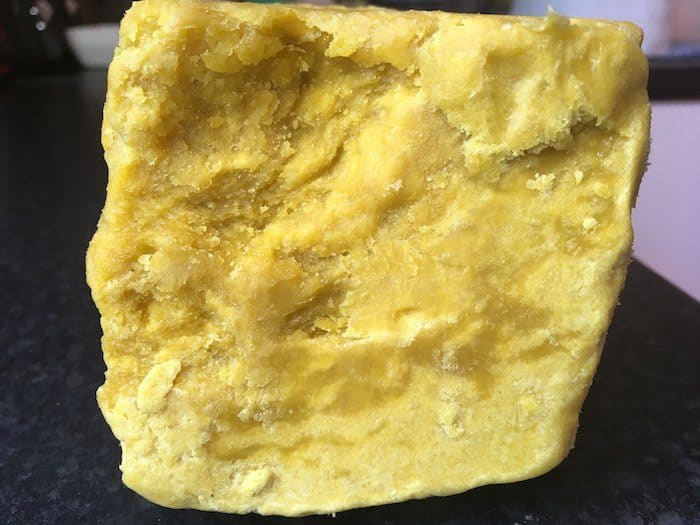 Stands on its own, it doesn't crumble.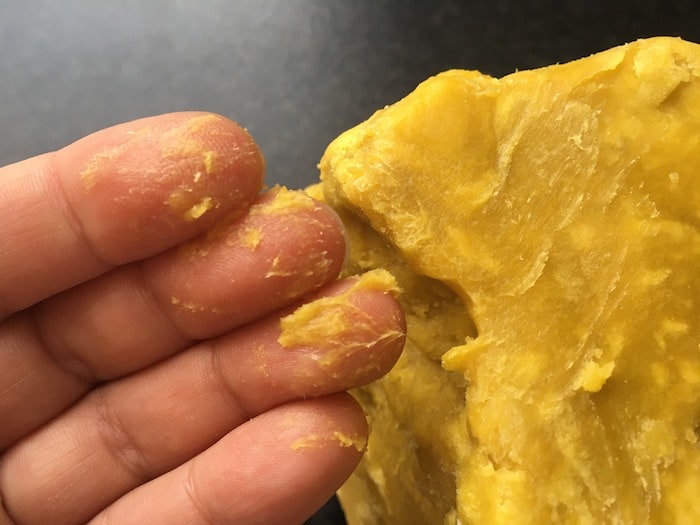 Nice and creamy! Put straight away on my feet. It spread beautifully.
Unrefined, Raw, Ivory Shea Butter
I also decided to buy a nice piece of raw, unrefined ivory shea butter sealed in a bag, basically untubbed.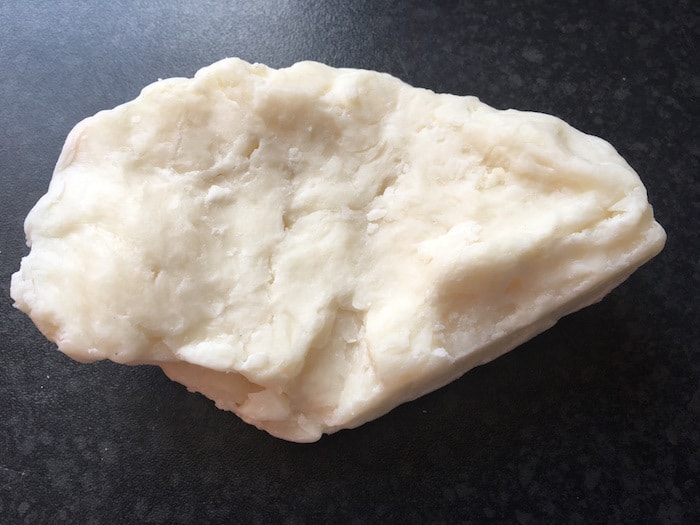 This is a nice, solid, beautiful piece. It has a matt perl tone to it which I love.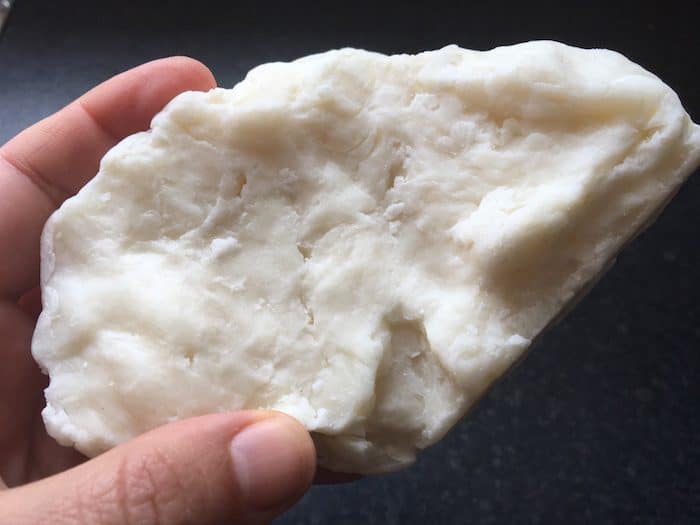 It is not as 'buttery' or creamy as the yellow shea butter. As you can see on the image below, the crumble is a little 'thicker' and it took me longer for it to melt when rubbing against the sole of my foot.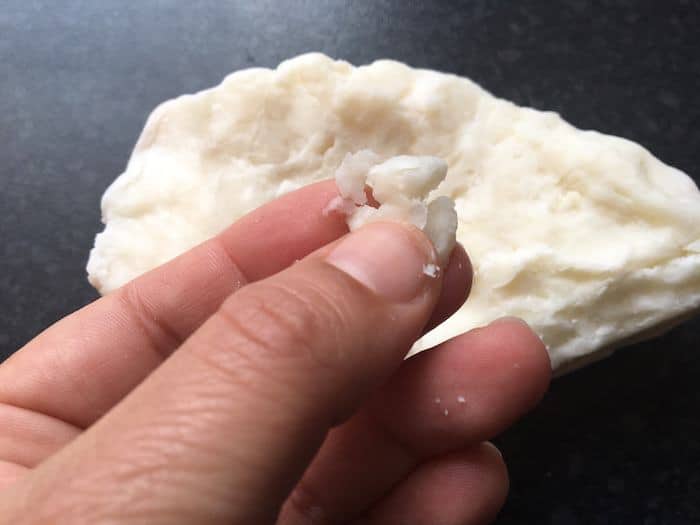 There were obvious differences between the two types of shea butter. 
There's no doubt I ended up buying the real deal: this is shea butter found in the heart of Brixton market in London where the Afro Caribbean community buys their products.​
Weirdly, nobody could tell me the difference between the two butters (they kept telling me they're both the same), although I clearly see they're not.
I've done further research and found out the why which I'm leaving for another post.
Final Thoughts
This adventure was a lot of fun and I'll probably go back to Brixton before leaving London. I also found other shops (I'll be visiting one in Kilburn, which is situated more towards the north) which is closer to where I'm staying (Paddington).
So, there you have it. I will need to buy more quantities to take back with me to Tenerife so I can create my own products. I'm not sure how much shea I'll need, but I think I'll be taking at least 1kg (around 35oz) for starters.
I'm already learning about essential oils so excited to keep learning!​