Kingfisher Toothpaste: Our Kingfisher Baking Soda Toothpaste Review
When visiting the lovely Baldwin & Co we popped in next door (same company) to buy a natural dye for Lynn's hair (we ended up buying and applying Herbatint wich was an absolute success, click on the link to read about our Herbatint review).
We bought a few things (as you do when you go to a REAL herbalist – some places just feel a little too 'branded' if you see what I mean [hype]). One of those things was a tub of Kingfisher toothpaste (baking soda).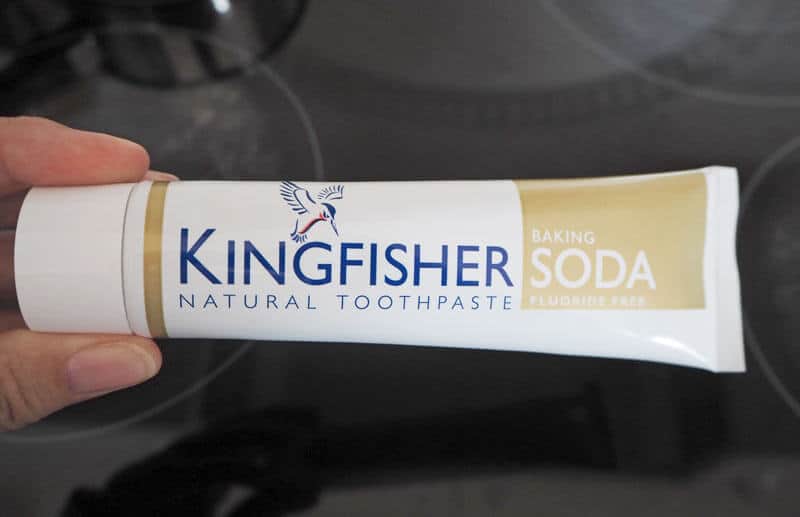 Prior to buying I checked on Amazon to see if they sold it so we could do a review and, if we liked it (which we did) add the affiliate link here.
We were trying different natural toothpastes (see our JĀSÖN® Powersmile All-Natural Whitening Toothpaste Review here) and Kingfisher was a good contestant because of the baking soda (although I wasn't too keen on the packaging – says someone who just put down the 'too branded' look – ahem!. But there's good branding and 'this is trendy now so let's open a shop'. You see what I mean…
Anyway, here's our review. If you don't want to read the whole thing (and there's a lot of research done below so you might as well…) I can tell you that we really liked it. We loved Jason's toothpaste, this one felt like we needed to add a little more to get the foam (froth?) but I'm assuming that baking soda would be responsible for this.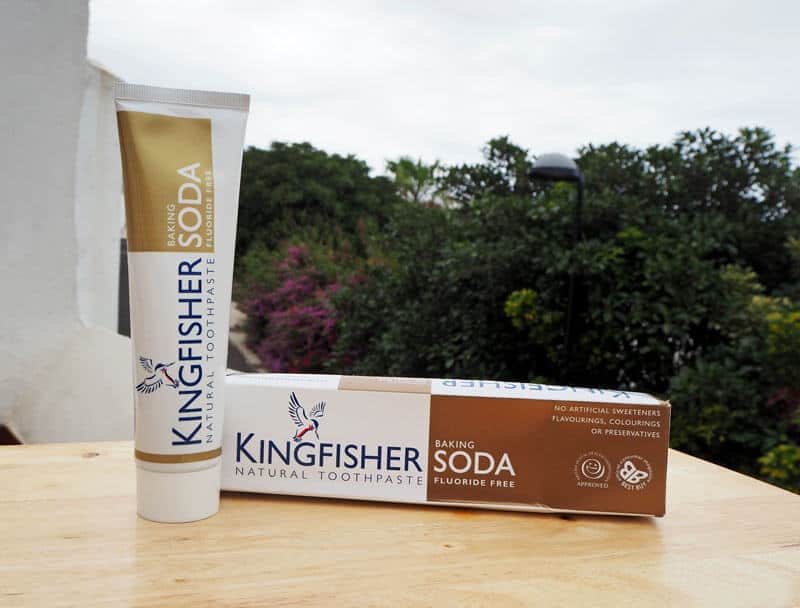 At the time of writing this Kingfisher baking soda toothpaste review I have a little more knowledge regarding natural ingredients (not that much more as this 'wellness & natural journey is a long journey til reaching mastery!, but a little more for sure) so I hope it'll be helpful.
Kingfisher Baking Soda Toothpaste… Is it Worth it?
How 'in' are you within natural, safe, organic, goody-goody products?
We bought this toothpaste at the beginning of our natural, wellbeing journey.
Spiritually speaking, we're very advanced (who is willing to do self-assessment on a daily basis and correct character defects almost on the spot? Ah, the pain! Ah, the ego claiming 'righteousness'…) No, that kind of wellness is not new to us.
But our physical wellness (nourishing ingredients instead of just food, organic/natural products instead of what we've been using 'all our lives' [there's a 'getting used to' / 'mental bridge' to cross], herbal remedies instead of 'grabbing a pill', etc etc) has taken time to develop.
I've watched people go to herbalists and alternative medicine doctors for years (funny enough, many of my nearest friends and even ex-partners were very acquainted with the natural world of wellness.
Not me. It has taken me many, many years to have that 'inner calling'. Now I can honestly say the body/mind doesn't seem to really want anything else (there's a new -and natural- aversion to synthetic chemistry) which I suppose vibrates at a 'grosser' vibration in relation to perfection than when there's harmony within the body/mind and nature.
So yes, this natural/organic products for the body is new to me but not the wellness world. It is all part of the same thing, it just seems to take time : )
When we decided to buy the toothpaste we were enticed by the fact that it had baking soda in it (like many people, I assume). The idea of the whitener being in the formula was attractive. Plus I've always liked the taste, personally.
Kingfisher is the UK's leading natural toothpaste. It contains no artificial colourings, flavourings, sweeteners or preservatives. Instead, we use natural ingredients like real fennel, real strawberries and real peppermint, and Kingfisher tastes delicious. (Source)
Well, I did like Jason's Powersmile toothpaste (aff link) taste more. No other reason than it had that 'natural' taste to it. I can't explain it (and I can' remember exactly the flavour, but I remember it felt really nice).
Kingfisher, on the other hand, tastes similar to 'common' toothpastes you find in drugstores and supermarkets. It could be the baking soda ingredient (it probably is), but I did miss that 'oh, I'm being so good by using this natural product because I can tell it is natural from the taste' feel about it.
Is this important? Probably not.
Is the toothpaste worth it? I'm not a professional when it comes to reviewing a product other than telling you how it felt, ingredients it has (and how they 'sit' with me) and a few other things like price and others' reviews. But when a toothpaste has been made with ingredients I'm getting to know and feel happy with and makes my teeth feel nice and clean, that's all I can go for at the time of writing this review and I'm quite happy with that.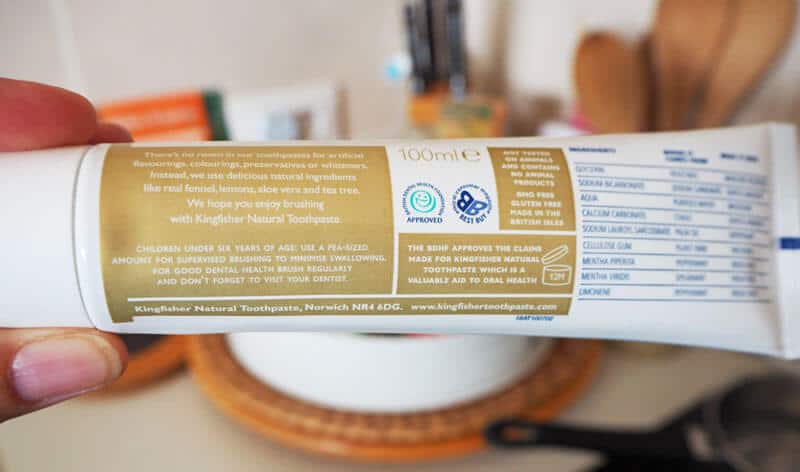 Lynn is making a good comment: considering baking soda is not always particularly nice when it comes to flavour (she says it makes her gag sometimes) she found it very mild and nice on this particular toothpaste.
Considering baking soda makes me gag, I find that it is very mild and nice on this particular toothpaste! (Lynn)
Again, I don't mind baking soda but I suppose she does have a point.
This is a Fluoride-Free, Baking Soda Toothpaste
Here's what Kingfisher website says about this particular product:
A smooth fluoride-free toothpaste containing no artificial sweeteners, flavourings, colourings or preservatives, that is gluten free and GM Free. Suitable for vegetarians and vegans.
Kingfisher soda toothpaste ticks many boxes (vegan, cruelty free, contains no fluoride [for more information on fluoride visit this page and this page] no flavourings/colourings/preservatives, GM free), etc. I'm formulating my skincare and learning about creating these types of products so I know they must have found a way around not adding a preservative… This got me really confused, so I decided to give them a call.
Kingfisher Baking Soda Toothpaste Ingredients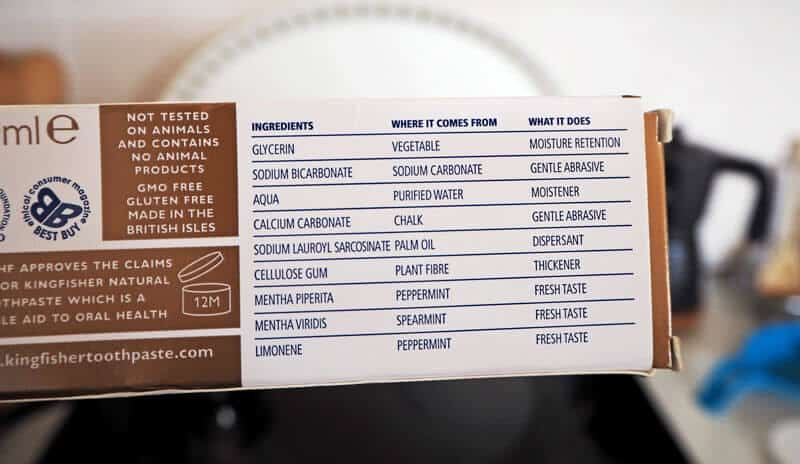 How Does it Stay 'Safe' Without a Preservative?
If you've read other blog posts on Oh Mighty Health you'll see that having done a cosmetic making course at Naturally Thinking as well as going through my Formula Botanica course as we speak, I'm not a preservative-free DIYer since I know the potential damage/risks this presents (although I have to say I was one of those let's-make-skincare-without-preservatives individuals at first).
Uuh, dangerous! Just check this, this and this out and hopefully that'll convince you of the importance of using preservatives in your skincare products.
What type of preservative is a different matter. The first link regarding preservatives above is an EXCELLENT ARTICLE on the different types of 'natural' preservatives and when/how/why to use each. I LOVE it.
So, how come Kingfisher baking soda toothpaste doesn't have a preservative?
I called them on the phone to ask about this – the guy from Kingfisher told me that it was complicated to explain but that they had found the 'formula' to keep it safe from growing bacteria – "much like getting your cake to rise" he said. Complicated but doable. After some time on the phone, he gave me the answer in a nutshell:
The answer is: rigorous testing.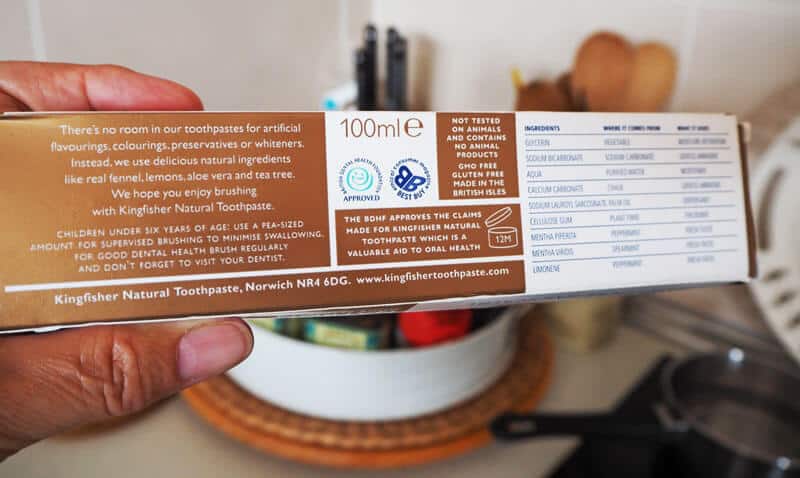 The toothpaste doesn't have any preservatives because the company has done rigorous testing over lengthy periods of time.
There you have it. Rigorous testing. I like that.
FAQs
Is Kingfisher toothpaste vegan? Yes
Is Kingfisher toothpaste cruelty free? Yes
Does Kingfisher toothpaste contain sodium laurel sarcosnate? Yes. For more information click here (EWG's Skin Deep Cosmetics Database)
Does Kingfisher toothpaste contain palm oil? It contains sodium laurel sarcosnate which comes from palm oil, yes
Is Kingfisher toothpaste good? In my opinion, yes : )
Pros and Cons
The Great Stuff:
Feels fresh, tastes really nice
Ingredients are fantastic!
First natural toothpaste to receive BDHF (now called the Oral Health Foundation) approval
Company with good standards
One-on-one relationship with the people behind this product (which I love)
Oh, and I particularly like this!
"We have gone on record as stating that we would cease trading rather than comply with any compulsory testing regulations." (Kingfisher website)
The Not-so-Good Stuff:
Not terribly cheap (not too expensive either)
More popular in the UK (this is neither good nor bad, but US people might prefer to try Tom's of Main (aff link)
It doesn't froth up very well (I liked this but some people might not so I'm adding this here)
Only available in natural / organic / herbal types of stores
Other Kingfisher Natural Toothpaste Reviews
I checked Amazon for others' reviews and was pleased to see that this is a toothpaste most people really like. Different people like different flavours but in general the sentiment is very positive.
If you want to buy Kingfisher toothpaste I personally recommend it.
Final Thoughts…
I'm stoked that Richard himself answered the phone? I didn't ask for a name, assuming it was someone at the office, but I must say that the 'tone of voice' (calm, reassuring, confident) together with the type of information given (and how it was given) made me think I was speaking with someone who had some sort of 'say' within the company.
Then I go on to read that Richard Austin, Kingfisher's founder and proprietor IS the guy who replies to the emails.
So, yes, it must have been him!
I don't know about you, but this adds a new level to the toothpaste. Someone who literally stands by the phone to answer your queries is someone who truly cares.
I wish I was in the UK so I could stock up and buy at least 10 tubs. But we're in Tenerife (poor us ; ) ) and we can't.
I know what I'm doing on my next visit to London, where I'm going to do my VortexHealing energy workshop.
In the meantime, here are the links to buy the toothpaste if you thought you'd like to give it a try! I personally would stick with it if I had the chance. Not many businesses have the owner answer the phone call. And I, for one, find it a more than good enough reason to stick with this toothpaste for the rest of my life.
Kingfisher Toothpaste in the UK
Kingfisher Toothpaste in the US
More information on Kingfisher toothpaste in the US:
Last update on 2020-04-29 / Affiliate links / Images from Amazon Product Advertising API