Difference Between Yellow Shea Butter and Ivory Shea Butter: I Had to Find Out Myself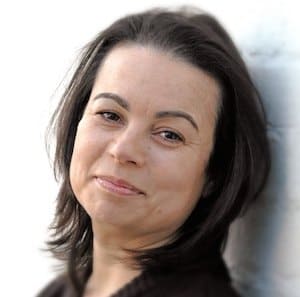 Patri HernandezEditor of ohmightyhealth.com
At the market where I bought both yellow shea butter and ivory shea butter (see post here) nobody really seemed to be able to tell me what the difference was. These are people who use shea butter day in, day out! I realised there's much confusion around the origins/differences between the two colours so had to find out myself. Here are my findings. 
If you do a search for the difference between white or ivory shea butter and yellow shea butter you'll get different answers on different websites.
It gets worse: if you ask people who regularly use the butter and even import it from Africa, they will also tell you different things.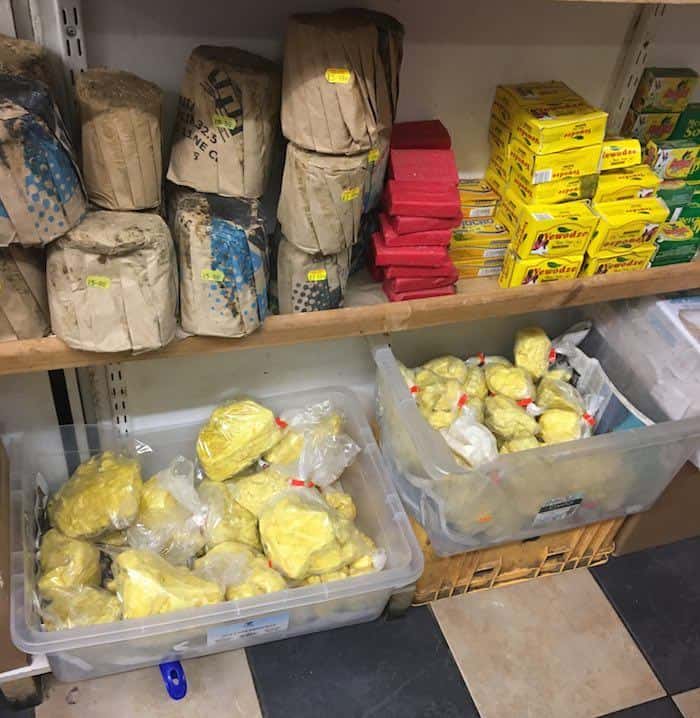 I got told they were EXACTLY the same and that there was no difference between the two by the person who sold me the two blocks of shea butter (yellow and ivory). I got told the same by someone else working at the shop.
I got told by another shop in Brixton (the entire shop geared towards selling African products) that the yellow butter was yellow because they add ​the Karite tree flower to it.
I finally have seen online a few different things; for example that some people add palm oil to the butter and that's what makes it yellow.
So, who is telling the truth? Who actually KNOWS the truth? It'll be interesting for me to see how they make the yellow shea butter yellow when travelling to Africa in 2020, but I think I can shed some light on this confusing dilema.​
**Also make sure to check out my shea butter on face before and after post.
Difference Between Yellow and Ivory Shea Butter: Photos 
The first thing I thought of doing was to show you photos of the 2 different butters. Then I would show you videos I find genuine regarding how the yellow colour is achieved and finally how I experienced the difference between the 2 butters, at least touch, scent and general feeling.
The idea here is to be able to 'SEE' the difference in the photos. Below I'll be talking about the difference in terms of the experience of each butter (so relying on how they felt on my skin, etc). Here's just so you can see it on the photos, which always helps.
It has been difficult to find the truth behind the two colours. I'll try to shed some light on this below by using photos, videos and a chart.
Yellow Shea Butter Look, Feel, Texture, Colour, Scent 
I was so excited when I found the boxes filled with raw, pure, unrefined shea butter! At first they were all tubbed, but eventually I stumbled upon a shop in the market that sold the butter inside plastic bags.
Other stalls also had smaller amounts of ivory shea butter (around 100gr per bag) but I stuck with this particular shop (called Kumasi) for no particular reason, they just had so much of it I simply liked it.
So, below is the block I bought. A beautiful solid 500gr block of unrefined, 100% pure shea butter.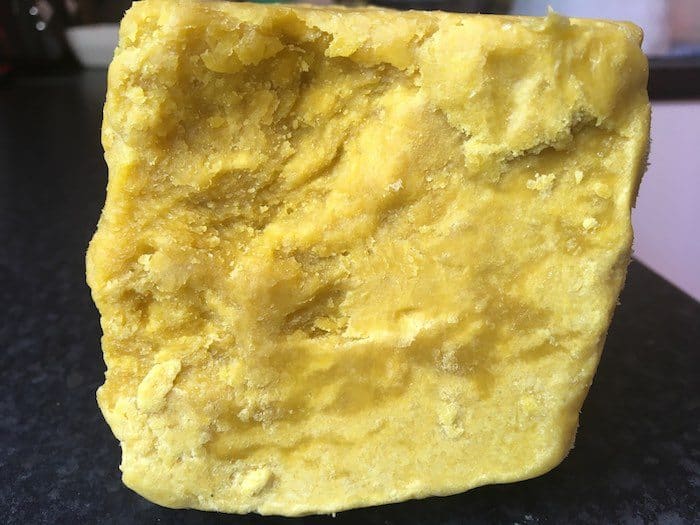 Texture: as you can see below, the yellow shea butter is very creamy! This is a problem if you have to move the block around, as it will stick to your fingers every time. Also difficult to scoop if there are no metal or glass edges to 'scoop it from' if that makes sense (using the edge to rub and slide your finger). Having a solid block means as you rub the block can move around, etc.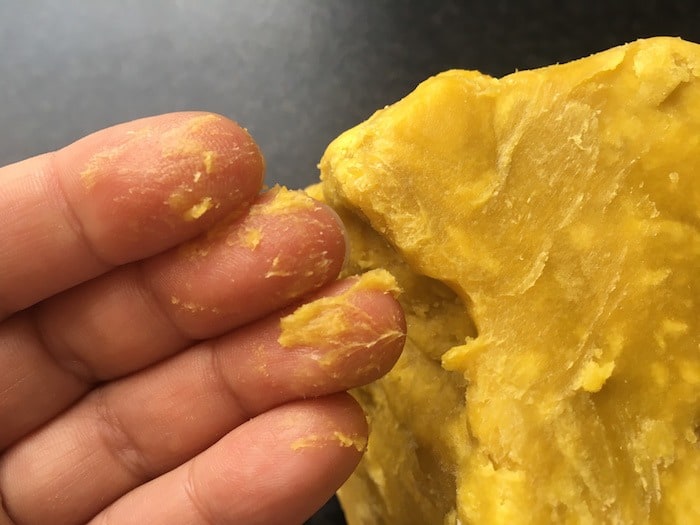 A close up of the texture below. It is quite greasy – I wish I had a good camera lense but at least you get the idea (photo taken with the iPhone 6).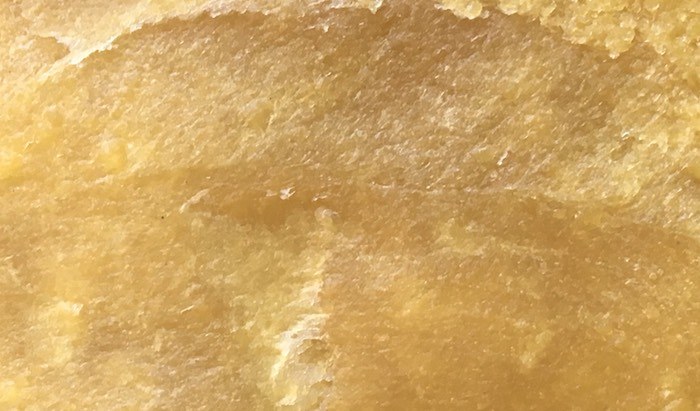 No doubt that yellow shea butter is a lot creamier and greasier than ivory shea butter.
Ivory Shea Butter Look, Feel, Texture, Colour, Scent
And below, the ivory, pure, unrefined shea butter. A lot more 'solid' as you can see. The pearly ivory tone is quite beautiful.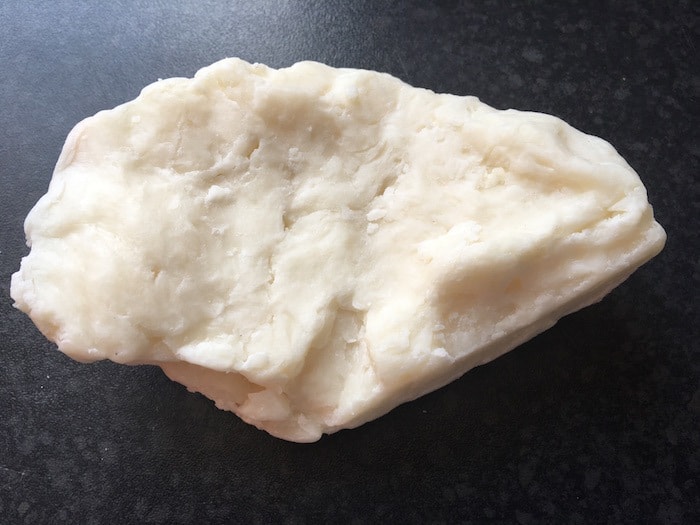 Again, easy to see how this shea butter has a more solid consistency than the yellow shea butter. It also takes time for it to melt (so it becomes easy to put on your lips, for example). You need to rub against your skin to heat it up for a while.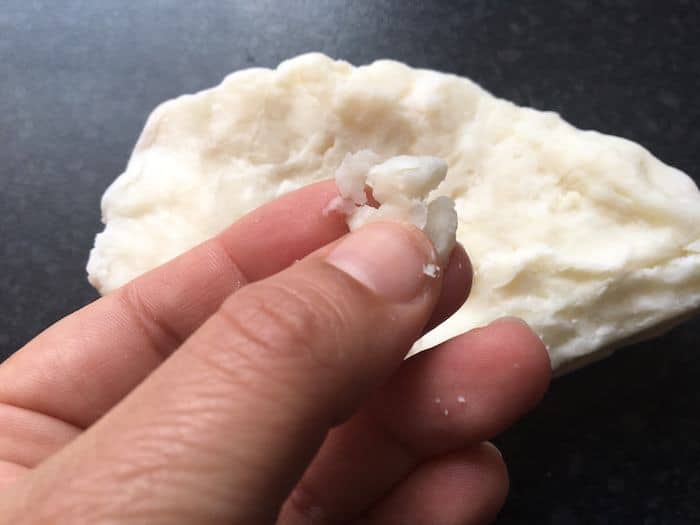 Comparison Between Yellow Shea Butter and Ivory Shea Butter Photos
Easy to see in the picture below: the yellow shea butter is a lot easier to spread than the ivory shea butter, which can be a lot lumpier.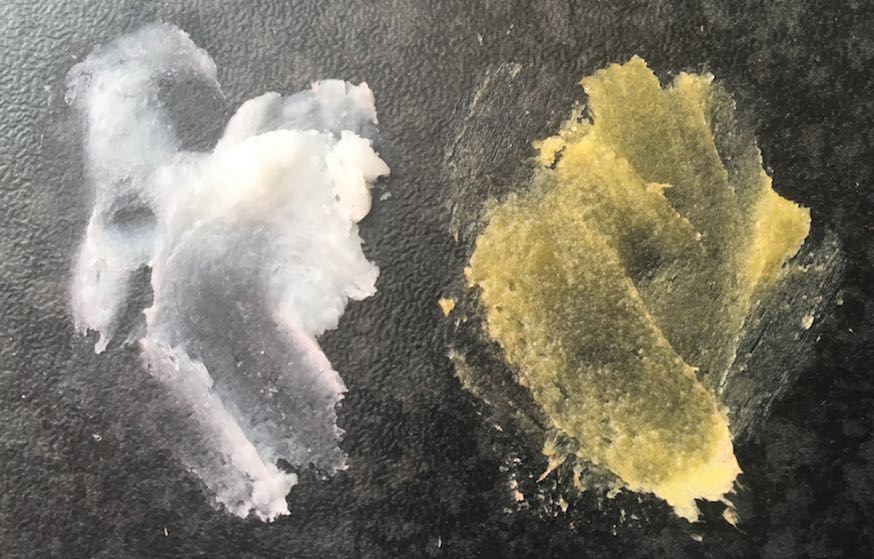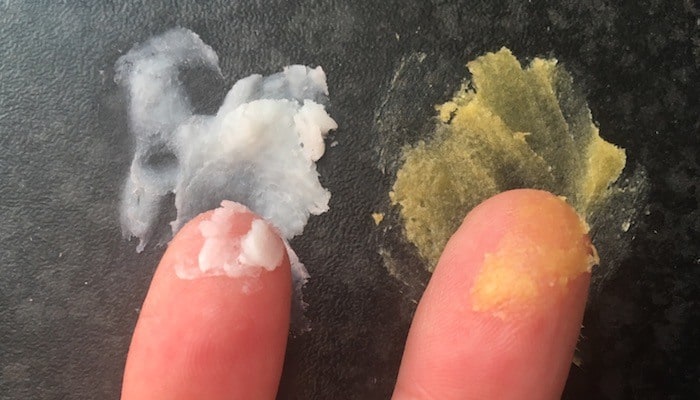 Also the yellow shea butter melts on the skin a lot quicker…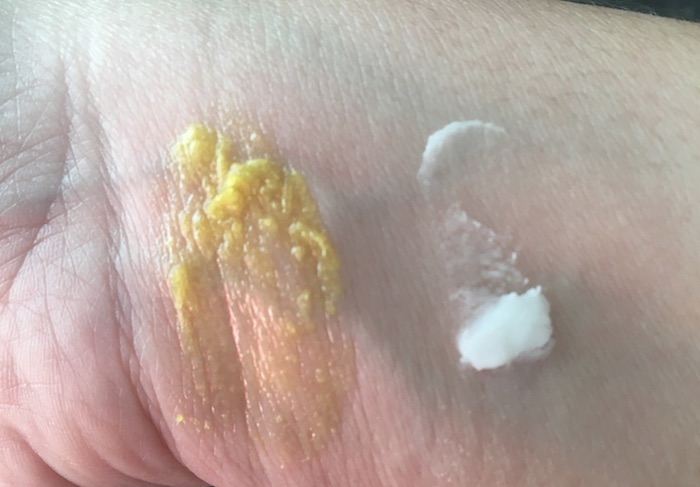 Yellow shea butter is easier to spread on the skin. It also melts faster.
Videos on the Difference Between Yellow Shea Butter and Ivory Shea Butter
After watching a few videos I thought the ones below clarified the difference between the colours further (what makes the yellow shea butter yellow).
So, what makes the yellow shea butter 'yellow'?
I love the video below. The girl has gone the extra length to make this a beautiful, packed with info video. According to her, IF the shea butter is the real thing, the yellow tint occurs when the bark of the borututu tree has been added to it during the milling process. **The videos says 'root' but I've seen in other places it is actually the bark, which has a rich orange colour to it.
I suggest you watch the entire video, as it is illuminating as well as very well explained. She also goes through the difference between West African shea butter and East African shea butter as well as explaining what other factors are the cause of the yellow shea butter (which could also be confused with the Kpangnan butter).
If you'd like to know more about the bark of the borututu tree this article expands on its beneficial compounds and detoxifying effects. 
Differences at a Glance
Find below an easy to compare table chart of the differences according to the photos, videos, experience on skin and research.
YELLOW SHEA BUTTER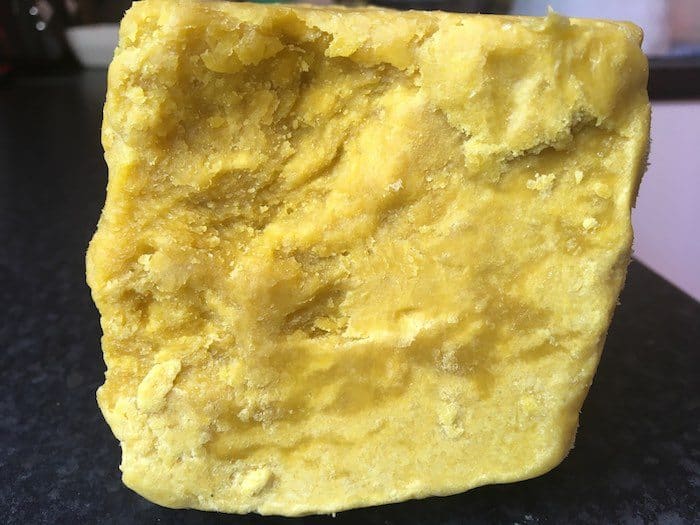 Easy spread
Smooth texture
Sticks to a surface due to the greasy texture
Greasier when scooping
Smooth and creamy
Feels more like butter
Stays on the skin longer, greasier so it doesn't get absorbed fast.
Stronger, more odorous smell
Probably good for making balms as it spreads beautifully
IVORY SHEA BUTTER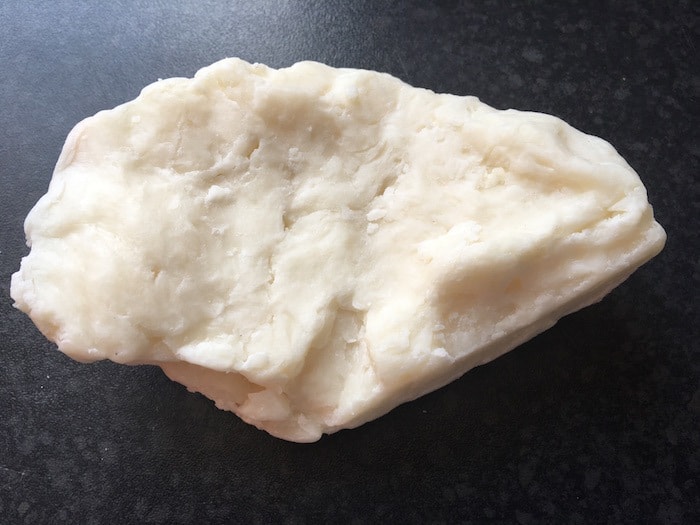 ​Lumpy 
Pastier texture
Block moves about when trying to grab some butter due to its more solid nature
Harder to scoop out
It has a crumblier texture, not so buttery
Skin absorbs it faster than the yellow butter
Waxier smell, not as strong as the yellow butter
Probably better for lotions due to its colour
Final Thoughts
There you have it. I hope the photos help, I'm not sure about the benefits in terms of long term use of each butter but at least you can start thinking about the different uses you can give each one according to texture and scent.
My Recommendations