Ivory Shea Butter: What You Need to Know
Disclosure: This post contains affiliate links which means I'll receive a small commission at no cost to you whatsoever when you make a purchase using my link.
So you've decided to purchase ivory Shea butter and are faced with the decision of where to get it from. How do you decide which is the best place to buy ivory shea butter? Should you buy it online or in a health store? What are your choices? Which brand is best?
Can quality vary depending on who's picking and processing the nuts? Why is yellow Shea butter yellow and should I buy that one instead?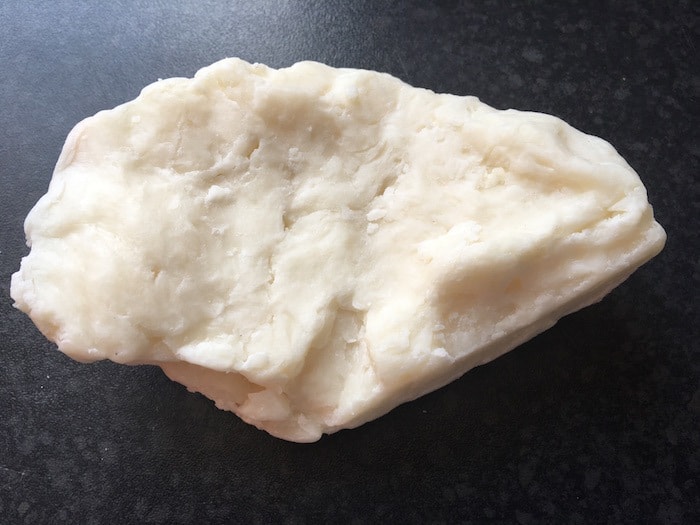 I used to have all these questions and just kept asking myself the same ones as I couldn't find clear answers. I just wanted to share what I learned because for a long time I didn't know whether to stick with my supplier, change suppliers or even buy directly from Africa. All the information is based on my personal experience of buying both yellow and ivory Shea butter in Brixton, London, United Kingdom, where Shea butter is being sold at the market, in private stores and even on the street.
I wish I had written this article years ago to help me make the right decisions. Do you want to buy ivory Shea butter like a pro? Then I guarantee that you will find this article insightful and helpful. Read on!
Types of Shea Butter
I'm going to try to keep the content succinct so that you'll read it all the way to the end and hopefully get all your queries finally solved.
Ivory/White vs. Yellow
Raw African Shea butter (pure, unrefined) is ivory, off-white, cream or beige in color. When Borututu tree roots are added to it the color changes to yellow. Sometimes palm oil is also added, which also give it the yellow tinge. I think this is what they added to the yellow Shea butter I used to buy, just look at the image and you'll see what I mean: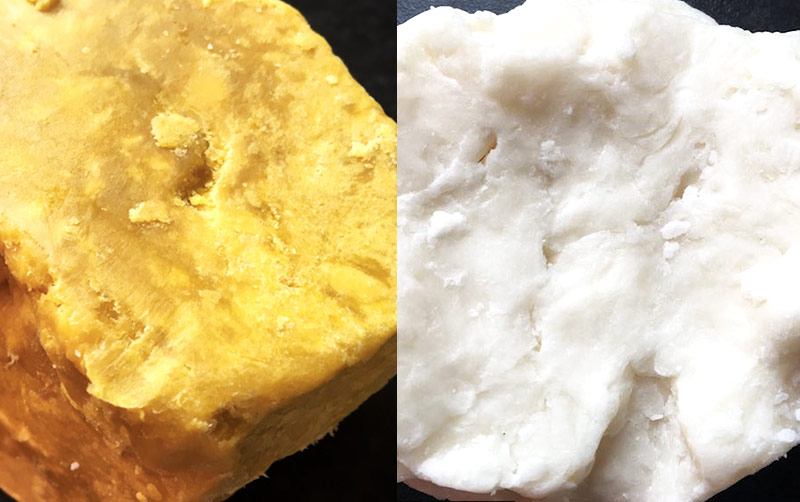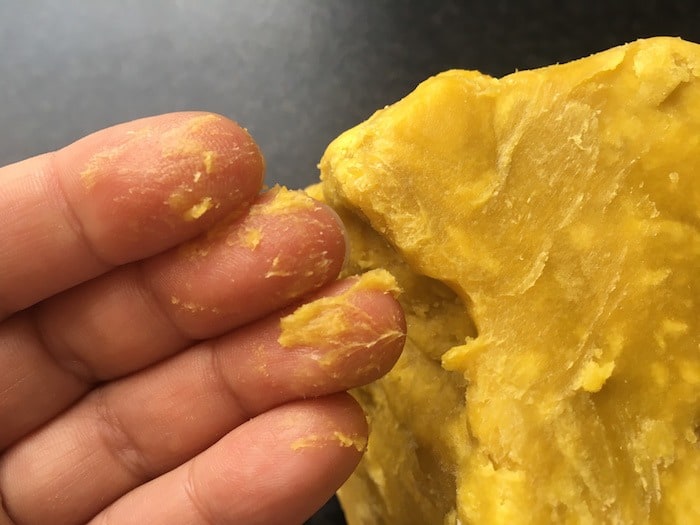 By the way, the Borututu tree roots have detoxifying properties and is used to treat external and internal infection, i.e. open sores.
So, yellow Shea butter is ivory Shea butter with added Borututu tree roots (or palm oil) to it, each with their own benefits. Don't be confused by the fact that both are called Shea butter. The video below explains it quite well.
Refined and Unrefined Ivory Shea Butter
Comparisons don't stop there. You also have to look at the refinement process of the Shea butter.
Refined and Unrefined
You can find both refined and unrefined ivory Shea butter. This is probably the most important factor to consider when buying it online as there are no laws to my knowledge that require manufacturers to disclose whether their ivory Shea butter is refined or unrefined.

My advice? Avoid buying ivory Shea butter from any store that doesn't show a picture of the product and provides you with full, clear information about what you're buying.
Unrefined, pure Shea butter is very rich in nutrients and antioxidants that can help protect your skin from the sun. Unrefined ivory Shea butter also significantly improves the elasticity, color and overall appearance of your skin. It is packed with Vitamins A, C, D, E, and good fatty acids that can help repair damaged skin tissues. Vitamin E is a fantastic antioxidant.
Refined Shea butter, on the other hand, has been melted, filtered and deodorized. I go more in detail here on the differences between refined and unrefined Shea butter. This refinement process removes the nutty scent but will also remove most of the nutrients and results in an inferior Ivory Shea butter. I would only go for this option if you're using Shea butter to add texture to your formulations and DIY skincare recipes and you're not looking for any other added benefits.
Shea Butter Grades
Lastly, there's also a grade system in place to differentiate between ivory Shea butter of different quality. The higher grade the ivory Shea butter, the more nutritious or rich it is to your skin. ​
One of the best Ivory Shea Butter is the one that comes from Ghana, where the nut is harvested directly from the tree. In West Africa, Ivory Shea Butter is known as 'pure' or 'raw' Shea butter.
Here are the grades according to Wikipedia:
A (raw or unrefined, extracted using water)
B (refined)
C (highly refined and extracted with solvents such as hexane)
D (lowest uncontaminated grade)
E (with contaminants)
Ivory Shea Butter
I sometimes buy refined Shea butter for some of my DIY formulations but if I was to choose the one type of butter to get, it would be pure, raw, organic, ivory Shea butter. There's a superior type of Shea butter, Nilotica, which is said to be the best but I haven't tried it yet. I'm most definitely enticed by the fact that it's one of the rarest and most luxurious ingredients on the market, second only to some luxury oils, in my opinion.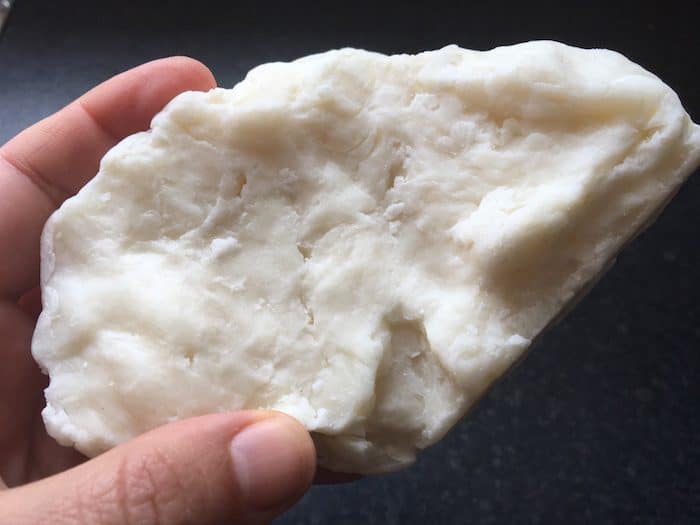 My Recommended Raw Ivory Shea Butter Brands
I'm going to recommend two brands that I think are the best and that are reliable. I've bought my ivory Shea butter from unknown brands also in the past and have always been very pleased I must say. These two brands I'm recommending are organic, which is a must in my books. All their Shea butters are unrefined which again, is a must unless you require the refined one for very specific purposes, like adding texture to any DIY skincare recipes.
1. Sky Organics Shea Butter
This butter is unrefined, pure and raw. You can use it both on your skin and hair. There are several sizes for you to choose from.
---
2. Perfect Body Harmony Certified Organic Raw Shea Butter
Another great choice, this is perfect if you're looking for a bigger tub for your formulations at home.
Raw Ivory Organic Pure Unrefined Shea Butter For Skin Care
I've written extensively on Shea butter for skincare but it's worth mentioning again in this post. There are a few major benefits to using Shea butter on your skin:
It is packed with nutrients, which is important especially when we're talking about anti-aging skincare products.
It provides our skin with the right type of vitamins that can help repair damaged skin cells and keep them healthy and hydrated.
It is a powerful antioxidant that can protect your skin from the harmful effects of pollution, stress and age while it's also great for acne-prone skin.
It helps improve the elasticity of your skin, which is a plus especially when you look at how many women are dealing with this issue as they age.
It also helps improve your skins overall appearance while reducing the appearance of scarring and hyperpigmentation.
It helps reduce or eliminate odor on your skin and hair (I use it on my homemade deodorant).
It is an anti-inflammatory ingredient that can help treat eczema, psoriasis and dermatitis in a natural way.
It can help get rid of that dark, dull skin tone especially if mixed with other ingredients.
It helps keep your skin hydrated while it's also great for dry, irritated and mature skin types as well.
It's antibacterial and antifungal, which means it can help treat acne, sebhorrheic dermatitis and athlete's foot while it treats fungal infections naturally as well.
Ivory Shea Butter Packaging Size
Before finishing this post I'd like to mention that before buying your butter you need to think about the amount of butter you'll need. What is the butter for? Are you using small amounts, i.e. as a night moisturizer? Are only applying it to dry patches of skin, like elbows, hands or feet? Are you using it to make body butter? Facial creams? You need to decide on how much you'll use and then buy the right size according to your needs.
I personally buy ivory Shea butter in 1 kilo tubs or chunks, and it does last me for quite a long time even though I make skincare regularly. If you want it as a night moisturizer, a small jar will last you a long time. If you prefer to buy skincare night cream products with Shea butter in them have a look at this page.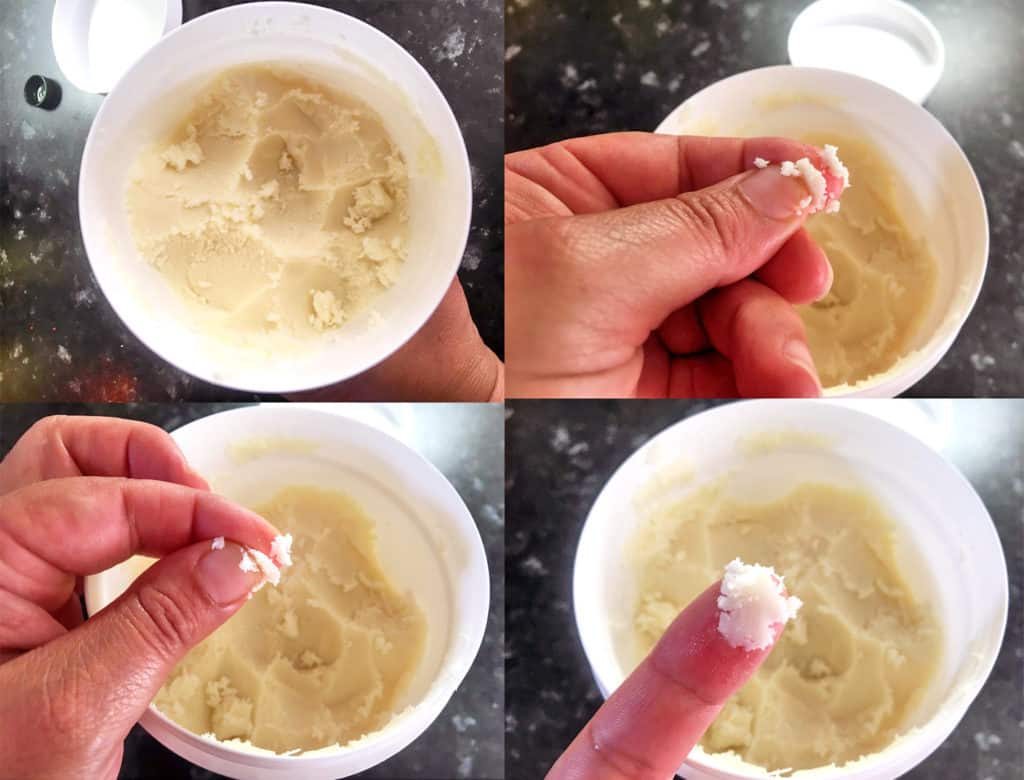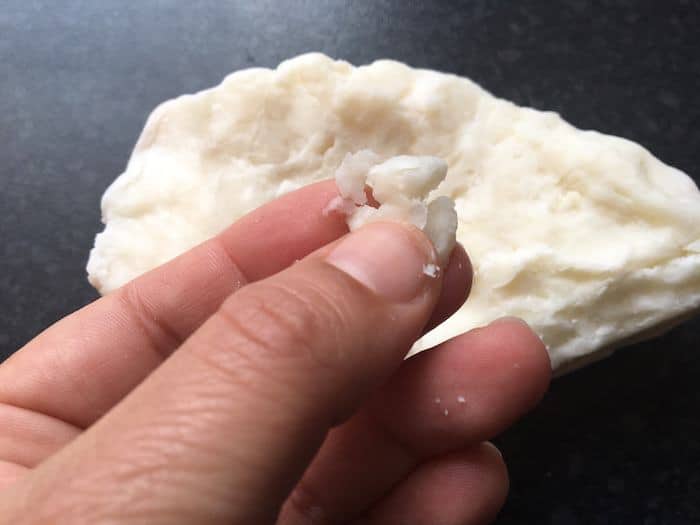 It's All About Preference
When it comes to Shea butter it's all about preference, like with everything else. I love yellow Shea butter and have used it in the past. For me the shopping experience is important as well, and I prefer to buy the butter at the market where I see the huge lumps of butter imported straight from Africa. The lady that sells it in Brixton cuts it with this huge knife and it is just wonderful to watch!
How to Use Shea Butter
Here's a quick guide on how you can use your ivory Shea butter:
Apply a small amount to dry patches (elbows, heels, hands, feet), leave it on til it softens your skin.
Use as a lip balm.
Mix with other ingredients like essential oils and use as a body moisturizer.
Mix with a your regular night cream to repair and nourish your skin.
Mix with olive oil and use as a facial moisturizer (good for very dry skin).
Use as a cream for irritated skin.
Apply a small amount to your hair to give it some shine and strength.
Melt it, then add some essential oils and use it as an aromatherapy massage oil.
I hope I've helped you. Ivory Shea butter is a versatile ingredient that is worth trying. Let me know if you've tried it and what you think about it in the comments.