JASON Vitamin E Oil: a Skin-Overhauling Powerhouse of Goodness
Vitamin E Truly is a Skin-Overhauling Powerhouse of Goodness!
In this JASON Vitamin E Oil review I'll be looking at how this skin oil benefits dry and/or damaged skin including eczema, redness, psoriasis, dermatitis, itchiness, scaling and fine lines and even wrinkles. And of course, we all know that thing vitamin E does REALLY well: destroy those free radicals!
So, if you suffer from any of the above conditions or just want to have a facial product at hand that can nourish your skin deeply while providing fantastic antioxidant benefits I highly recommend JASON's Vitamin E oil.
I may receive compensation from links on this post. See my disclaimer policy.
PROS
Deep skin moisturisation with a mix of fantastic oils that help reduce fine lines and wrinkles as well as fight inflammation, redness, eczema, scaling, etc
Relieves irritated, dry or damaged skin
Free of parabens, sulfates, phthalates and petrolatum
Not tested on animals
CONS
This is NOT JUST vitamin E! It's a mix of vitamin E and 7 vegetable oils
This is not a liquid product but rather thick and sticky, beware
Nut allergies? Macadamia nut oil might not be for you
---
My JASON Vitamin E 45,000 IU Skin Oil Review (with Alternative Options Below)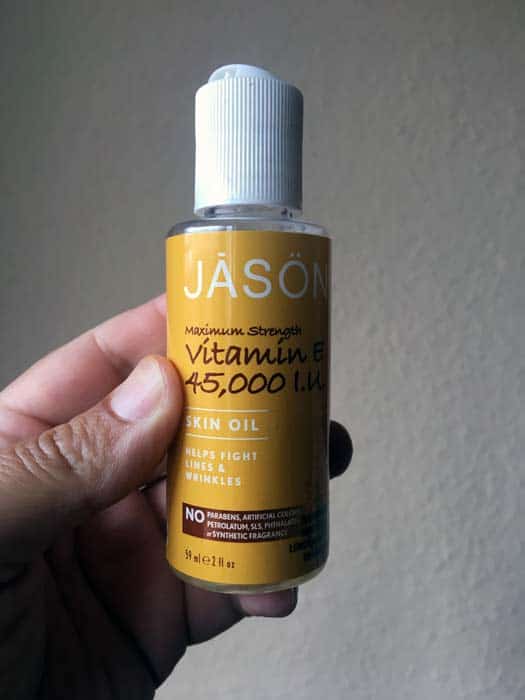 One of my journeys to As Nature Intended in London saw me buy JASON'S beauty oil last year.
After doing my Naturally Thinking DIY skincare course I knew I would be needing some natural vitamin E at hand and when seeing JASON'S product I couldn't resist it. Now, it wasn't cheap (more expensive in the UK than the USA I believe) but then, natural vitamin E is not exactly cheap either (I use vitamin E as part of my skincare formulations to slow down oil oxidation [rancidity]).
JASON'S product is not just the precious vitamin packed into a small bottle but a composite skin oil (a mix of different oils). This I didn't realise at the time of buying it (yep, I didn't read the label) but I must say the mix offers numerous benefits to those who suffer from irritated skin, dermatitis, eczema or dry/severe dryness.
It has taken me a long time to use the product since I always have so many ingredients and products to try as I formulate my own skincare but I finally came round to testing it.
Who Benefits from JASON Vitamin E Oil Product?
Since this is a small bottle (2 ounces) I recommend using it on your face, neck, décolletage and even hands if needed (when I finish applying it on my face I rub the back of my hands which act as a towel if you see what I mean…).
If you were thinking of using it for your hair and/or body I would recommend you look for a different personal care product like argan oil for your hair or fractionated coconut oil for your body which has EXCELLENT absorption rate and doesn't leave your body feeling oily (otherwise your JASON bottle won't last that long).
JASON's beauty oil is superb for those with dry and/or very dry facial skin because of how nourishing vitamin E is for personal care (being thick it provides a nice layer of richness to the skin) as well as the essential fatty acid profiles of the oils chosen by the brand for this fantastic little product.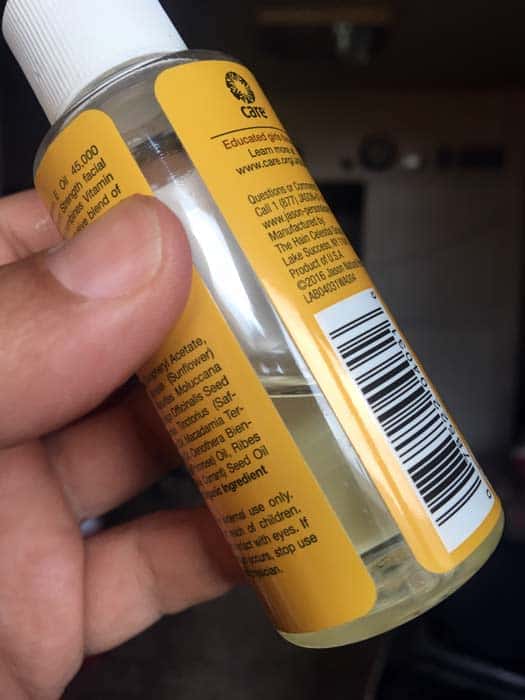 In fact, most of the oils JASON has chosen for the mix are really high in gamma-linoleic acid (great for irritated, inflamed skin, it also restores skin's barrier functions really quick, reduces transepidermal water loss, increases skin's hydration, increases skin's flexibility, absorbs really quickly and is also a FANTASTIC anti-inflammatory), alpha-linoleic acid (which helps regulate inflammation, treats eczema, psoriasis, rosacea, rashes, etc) and linoleic-acid (great for repairing skin's barrier mechanisms, an essential building block for ceramides, helps trap nutrients into the skin, helps with itchy, dry skin soothing it, acts also as an anti-inflammatory although gamma-linoleic acid is faster at treathing this, reduces scaling and also helps retain moisture).
So, in short, this healing skin oil is great for:
People with dry/very dry skin
People with inflamed skin
People with itchy, irritated, scaly skin (eczema, psoriasis, dermatitis)
People with redness of skin or rosacea
People with damaged skin in general (if you're looking to treat hyperpigmentation I recommend this oil, if you're looking into treating sun damaged skin I recommend buriti oil and if you're looking into treating acne/acne-prone I recommend tamanu oil).
Mature, aging skin – Jason's oil can diminish the appearance of roughness of wrinkles
Improves elasticity
Since vitamin E is the main component of this composite oil let's look at its benefits below.
*Natural Vitamin E vs Synthetic Vitamin E*
Vitamin E is a wonderful antioxidant that can be found in many skincare and personal care products as part of their ingredients list. I use it in ALL my DIY skincare formulas because not only it helps slow down oil rancidity but it also provides great benefits to the skin. I have used both natural vitamin E also called d-alpha tocopherol (Tocopherol) and the synthetic form of vitamin E also called dl-alpha tocopherol (Tocopheryl acetate).
The natural vitamin E I use is in fact a mix of at least 70% mixture of alpha, beta, gamma and delta tocopherols in sunflower seed oil. This vitamin E has been extracted from the soy bean. I have used the synthetic form as well but at the moment I have natural vitamin E at home. I like to try and see what works best for me.
Synthetic vitamin E (Tocopheryl acetate) is the ester of acetic acid and Tocopherol (source), sometimes preferred over the natural version in skincare products because the phenolic hydroxyl group is blocked which means it provides a less acidic product that can have great antioxidant effects (longer shelf life). It can penetrate through the skin to the living cells and about 5% of it is converted to free tocopherol providing beneficial antioxidant effects on the skin (the acetate is slowly hydrolised after it is absorbed into the skin thus protecting against the sun's UV rays and regenerating Tocopherol).
JASON's beauty oil uses the latter, the synthetic vitamin E (Tocopheryl acetate).
More About Vitamin E…
Vitamin E can be found in our own skin (on the stratum corneum) and is produced by our own sebaceous glands. So this vitamin naturally occurs in our bodies so it is a fantastic ingredient for personal care products.
How come it can destroy free radicals? Vitamin E, being a fat soluble anti-oxidant, works as a free radical scavenger by donating an hydrogen to a molecule or atom. Basically, vitamin E prevents oxidative stress (more about oxidative stress here). I wrote about free radicals and antioxidants here in case you'd like to know more about how antioxidants work.
Now About Vitamin E "IU"
Now about the 'IU' part. JASON offers different International Unit (IU) numbers in their products (5,000, 14,000, 32,000, 45,000, etc) but what is this exactly??
IU stands for "International Unit", a measure used in pharmacy to measure vitamins. Although the definition of an IU changes from one substance to another, in the case of vitamin E 1 International Unit (1 IU) is the biological equivalent of about 0.667mg in weight (source).
So, if 1 IU corresponds to 0.667mg of vitamin ; 45,000 corresponds to around 30mg of synthetic vitamin E (Tocopheryl acetate).
If this sounds too complicated don't worry too much about it. Basically, the higher the IU the higher the amount of vitamin E in the product. Simple.
Where Does Vitamin E Come From Exactly and Why Would I Need it at All?? Is Vitamin E Good for Skin?
Vitamin E and Skin
Yes it is! Vitamin E is a fantastic anti-oxidant that destroys free radicals.
But it also offers other benefits…
Potent antioxidant protection
Effective moisturisation

Softens the skin

(naturally hydrates and heals damaged skin)
Prevents wrinkles and fine lines
Promotes collagen & elastin (keeps the skin looking young)
Alleviates dry skin
Great for retention of water
Has anti-inflammatory benefits
Repairs stretch marks and scars
Can treat acne marks
Lightens dark spots and under-eye circles
Generally it helps repair damaged skin
Provides relief for skin irritation and sunburn
Overall keeps your skin healthy
Natural sources of vitamin E include vegetable oils (seeds, nuts, grains, etc). I'm not sure where JASON sources it from, and for me it would be really interesting to know (if you know please leave in the comments area, thanks!).
Is There 100% Pure Vitamin E Oil Available Instead?
I haven't found 100% pure vitamin E skin oil yet (meaning not mixed with other oils) as I purchase my vitamin E in the UK (Naturally Thinking). Some people buy the vitamin E capsules and use the liquid inside to slow down rancidity when they make their homemade skincare (and maybe even use it on their skin) but I haven't tried this myself.
Anyway, in capsule form the IU doesn't seem to be as high (see here); a far cry from JASON's 45,000 IU!
---
Vitamin E Oil for Face Review: JASON Vitamin E 45,000 IU Skin Oil, a DEEPLY Nourishing & Healing Product
Sale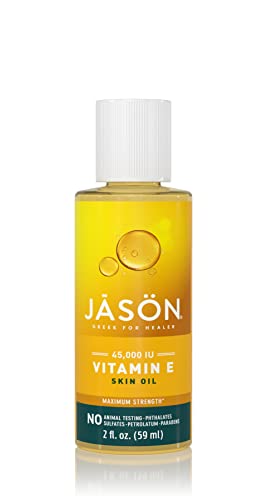 JĀSÖN Maximum Strength Skin Oil, Vitamin E 45,000 IU, 2 Oz
One 2 oz. bottle of JASON Maximum Strength Vitamin E 45,000 IU Skin Oil
Deeply moisturizes and conditions skin to help reduce the appearance of fine lines and wrinkles
Infused with antioxidant-rich vitamin E and a blend of five essential oils
Last update on 2022-10-16 / Affiliate links / Images from Amazon Product Advertising API
JASON is a great natural personal care brand. I have seen it in natural and holistic stores in London, UK, that I know would only sell brands they believed in. I've always liked the logo and natural ethos behind the JASON brand, have a look at their story here.
This product offers a mix of superb ingredients: vegetable oils together with the vitamin E that are deeply nourishing with healing properties to die for due to their fatty acid profiles. I love all of the chosen oils and will probably create a similar product at home as I own all the separate vegetable oils as well as the vitamin E (not the black currant seed oil, I'll have to see if I can get a hold of it!).
I already mix vegetable oils together according to their fatty acid profile power and I find JASON's particular mix to be a powerful one.
What's the Problem?
You might just want to apply vitamin E to your skin or be able to mix it with your own blend of facial oils. If so, then this is NOT for you. As mentioned above, JASON has already taken the liberty of choosing a mix of oils they thought could work when creating this particular product and I bet they had the 'irritated, dry, red and scaly type of skin' in mind).
I personally love their choice of oils (and I'm not one to agree with just any carrier oil mix) but I think they've mixed a really light, healing blend that can work really well with vitamin E since it is in itself a dense and sticky product.
By the way, if I was to choose for one of their oils in the mix to be of organic origin I would have said the Sunflower oil. Which they did choose an organic sunflower oil so, yep, I'm happy with that.
Pure Organic Vitamin E Oil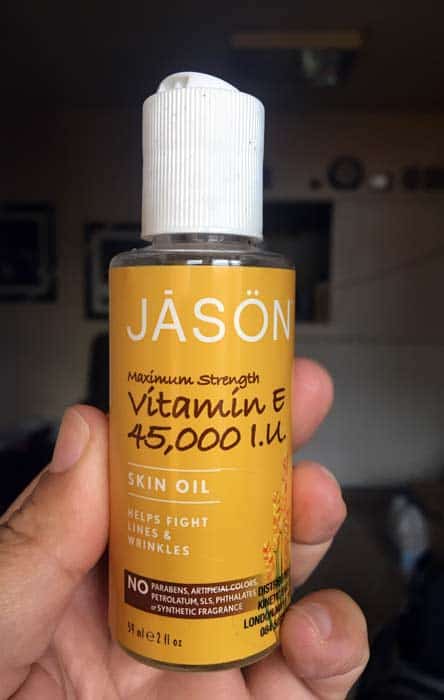 I read that JASON vitamin E composite oil is certified organic but for some reason this is not on the label of the product (at least not my version of the bottle, I can see there's a new design which, by the way, is absolutely gorgeous!). Shame about the plastic bottle but I suppose as time goes by these things will change (to glass, for example).
If it is not certified organic they haven't gone for the hassle of getting their paperwork for the product or the amount of organic sunflower oil in their ingredients is not cutting it for the certification. I bet it's probably the latter. I'm not too fussy about this though as I know that there are many times where oils are sourced from honest, sustainable crops and companies which haven't got the means for an organic certification. Sometimes the same company produces an organic oil against one that's simply not certified because of the paperwork (and money!) involved. I'm careful where I source my ingredients and I'm sure JASON is careful as well but, if in doubt, just contact the company and ask them directly, I'm sure they would be more than happy to assist you with their query.
Are You Trying to Avoid Chemicals?
If so, this product is for you. There's nothing to worry about in terms of the ingredients. It doesn't even have essential oils as part of their formulation which at times can be a little problematic particularly for sensitive skin types. Also, the top 2 oils used on this formula are light and apt for sensitive skin (I use sunflower seed oil on formulas for sensitive skin myself).
What's in the Bottle?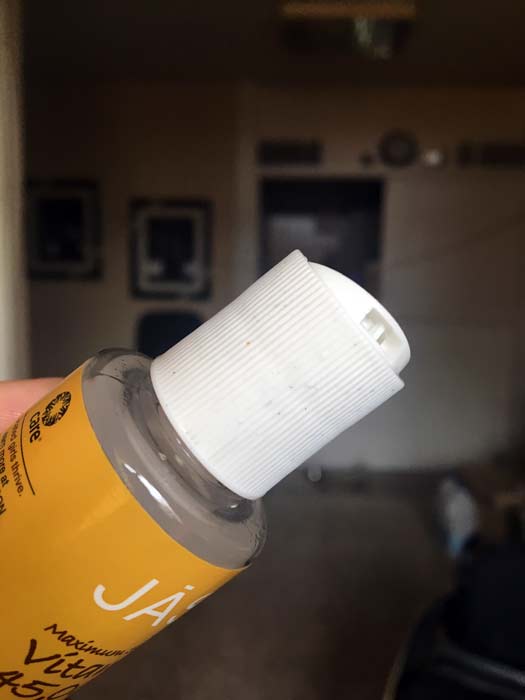 Here's a list of the ingredients and below I'll talk about each vegetable oil.
Ingredients
Tocopheryl Acetate, Helianthus Annuus (Sunflower) Seed Oil (1), Carthamus Tinctorius (Safflower) Seed Oil (1), Borago Officinalis Seed Oil, Camellia Sinensis Leaf Oil, Macadamia Ternifolia Seed Oil, Oenothera Biennis (Evening Primrose) Oil, Ribes Nigrum (Black Currant) Seed Oil. (1) Certified Organic Ingredient
We know the bottle has vitamin E in it, and quite a lot of it according to the 45,000 IU together with the fact that it appears as the first ingredient on the ingredients' list (the list shows ingredients in order of quantity from top to bottom).
Now that we know how good vitamin E is for your skin let us have a look at the rest of the oils that JASON has put together in this little gem of a bottle.
Just a note: most of the oils they've used for their composite are of fast absorption. If you feel the product doesn't absorb easily this is probably due to the vitamin E content, which is in itself thick and sticky.
HELIANTHUS ANUUS (SUNFLOWER) SEED OIL
One of my favourite oils for sensitive skin as it is very mild. Also good for children and even babies. Sunflower seed oil is super rich in linoleic acid (72%) and lethitin, which makes it a superb oil to help restore elasticity and moisture into the skin.
This skin oil is light and in itself can contain up to 700 mg per kg of vitamin E, 500 mg of each in the form of the alpha tocopherol and 100 mg in the form of gamma tocopherol. JASON probably chose this oil because of its high Vitamin E content as well as the fact that it is such a light skin oil that the skin absorbs really fast (and good for all skin types including sensitive).
CARTHAMUS TINCTORIOUS (SAFFLOWER) SEED OIL
Another light oil with high amounts of linoleic acid (70 to 80%). With an average Vitamin E content of 34.1mg/100g, safflower seed oil adds even more vitamin E to the mix. Safflower is a great skin oil for acne prone skin because of the high amount of linoleic acid which can help with overproduction of sebum.
BORAGO OFFICINALIS (BORAGE) SEED OIL
I love borage seed oil for inflamed, red or just 'sore' skin. This skin oil is so rich in essential fatty acids and is also well known for being the richest commercial plant source of gamma-linoleic acid (an omega 6 fatty acid). Check it out on more depth here as I talk about anti-inflammatory oils. In terms of vitamin E content, borage seed oil has an average vitamin E content of 71.22mg/100g (Source). This oil offers a calming effect while helping maintain healthy skin. This is a fantastic skin oil for dry and irritated conditions. 
CAMELLIA SINENSIS (CAMELIA) LEAF OIL
As a standalone oil camellia is a FANTASTIC personal care facial oil! I mix it with sea buckthorn oil to make a truly high-end facial oil that leaves your skin looking incredible. Very high in monounsaturated oleic acid, camellia gives excellent skin conditioning properties. This is also a light skin oil which makes it a truly superb carrier for your skin. Camellia oil can prevent and repair scarring, helps retain moisture in the skin and is also well known for its rejuvenation properties. With protective polyphenols and vitamins (A,B,C and E), this skin oil protects your skin from UV exposure.
By the way, this easily absorbed oil has been traditionally used in Japan for its fantastic properties.
MACADAMIA TERNIFOLIA (MACADAMIA) NUT SEED OIL
This is my favourite skin oil for mature skin! It is a deeply moisturising and highly emollient oil. I love it because of the high quantity of omega 7 palmitoleic acid (16-23%), which is a fatty acid that our skin slows down in producing as we age. A nourishing skin oil, it is also anti-microbial helping wounds to heal. Great for mature and damaged skin, this is another oil that absorbs well into the skin.
OENOTHERA BIENNIS (EVENING PRIMROSE) OIL
Also high in linoleic acid (65-75%), evening primrose oil is a lovely skin oil to use on skin which is aging, irritated or reddened. It can help with rosacea and eczema and contains the above mentioned fatty acid GLA gamma-linolenic in the range of 10% (responsible for reducing inflammation). It contains the polyphenol gallic acid which helps to speed up the healing of wounds and burns. Tannings in the oil keep it feeling light as well as providing astringent properties.
RIBES NIGRUM (BLACK CURRANT) SEED OIL
High in gamma-linoleic fatty acid (16-17%) with a linoleic acid content of around 47-48%. Out of the whole list o f oils this is the one I've never used before because of availability but this is an oil I'd like to give a try for sure.
This skin oil is packed with antioxidants and four times the vitamin C content of oranges (important for collagen formation and skin elasticity). With double the amount of antioxidants than blueberries. It promotes healthy, youthful skin (source).
In general, and as you can see, all the oils used in JASON's product blend are great to take care of problematic skin that's inflammed or suffers from eczema, redness, itchiness, etc. At this stage I'm not sure which skin oil is best for which condition in particular, but nonetheless high amounts of gamma-linoleic fatty acid will be extremely helpful in solving skin conditions like these.
Do we really need to mix so many great oils? According to Lipid Hub expert Susan M Parker the more oils the merrier but I am yet to find this out with my own oil blends. Yes, each oil will provide its own unique fatty acid profile plus together with amazing unsaponifiables which can bring in a lot of benefits when you gently massage them into the skin. I'm sure JASON natural has thought well and hard about the amount of oils and why so I'm not going to worry about this. Let's just say that each skin oil on its own is packed with goodies.
When & How to Use
Use this beauty oil at night (my bottle doesn't specify this but I do recommend it since the product can feel sticky on your skin). Cleanse your face and neck with a gentle face wash or cleanser and then add one or two drops of the product into your palms, rub them together and gently massage wet or dry skin.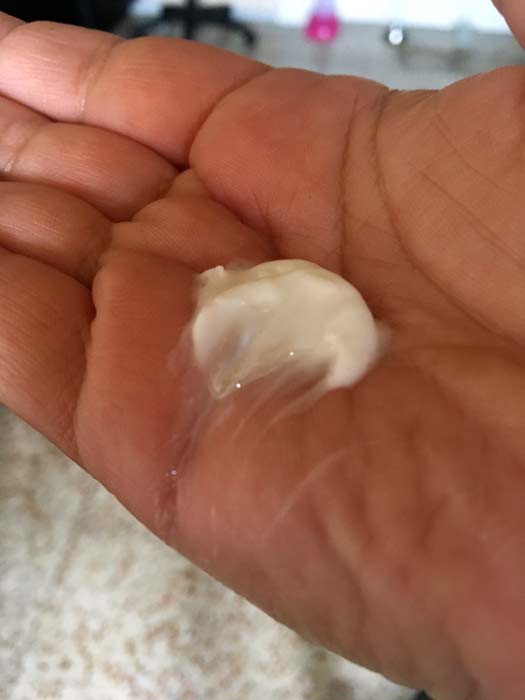 Another way to apply is by adding one or two drops to your moisturiser (feel free to do this in the morning as well, see how this feels for you).
If you see the oil blend is too sticky and difficult to apply evenly simply wet the palm of your hands prior to rubbing (so basically mix it with a little water on the palm of your hands, rub together and apply. This should make the process easier).
You'll have to find your own way of best applying this beauty oil. Again, this is a sticky and thick product so you might not find it very pleasant at first if you're not used to vitamin E's density and texture. You might find it ok to use it neat by rubbing it against your palms and applying, or you might prefer to mix it with a moisturiser, or maybe adding a splash of water to the palm of your hands and rubbing might be a good way for you to apply this product. Don't let this deter you from using vitamin E on your skin, just find the best way for you to apply this product with ease!
Let it soak onto your skin while you sleep. Absorption should be light and fast.
Over time you should notice your skin getting softer and brighter.
Where to Use
Use on face, neck, décolletage, hands (and even hair if amount permits).
A Good Brand Must Offer…
High quality vitamin E that does the job well. I'm fussy with providers and make sure I find out where they source their products from. Here in Europe the law is strict when it comes to cosmetics and so I'm used to being very particular when it comes to finding out about suppliers' background, motives and where they source their ingredients from. Ethics, my dear, are important to me!
Could Vitamin E Help With Acne?
I've never used vitamin E as a potential ingredient in my homemade skincare formulas for acne although according to this article "Vitamin E is just one of the antioxidants touted as a potential acne treatment."
The same article specifies that even though because vitamin E is an anti-inflammatory this could help boost the immune system and therefore help with cell regeneration, but there's still research that needs to be done around this area to prove that vitamin E is an effective treatment.
Personally, if I was to recommend a skin oil for dealing with acne or acne-prone skin I would recommend tamanu oil and/or hemp oil (a mix of both would probably be good).
Are There Other Products that Will Do the Same Job Efficiently?
There are many products that will help with dry/itchy, scaly, inflamed, irritated skin but I feel that this particular product has a focus on a high amount of synthetic vitamin E (Tocopheryl acetate) together with a mix of powerful oils high in gamma-linoleic acid so I'd say this is the one to go for.
I'm not sure why JASON natural doesn't market this product as a wonderful blend of ingredients which include vitamin E together with a superb choice of vegetable oils. The label can be a little misleading as people might think they're buying PURE vitamin E which is not the case.
Will it Be Beneficial for Those with Normal Skin?
Most definitely. I personally don't have any skin conditions and at my age I must say I'm lucky to still have combination skin rather than dry skin but I know that the mix of oils will most definitely add rich nutrients to my skin that are always needed.
Value For Money?
Yes. As mentioned before here in Europe this beauty oil is more expensive than in the US probably because it has been imported from there. I must confess it did hurt me a bit when buying it because I paid something along the lines of £14 ($17 or $18) which is not exactly cheap, but I know that all these other vegetable oils are quite expensive when buying them on their own. For me I think it would most definitely be worth creating my own mix with the same ingredients because I own all of them except the black currant seed oil. Anyway, I will be making this product at some point in the near future.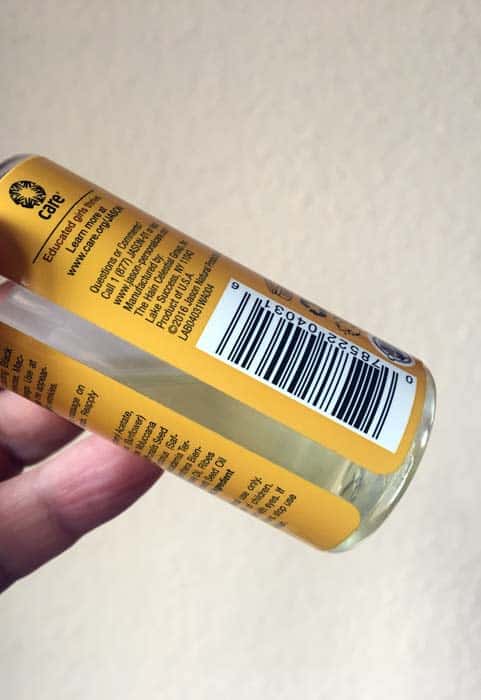 If you don't own all the separate oils like I do then this is great value for money.
Buy JASON 45,000 IU Vitamin E Oil
If any of the above has enticed you to try it, or if you have any of the skin conditions mentioned on this article have a look at the below:
Sale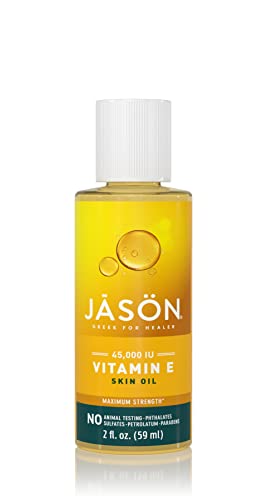 JĀSÖN Maximum Strength Skin Oil, Vitamin E 45,000 IU, 2 Oz
One 2 oz. bottle of JASON Maximum Strength Vitamin E 45,000 IU Skin Oil
Deeply moisturizes and conditions skin to help reduce the appearance of fine lines and wrinkles
Infused with antioxidant-rich vitamin E and a blend of five essential oils
Last update on 2022-10-16 / Affiliate links / Images from Amazon Product Advertising API
Still Searching? Check Out this Other Products
If you're not 100% convinced yet but still would like to try something similar (a vitamin E product for your skin) I have listed 3 options that might be of interest to you. See what you think:
OPTION 1: 100% Natural & Organic Vitamin E Oil 15,000 IU by Healthy Priority – For Wrinkles and Dark Spots
100% Natural & Organic Vitamin E Oil by Health Priority product is more expensive than JASON's oil but it offers some advantages. All of the ingredients in the bottle are of organic origin (which explains price point) and the vitamin E used in the product is completely natural (d-alpha tocopherol) against JASON's synthetic version of the vitamin (Tocopheryl acetate). Healthy Priority claims natural vitamin E is twice as powerful as the synthetic version and works twice as fast. This I don't know from my own research and studies but I'll definitely will be keeping an eye on the actual power of natural vitamin E as I study my skincare formulation courses.
Now the great news: you can buy this oil with or without essential oils : ) I do like that JASON's oil doesn't have essential oils in the sense that this makes it a safe product for everyone (also some people mind the smell essential oils have; even when my facial skincare has low quantities of essential oils, below 1%, some have complained that it does have a scent and they don't like this). Others have incredibly sensitive skin and just a hint of essential oils can get them to flare up, I've seen this quite a few times. Still, it is soo good to have the choice! And this is what I really like about Health Priority's product.
The 2 essential oils in the scented version are lavender, a great skin healer because of its soothing effects and palmarosa, fantastic because of its balancing action, helping control sebum secretion and keeping skin's elasticity.
We've already look at vitamin E benefits above so we know this product will be good for wrinkles and dark spots, as Health Priority claims. I know that vegetable oils can help skin issues at many levels so there will be other beneficial actions but it seems these two are the ones the product is aimed at.
Other benefits they claim: lashes enhancement, heals acne scars and softens stretch marks.
Let's look at the ingredients:
Ingredients: organic natural vitamin E (d-alpha tocopherol) oil, organic jojoba oil, organic avocado oil, organic rice bran oil, organic lavender oil, organic palmarosa oil << only the scented version!
The rest of the oils are vegetable oils: jojoba oil (a liquid wax produced in the jojoba plants) is well known for mimicking our own sebum, it is great for nourishing, protecting and moisturising. Avocado oil has high amounts of palmitoleic acid so it is very good for mature/aging skin. Rice bran oil is fich in natural plant sterols and antioxidant gamma oryzanol which has a strong natural UV-A and UV-B absorbing capacity.
PROS
100% Organic product
Vitamin E derived from sunflower oil
A mix of vegetable oils make the vitamin E content even more powerful
The percentage of Natural Vitamin E is nearly 80%
Options to buy unscented and scented (with essential oils)
Great mix of calming oils
Not too thick or sticky (not sure in comparison with JASON's oil) but with 15000 IU is bound to be less thick/sticky. Remember this is natural vitamin E though as opposed to the synthetic version (Tocopheryl acetate).
CONS
Price point
Not 100% vitamin E but almost! (80% vitamin E with a blend of carrier oils)
Buy 100% Natural & Organic Vitamin E Oil 15,000 IU by Healthy Priority
Sale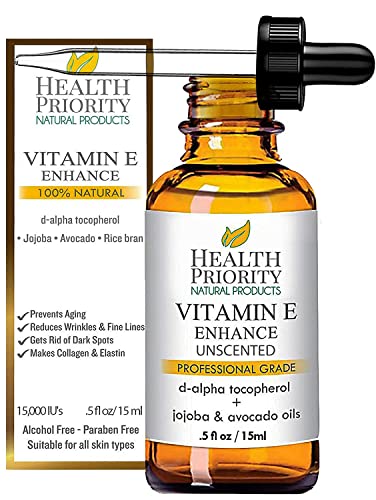 Last update on 2022-10-17 / Affiliate links / Images from Amazon Product Advertising API
HOW TU USE
Apply 4 to 5 drops onto face, neck and chest in the morning and in the evening. Mix with your moisturiser if the product is too thick for you.
OPTION 2: 100% Natural Vitamin E Oil 35,000 IU by Eden's Semilla
100% Natural Vitamin E Oil 35,000 IU by Eden Semilla has been marketed as a product for sensitive skin, Eden Semilla's product has an enticing price point for the ingredients it contains.
With a mix of really nice carrier oils which include organic jojoba oil and organic rosehip oil, the company claims they give this oil combo the perfect consistency for an easy application.
These are the ingredients:
Natural Vitamin E Oil (d-Alpha-tocopherol), Safflower, Wheatgerm, Sunflower, Sweet Almond Oil, Apricot and Avocado / Organic Rosehip Oil / Organic Jojoba Oil
Safllower oil is high in linoleic acid (70 to 80%) with around 34.1mg/100g of vitamin E content, wheatgerm oil is also high on linoleic acid (55 to 60%) and has an average of 149.4mg/100g on vitamin E content. Sweet almond oil is a lubricating but not penetrating oil. High in oleic acid, this oil is perfect suited for those with dry, sensitive and irritated skin. Apricot oil is light and easily absorbed, high in both oleic and linoleic acid which makes it makes an excellent moisturiser. Avocado oil is high in palmitoleic acid which is perfect for mature skin. Rosehip seed oil minimises the appearance of wrinkles, smoothes skin improving moisture levels and jojoba oil (a wax) is a super skin nourishing oil.
The vitamin E is of natural origin (d-Alpha-tocopherol / Tocopherol) instead of synthetic (dl-Alpha-tocopheryl / Tocopheryl acetate) and each bottle contains 35,000 IU (around 25% vitamin E).
Again, another fantastic product with a wonderful array of carrier oils.
PROS
Price point
A great mix of carrier oils
Natural vitamin E
2 organic carrier oils
CONS
Not 100% vitamin E (25% vitamin E with a blend of carrier oils)
Gluten allergies or sensitivity? The wheat germ content might be a problem for you
Nut allergies? The sweet almond oil content might be a problem for you
Buy 100% Natural Vitamin E Oil 35,000 IU by Eden's Semilla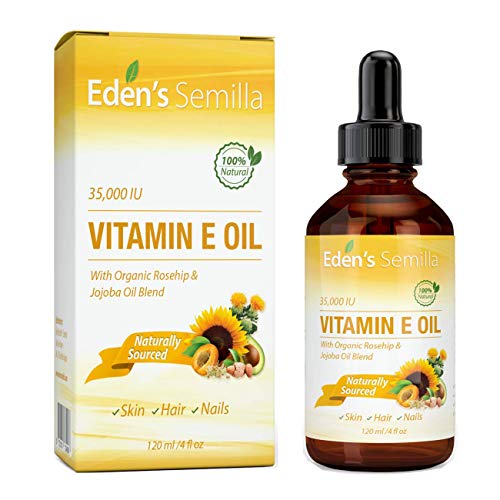 Last update on 2022-10-16 / Affiliate links / Images from Amazon Product Advertising API
HOW TU USE
Gently massage one or two drops on selected facial areas morning and night.
OPTION 3: Vitamin E Serum by Leven Rose
Ooh, I LIKE some of the carrier oils used on this blend! The vitamin E inside Vitamin E Serum by Leven Rose has been extracted from wheat germ (which naturally has high contents of it), shame we don't know the amount.
Argan, prickly pear cactus and sea buckthorn are 3 of my all time favourite high-end carrier oils. Shame the sea buckthorn oil they've added is not from the fruit but from the seeds. The oil from the fruit contains a whooping 34% palmitoleic acid which is FANTASTIC for mature skin (we stop producing it as we age), while the seed oil only contains up to 2% of this acid (still higher than many oils). The fruit oil stains the skin (badly I must say) unless diluted with lighter colour carriers. The oil from the seed doesn't have this problem which might be the reason while they've chosen it for the blend.
They've added fractionated coconut oil to the blend probably to speed up absorption rate and make the product a little thinner.
PURE Vitamin E (from natural wheat germ), Jojoba, Sweet Almond Oil, Argan, Prickly Pear Cactus, Sea Buckthorn Seed Oil, Avocado, Apricot Kernel, Fractionated Coconut & Rose Essential Oil
Another GREAT choice of carrier oils. Jojoba, sweet almond oil, avocado and apricot kernel we've seen above as other products have used them as well.
New kids on the block here? Argan oil is originally from Morocco and has a beautiful balance in terms of monounsaturated oleic and polyunsaturated linoleic acid. This oil reduces wrinkles, soothes and cools inflamed skin, is a great antioxidant itself, contains carotenes (provitamin A), nourishing polypyenols (which help redness and inflammation), squalene and a generous Vitamin E. Prickly pear cactus oil has an average vitamin E content of 105mg per 100g. With around 60 % linoleic acid this oil absorbs quickly into your skin, it intensely hydrates your skin and is particularly good for aging, mature skin. Prickly pear oil has almost 150% more vitamin E than argan oil.
Sea buckthorn seed oil has exceptional oil properties because of the beautiful balance between linoleic and alpha-linolenic acids that help tame inflammation as well as preserve the barrier function and nourish the skin. With really high amount of vitamin E as well as phospholipids and carotenoids that deflect damage from free radicals.
Finally rose essential oil is most definitely a high-end essential oil which offers numerous benefits to the skin: helps reduce the appearance of redness as well as puffiness, has anti-inflammatory effect, heals, protects, promotes youthfulness, deeply nourishing, adds brightness and luminosity, combats signs of premature aging and gives you a wonderful glow. Oh, and it smells intoxicatingly divine!
PROS
An organic product
Natural vitamin E (as opposed to synthetic Tocopheryl acetate)
The addition of rose essential oil propels this oil to the next level
Argan, prickly pear and sea buckthorn oils are truly high-end carriers
A great product for mature skin
CONS
Gluten allergies or sensitivity? The vitamin E has been extracted from wheat germ

Not 100% vitamin E product (this is a blend of vitamin E plus carrier oils)
Buy Vitamin E Serum by Leven Rose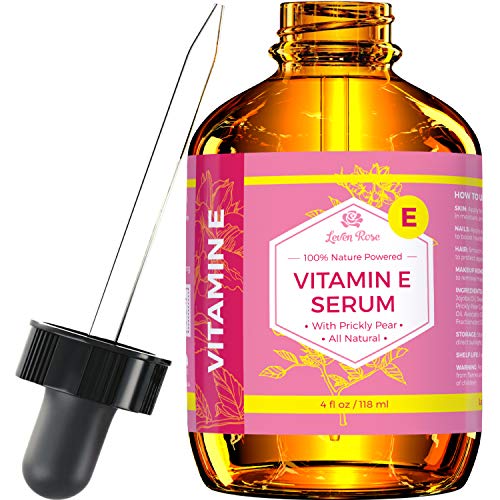 Leven Rose Vitamin E Oil Serum 100% Pure Organic All Natural Face, Dry Skin & Body Moisturizer Treatment, Hair & Nail Growth Oil, Pure Makeup Remover, Acne Cleansing Oil Large 4 oz
GROW STRONG NAILS - Cold pressed golden Jojoba + Vitamin E hand & nail conditioner helps grow longer & thicker nails
ULTRA HYDRATING + DEEP CLEANSING Therapeutic Grade Skin Therapy Oil for scalp massage + acne healing facial toner
INTENSE HEALING + Sweet Almond, Argan, Prickly Pear Cactus, Sea Buckthorn Oil, Avocado, Apricot, Coconut & Rose Oil
Last update on 2023-01-13 / Affiliate links / Images from Amazon Product Advertising API
HOW TO USE
Apply a small amount and gently massage onto dry skin areas.
Still Confused?
I've chosen fantastic vitamin E products and I can understand if you're confused about which one to go for. If price point has not made your choice clear let me try to help you further.
If you have sensitive skin and are not sure if essential oils are going to be a problem for you, your choices would be JASON Vitamin E 45,000 IU Skin Oil or Healthy Priority's 100% Natural & Organic Vitamin E Oil (the unscented version!) or Eden's Semilla Natural Vitamin E Oil 35,000 IU.
If you suffer from nut allergies your choice would be Health Priority's 100% Natural & Organic Vitamin E Oil (the natural vitamin E in the product is derived from sunflower oil so make sure you're not allergic to sunflower which is a seed). Watch out for almond oil, macadamia nut oil, etc (any nut oils) in the products when buying.
If you're looking for a gluten free product Beyond Celiac states that oils are gluten free. If you wanted to purchase a product without any wheat germ content in it then JASON Vitamin E 45,000 IU Skin Oil or Healthy Priority's 100% Natural & Organic Vitamin E Oil (both the scented and unscented version) would be suitable for you. **Please check each product thoroughly in case I made a mistake!
If you have mature skin I recommend Vitamin E Serum by Leven Rose which has a wonderful blend of oils like argan, prickly pear and sea buckthorn which will help with aging skin and rose essential oil in itself is truly fantastic when it comes to mature comlexions. All the other products have ingredients that tackle fine lines and wrinkles in some oil or another, but I feel the one by Leven Rose is absolutely perfect for this.
If you want only natural vitamin E instead of the synthetic Tocopheryl acetate version then Health Priority's Natural & Organic Vitamin E Oil or Eden's Semilla Natural Vitamin E Oil 35,000 IU or Vitamin E Serum by Leven Rose would be your choices.
What I like about JASON's oil is that it contains borage and macadamia oils which are also great for mature complexions. But the fact that it uses synthetic vitamin E might not be for everyone. I personally don't mind as I like to use different products and test them.
**In terms of fl oz, JASON's natural beauty oil comes in a 2 fl oz plastic bottle, Healthy Priority's product comes in 0.5 fl oz and 1 fl oz bottle, Eden Semilla's product comes in a 2 fl oz dropper and a 4 fl oz dropper and Leven Rose's product comes in a 4 fl oz glass bottle. As you can see you can choose different fl oz amounts on some of the products. Unfortunately JASON's only comes in the 2 fl oz container (their 14,000 IU product comes in a 1 fl oz container, their 32,000 IU product also comes in an 1 fl oz container and their 5,000 IU All Over Body Nourishment Oil comes in a 4 fl oz container).
If you're not in the US some products might not be available in your area. If they do, check out shipping weight. Shipping weight should not add too much cost on top of your product because they're small bottles. If you're worried about shipping weight price do contact the company about this.
I'm Off to Apply Some JASON Vitamin E 45,000 IU on My Skin RIGHT NOW : )
It's night time and I'm almost finished with this article. Time for me to do my night routine and I will, of course, apply and gently massage some of this great oil on my skin so it can soak in overnight as the superb blend of beauty oils offer amazing benefits for my skin.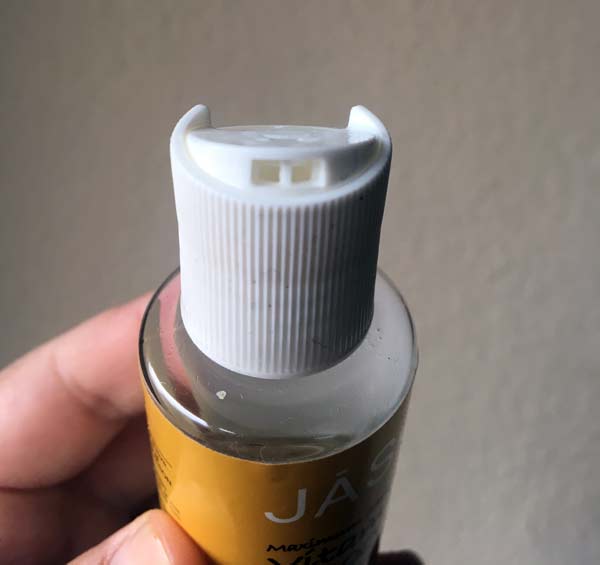 Good night everyone. Hope my article helped you choose the perfect product for your particular skin.
Patri xx
---
Helpful Links
Here's my JASON Powersmile All Natural Whitening Toothpaste Review
Resources
All about Fatty Acid Profiles
All about Facial Oils
Natural vs Synthetic Vitamin E