Everyday Shea Butter Uses: Face, Hair, Body & Health
Disclosure: This post contains affiliate links which means I'll receive a small commission at no cost to you whatsoever when you make a purchase using my link.
Here is all my Shea Butter related content which might interest you:
Let's get started looking at Shea butter uses!
I love shea butter and have written plenty about this magnificent skincare ingredient.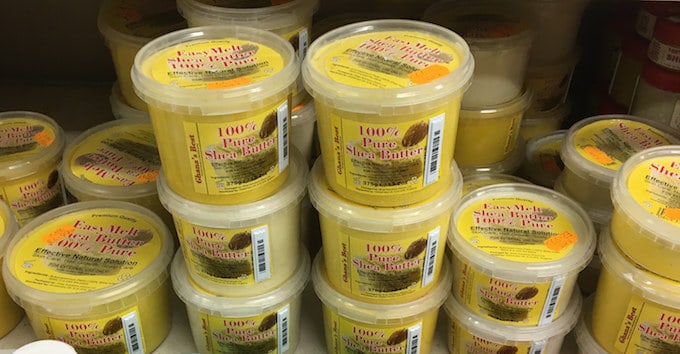 There are many shea butter uses you and your body can benefit from. Below I mention a few that are easy to implement from today.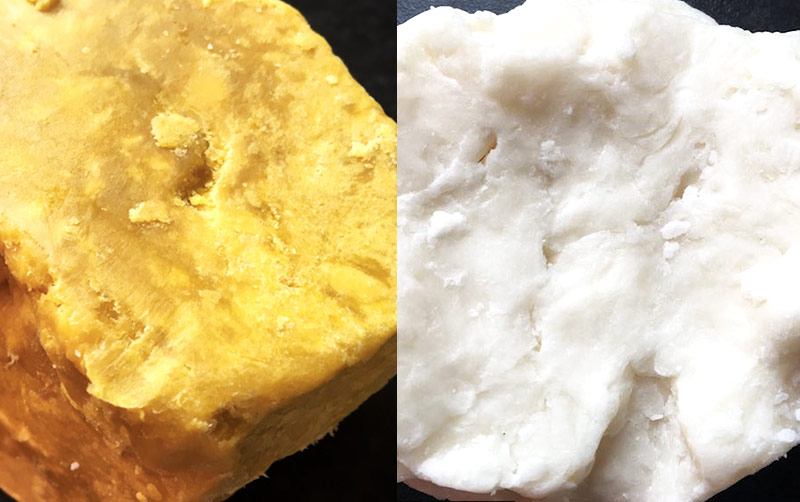 ---
My Shea Butter Uses
I've already written about it here but this article offers more insights into shea nut butter.
African Shea butter is a deep yellowish-off-white paste with a mild, nutty aroma. It's made from the natural oil of the shea nut fruit, which grows in West Africa and parts of South America. It is a fantastic emollient and is one of the best ingredients for replenishing and restoring moisture in the skin.
When it comes to natural products, this natural ingredient is a GREAT option for topical application. It's versatile, healthy and can be used as a topical cream, as a hair mask or as an ingredient in cosmetics such as lip balm or foundation.
In addition, it also has soothing and anti-inflammatory properties, making it a great treatment for skin conditions such as eczema and psoriasis.
The butter protects the skin from UV damage by forming a physical barrier from harmful UV rays. It is also an excellent moisturizer, especially for dry skin.
It can also be used to hydrate and nourish hair and nails, improving the softness of these areas.  With a wonderful composition of vitamins and minerals, it helps restore and maintain the natural balance of the skin and is a great addition to any skincare routine.
CONTENT OF SHEA BUTTER: Main components and plant oils of the butter include linoleic, acid, palmitic acid, stearic acid, oleic and linolenic acids as well as plenty of vitamins and minerals which make it a natural moisturizer with antioxidant properties as well as helping promote healthy skin. The benefits of Shea butter are many and we will look here at some uses of this natural product below.
TYPES OF SHEA BUTTER: To get the most of the fatty acids, minerals, vitamins and enzymes in shea butter, I prefer to use a quality organic pure shea butter from a trusted source. Try to always go for unrefined shea butter (also known as raw shea butter) to make sure you get the best results. Refined shea is a no-no for me!
Face:
Due to its wonderful emollient and nourishing properties, it is one of the best ingredients for the face. It is very effective at restoring and maintaining moisture in dry facial skin while protecting sensitive facial skin from external irritants. The lipids in it work great for acne-prone skin and can also help to prevent any damage from environmental pollutants. It is a great addition to the routine of dry skin and sensitive skin. It will make a  fantastic moisturizer for oily or acne-prone skin.
Hair:
I've used it on my hair to moisturize, strengthen, and nourish it. It helps keep hair soft and shiny while also providing wonderful UV protection and preventing split ends and breakage. 
Body:
Vitamin and mineral-rich, it can also be used to hydrate and protect dry skin on the body. As a body butter, it offers the same benefits as it does for the face and hair.
Tips:
Don't be afraid to use the butter, but also don't use too much and allow your skin to breathe.
I use a very small amount and sometimes mix it into my moisturizer. You can always add more if need be. You'll learn over time the right amounts for your own skin. 
It is the perfect ingredient for any homemade lip balm but it will also work as a nourishing balm on its own.
Studies:
This study shows patient acceptability, efficacy and skin biophysiology of a product containing the butter vs a product with ceramides for eczema. 
---
Shea Butter Uses
1. Cracked heels, knees, elbows, knuckles anyone?
Rub shea nut butter into the area and massage lovingly. Let it soak in. I've seen the difference with my cracked heels in virtually one day. Basically the cracks disappeared leaving me with smooth, lovely, young and soft feet. Check it here.
TIP: If the shea butter feels too dense, melt in the microwave for a few seconds (keep checking it) and then mix with some sweet almond oil. Wait til it cools and apply. It should be a lot softer now.
2. Chapped, severely dry, cracked or windburn lips?
Make shea butter your new lip balm til your lips heal. Then go back to your regular lip balm or keep using shea butter for that wonderful hydration.
TIP: Mix with some lovely mandarin essential oil for a wonderful scent. Add about 1 drop per tsp of shea butter.
3. Raw or sore nose after a cold or flu?
Apply shea butter to the affected areas. My nose feels better straight away after applying it.
TIP: Don't wait til your nose gets sore. Apply the shea butter around the edges of your nostrils as soon as you see the the cold or flu coming. You won't regret it.
4. General all-natural body moisturiser
Body lotions will have preservatives because of the water they contain. Even if you use body lotions that have natural preservatives in them (for example Cosgard 221) they're still preservatives. Shea butter offers a fantastic alternative: an all-rounder body moisturiser that's 100% preservative free.
TIP: Mix with an oil to make the butter softer by placing it in the microwave for a few seconds (keep checking it so it doesn't melt completely although it will solidify again as it cools down). When it gets to a 'workable' state, mix with sweet almond oil or coconut oil. Wait til it cools to achieve final consistency.
5. Dry, frizzy hair?
Make shea butter your new hair mask for deep conditioning treatment. Melt in microwave to a thick liquid and apply to dry hair thoroughly. Leave for 1 hour at least, the longer the better (I sometimes leave it for 5 hours). Wash and rinse. You'll notice the difference from day one. Your hair will go a little darker as well – at least, mine does. It looks lovely and shiny and it brims with life. I do this once a week.
TIP: Mix with aloe vera gel for deep conditioning and extra nourishment and hydration.
6. As a night cream
If you want to take advantage of those lovely antioxidants, Vitamins, phytosterols and fatty acids you could use shea butter as a night cream. I did for almost 1 month, check it here. Great results. I don't suffer from acne or acne-prone skin so if you do try an area of the face first, see how it goes (shea butter is non comedogenic, with a rating of 0). Apply directly at night over clean skin as you would with any night cream.
TIP: Mix with your regular night cream if you want to cut on the oil factor.
7. To hydrate very dry, flaky facial skin
Maybe you suffer from really dry facial skin and would like to highly hydrate it. Shea butter will do that and more. Play with the amount you add to your daily cream or apply on its own. You'll have to see what works for you but shea butter will most definitely help with this.
TIP: Place some shea butter in the palm of your hand and rub to heat and soften. Mix with your favorite night cream for an extra boost of nourishment.
8. Sensitive skin after shaving?
Shea butter's anti-irritant and regenerative properties will help after shaving (beard, legs, etc).
TIP: Mix with aloe vera gel for deep conditioning and extra nourishment as well as extra hydration.
9. Want to give your partner a massage?
A little shea butter will go a long way!
TIP: Mix with organic sweet almond oil or organic grape seed oil if you'd like it to have a 'runnier' feel.
10. Need to treat your cuticles?
Shea butter will be a great cuticle butter for sure.
TIP: Apply the shea butter "leftovers" from your finger tip around the lips so nothing goes to waste.
11. Want thicker, creamier formulations?
Use shea butter. Fantastic as part of your lip balm formula but can be used for other formulas like body lotions and hand/foot creams. I most definitely add it to many of my formulas.
TIP: Cocoa butter will also help thicken your formulas (great for a night cream). I sometimes add both, cocoa butter and shea butter because of the benefits each provide to my formulations.
12. On dry skin
This is basically the same as #7 "To hydrate very dry, flaky facial skin". Because of its vitamin E content, it is great for dry or rough skin in general, don't wait for it to get flaky or very dry.
13. On irritated skin such as rosacea
Shea butter will be a great solution if you have rosacea or any sort of sensitive skin. Just rub it into your face or affected areas thoroughly. 
14. Eczema, psoriasis, dermatitis
It's also a great skin care option for eczema and psoriasis so it's something to consider for those with some sort of sensitive area on their body. 
15. Skin peeling after a bad sunburn?
Shea butter is great for burns. With its healing properties it will help heal that burn and help with the peeling skin as well. It will also prevent infection and reduce the risk of scarring.
16. Stretch Marks
Shea butter is fantastic for stretch marks. It will absolutely not remove them but will soothe and heal the skin. To avoid the appearance of stretch marks in the first place, apply shea butter when your skin is still firm. Just apply it religiously to the needed areas and you'll be on the right track.
17. Swollen, very sore feet?
If you're going through a rough time with your swollen, painful feet that you can't sleep without then it would be a great addition to your daily routine of foot creams and lotions. You'll most definitely notice the difference from day one. 
18. Soothe hot skin (working on sunburn or any sort of exposure to heat)
Apply raw shea butter to the area that is hot and then apply an ice cube on top of it.
19. Skin rash
If you're prone to skin rashes then the butter can be a great remedy. It's best applied to the affected areas (avoiding the eyes) and you can even apply it while you sleep like any other natural remedy. The natural properties that the butter is packed with will help protect and heal the rash. 
20. Skin inflammation
Apply it to the affected area and you'll see a difference from day one. Its anti-inflammatory properties will kick in and help calm down the inflammation. 
21. Anti-aging properties
The content of vitamin A present in the butter is great for keeping your skin young and healthy.
22. Skin is very thin, fragile and sensitive?
People with thin, sensitive skin will most definitely benefit from the butter's anti-irritant and regenerative beneficial properties.
---
Recommended Shea Butter Brands
You probably already have shea butter at home and that's why you're reading this post but in case you don't (or if you wanted to know which ones I personally recommend), have a look below:
Organic Raw Unrefined Shea Butter from Ghana (5 Pounds)
This is a HUGE amount, it should last you for a long time but it's a great option if you're just after shea butter for, well, everything. Shea butter keeps well but if you live in a really hot area just place in the fridge.
Organic Shea Butter from Ghana by Mary Tylor Naturals (1 Pound)
1 pound of organic shea butter neatly packed. This might be a solution for you if you don't want to worry about the shea butter going rancid over a long period of time but you still want to have enough at home to use regularly.
---
Related Reading
I've written about shea butter so many times on this blog! Here are a few of my entries, you'll probably enjoy some of them if you're a fan of shea butter : )
> All You Need to Know About Shea Butter
> Shea Butter Benefits & Uses: What is Shea Butter Good For?
> Shea Butter for Face Before and After: A 21 Day-by-Day Journal [EXPERIMENT]
> Difference Between Yellow Shea Butter and Ivory Shea Butter
> Difference Between Raw, Unrefined, Refined, Ultra-Refined & Whipped Shea Butter
> Really Feeling the Benefits of My Homemade Whipped Shea Butter on My Feet Soles
> Using Shea Butter on Your Face at Night: What's the Best Butter?
> Shea Butter Night Cream: Brand Reviews
> Exploring the Shea Butter World in Brixton Market, London, UK
> My Homemade Shea Butter Whipped Cream