All You Need to Know About Shea Butter + 11 Shea Butter Uses
By no means do I know everything there's to know about shea butter: For starters, I learned about it and started using it not long ago, and have recently decided to make it my 'official' hair mask (I'm still figuring out if I should use it on its own or mixed with oils, etc – more on it when I've made up my mind!). But I've certainly have learned a lot about this beautiful butter and as I learn I write for the site.
Shea butter is one of those 'enigmatic' products, I find. The sole fact that it took me FOREVER to find out why some of it is yellow and some of it ivory is a worry, to be honest (I asked importers and checked everywhere but could only find disparity in what people where saying. Check Youtube or Google and see what you personally think. I'm going to stay with this answer until I go to Ghana and find out first hand).
Add to this the fact that natural ingredients' suppliers seem to not care about colour, texture or other important things like information on the community that made the butter, etc etc and you have a product that's not being honoured, in my honest opinion. Suppliers seem to care more about it being either 'smelly' (not-refined) or 'not-smelly' (refined). That's all. How sad!
Finally, I don't think many people in the western world has caught up with how incredibly valuable shea butter is. Maybe it is better that it stays an 'enigmatic' product as we don't want these people to go crazy and ending up damaging the ecosystem around shea butter as well! Enough of that I say.
Shea Butter Was My First
I started formulating with shea butter and I consider it the ingredient that 'got me started' in the world of natural skincare. This means I have a particular love for it above other ingredients as it was my first, and I think we can all understand that.
I wanted to dedicate this entry to shea butter in a way that was a bit more technical than this post, this post, this post, this post, this post, this post, this post, this post or this post. I have learned one or two things since I wrote these posts and I'd like to develop what I've learned here. Also, I'd like to thank SwiftCraftyMonkey for her post on shea butter which has most definitely helped me understand the product in a better way and has also inspired me to write this entry.
*A Note on This Entry*
I'm fed up with articles that mention long lists of benefits without explaining why of those benefits in a bit more depth, which is something I've attempted below. I have to admit I'm the first one to have made that mistake in the past – I appreciate it when bloggers show in-depth knowledge of the topics they cover, yes I do. A bulleted lists of benefits is not cutting it for me any longer if they don't explain where the benefits come from within the compounds of the product (butters, carrier oils, hydrosols, essential oils, herbs, etc) and I feel we need to get those entries spiced up with deep, rich knowledge as and when possible.
---
Shea Nut Butter: A General Look
Shea butter comes from the Shea tree (Karite tree) in West Africa. The Karite tree is considered to be sacred and only the fruits that fall to the ground are used, which are collected only by women. The tree grows in the savannah of West African countries such as Burkina Faso, Ivory Coast, Mali and Sudan and its fruit is widely used in the typical cuisine of these countries. The pulp and the peel are used as an ingredient and the pressing of the oily seed or nut produces an oil that when cooled becomes a kind of butter that is then used in frying dishes, browning, for sauces, etc.
It can take between 10 to 15 years before it starts bearing fruit and it could be as long as 30 years before full production is attained. (Source)
Shea butter has recently been used in cosmetic formulations because of its texture (thick and waxy) as well as its wonderful properties. Shea butter can have a very strong scent in its raw form and that's why it is often refined (basically it is deodorised and bleached). This is so companies can use it commercially as a cosmetic product. The process of making shea butter is fascinating and if you have a chance check out how this lady makes it here. And here's another great video if you've got the time.
GENERAL INFORMATION

Botanical name: Vitellaria paradoxa

Botanical family: Sapotaceae

Suitability: All skin types. Great to add to cosmetics that require a thicker base (lip balms, body butters, moisturisers and lotions that need to be thicker.)

Shelf life: 12 months – probably longer because of the tocopherols and saturated fatty acids.

Allergies: Although shea butter is unlikely to trigger allergic reactions if you have a nut allergy you might be sensitive to this product. Use with caution.

FATTY ACID COMPOSITION

Saturated Fatty Acids:
Stearic acid (C18) – 35 to 45%
Palmitic acid (C16) – 3 to 7%

Monounsaturated Fatty Acids:
Oleic acid (C18:1) 40 to 55%

Polyunsaturated Fatty Acids:
Linoleic acid (C18:2) – 3 to 8%

**Click on the link to learn more about fatty acids.
***Climate and region can affect fatty acid profile and amount of polyphenols


At a Glance
Rich in fatty acids: oleic acid offers moisturising, anti-inflammatory and regenerating properties together with the allantoin (below) and stearic acid, which helps to improved moisture retention, repair the skin, moisturises and adds flexibility.
Rich in Vitamin A (good for eczema, psoriasis, blemishes and skin allergies)
5 to 10% phytosterols (plant hormones that can help to stimulate cell growth). Phytosterols contain cinnamic acid esters which can act as a UV sunscreen, anti-inflammatory, can reduce redness and irritation of the skin. Phytosterols also help the skin's barrier mechanism recover, helping skin that has been damaged by the environment, recover. Reduces itching and inflammation and it's a great moisturiser.
3 to 8% linoleic acid – an essential fatty acid that the body doesn't generate and also known as 'Vitamin F'). It has the ability to hydrate, moisturise, heal and plump the skin. It is also anti-inflammatory. Linoleic acid permeates the skin barrier helping facilitate the penetration of other active ingredients.
Contains allantoin which can protect the skin (an occlusive) and temporarily prevent chapped, cracked skin. Allantoin can also help in the regeneration of cells, speeds up the skin's natural processes and increases the water content. Helps heal wounds.
Rich in antioxidant carotenoids (a vegetable form of Vitamin A)
Rich in Vitamin E (in the form of tocopherol, 100 to 150 ppm, a natural antioxidant that helps protect the skin from free-radical damage)
Rich in tocotrienols (110 to 175 ppm) also can act as a natural anti-oxidant
Contains at least 8 various catechin compounds (anti-bacterial properties)
Contains polyphenols which help with moisturisation, softening the skin (tocopherols and tocotrienols).
Offers great absorption (ideal for other active ingredients to be absorbed as well!)
Let's translate the above into paragraphs:
EFFECTIVE MOISTURIZER (HYDRATES SKIN): Shea butter is an effective moisturiser. It soothes eczema and conditions the skin. Great for damaged and/or dry skin. It's high content in oleic acid makes it ideal for our skin (as it is compatible with the sebum which we naturally produce). It prevents moisture loss on the skin and also heals chapped lips (I use it on my lip balm formulation). It can soften dry, cracked skin on knees, hands, heels and elbows. It can also help achieve a smooth shave if you add it to your cream formulations. Stearic acid also helps to improve moisture retention and the phytosterols also can act as a great moisturiser. Allantoin will protect the skin being an occlusive and the polyphenols can help softening the skin as well as moisturising it.
HEALING PROPERTIES (REPAIRS SKIN): Wound-healing and skin repairing properties. Oleic acid helps with anti-inflammatory and regenerative properties; stearic acid helps also to repair the skin. Vitamin A is good for eczema, psoriasis, blemishes and skin allergies. The phytosterols help also with their anti-inflammatory properties as well as reducing redness, itching and irritation, aiding skin recovery. The allantoin helps in the regeneration of cells and speeds up the skin's natural processes also helping healing wounds. The natural tocopherols helps protect the skin from free-radicals.
ANTOXIDANT & ANTIBACTERIAL PROPERTIES: Rich in antioxidant carotenoids, Vitamin E (tocopherol) and tocotrienols. Catechin compounds have anti-bacterial properties.
Refined or Unrefined??
Unrefined!!!! Unrefined please. When oils are refined the unsaponifiable compounds (good stuff) is either reduced or removed. And you don't want that. You want those bits, believe me (antioxidants, minerals, vitamins, etc. You get the idea).
Unrefined shea butter WILL SMELL and please get used to it. I love it but I can see why some people might find it unpleasant. It's just a strong-ish smell, it's not a bad smell! Roses have their smell, shea butter has its smell. That's all there is to it. If you're intending on using the butter solely for its texture (thickness, waxiness, creaminess) then you can go for unrefined but if you want to benefit from the good stuff inside, then please understand that unrefined butter is not the same.
Shea Butter Uses
I've already written about it here but this article offers more insights into shea nut butter.
1. Cracked heels, knees, elbows, knuckles anyone?
Rub shea nut butter into the area and massage lovingly. Let it soak in. I've seen the difference with my cracked heels in virtually one day. Basically the cracks disappeared leaving me with smooth, lovely, young and soft feet. Check it here.
2. Chapped, severely dry, cracked or windburn lips?
Make shea butter your new lip balm til your lips heal. Then go back to your regular lip balm or keep using shea butter for that wonderful hydration.
3. Raw or sore nose after a cold or flu?
Apply shea butter to the affected areas. My nose feels better straight away after applying it.
4. General all-natural body moisturiser
Body lotions will have preservatives because of the water they contain. Even if you use body lotions that have natural preservatives in them (for example Cosgard 221) they're still preservative – killers. Shea butter offers you a fantastic alternative: an all-rounder body moisturiser that's 100% preservative free. It'll last you 1 or 2 years, so not bad I'd say!
5. Dry, frizzy hair?
Make shea butter your new hair mask for deep conditioning treatment. Melt in microwave (shhh, I do this when I'm in a hurry don't tell anyone, bain marie is better!) to a thick liquid (don't let it go too thin, don't boil it either leave thick-ish so you preserve all those lovely beneficial compounds) and apply to dry hair thoroughly. Leave for 1 hour at least, the longer the better (I sometimes leave it for 5 hours). Wash and rinse. You'll notice the difference from day one. Your hair will go a little darker as well – at least, mine does. It looks lovely and shiny and it brims with life. I do this once a week.
6. As a night cream
If you want to take advantage of those lovely antioxidants, Vitamins, phytosterols and fatty acids you could use shea butter as a night cream. I did for almost 1 month, check it here. Great results. I don't suffer from acne or acne-prone skin so if you do try an area of the face first, see how it goes (shea butter is non comedogenic). Apply directly at night over clean skin as you would with any night cream or mix with your regular night cream if you want to cut on the oil factor.
7. To hydrate very dry, flaky facial skin
Maybe you suffer from really dry facial skin and would like to highly hydrate it. Shea butter will do that and more. Play with the amount you add to your daily cream or apply on its own. You'll have to see what works for you but shea butter will most definitely help with this.
8. Sensitive skin after shaving?
Shea butter's anti-irritant and regenerative properties will help after shaving (beard, legs, etc).
9. Want to give your partner a massage?
A little shea butter will go a long way.
10. Need to treat your cuticles?
Shea butter will be a great cuticle butter for sure.
11. Want thicker, creamier formulations?
Use shea butter. Fantastic as part of your lip balm formula but can be used for other formulas like body lotions and hand/foot creams. I most definitely add it to many of my formulas.
Shea Butters I Use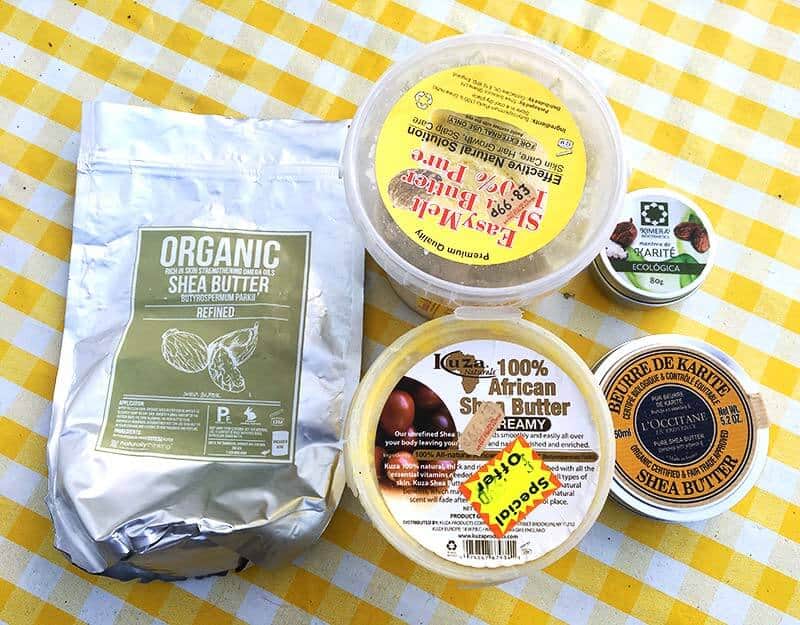 So, not all shea butters are equal. There's ivory shea butter vs yellow shea butter (more on this here). There's more solid shea butter and creamier shea butter (I find ivory to be more solid than yellow shea butter). There's refined and unrefined (see above), there's whipped / non whipped. There's raw, unrefined, refined, ultra-refined, see here, there's expensive shea butter (L'Occitane… ouch!) and cheaper shea butter (dedicated markets, nice and cheap) Etc, etc, etc. So I'll tell you what I use and what I use it for and at least it'll give you an idea of what to go for (depending on what you need it for).
Now, you need to find your way around it, I CAN'T do that for you. Maybe you just have chapped lips every now and then and love the sound of using pure shea butter on them. Maybe you want to try shea butter for different areas of your body (as a night cream, for cracked heels, as a general body butter, etc) and for that you'll need to see which type works for you. Maybe you just want to formulate with it and prefer refined shea butter as you're looking for texture and not so much the beneficial components….
I don't know what you're looking for so I'll tell you below what I do:
As a Hair Mask
I'm not too worried about the shea butter being cheap for this so I go for the bigger 1kg or half a kilo tubs. I use a lot of it on my hair and need to not worry about cost. I also give some of this butter to people, because there's so much of it. I don't really care if it's the ivory shea butter or the yellow shea butter but I DO CARE THAT IT IS UNREFINED/RAW SHEA BUTTER!
I use Easy Melt Shea Butter Efective Natural Solution AND Kuza Shea Butter (I don't care really as long as it's a nice, cheap, big tub! – unrefined, of course.)
Last update on 2020-07-19 / Affiliate links / Images from Amazon Product Advertising API
For My Cracked Heels, Elbows, Knuckles
I don't really want to use the big tubs for this because I have to either repack bits into smaller containers or fetch the big tubs… not good. Too cumbersome. I usually have a small container of shea butter somewhere around where it's easy to get a hold of when I need a quick dab, especially in the winter.
I use a Spanish brand since I live in Spain (I bought it from a herbal shop). Mine is organic so here's my recommendation:
Sale
Last update on 2022-10-17 / Affiliate links / Images from Amazon Product Advertising API
When I'm Formulating
I give lip balms to my friends and family and unfortunately my brother hates the smell of shea butter so I formulate sometimes with refined shea butter (I don't think I'll buy it anymore but I can see that this will be a problem with some people). Also I make a lovely body lotion that requires a small amount of shea butter and refined goes well with this because it's for texture mainly.
The one I use is from Naturally Thinking in the UK (refined and organic). Here's my recommendation:
Last update on 2022-10-17 / Affiliate links / Images from Amazon Product Advertising API
When I Want to Feel Expensive!
Ok, so, yes, I've bought L'Occitane shea butter (both the big tub and the small tub [these are all affiliate links]) and I have to say I love the container soooo much!! I think sometimes we have to go for that luxurious feeling with some products and I did with this one. I gave my sister the smaller tub which she uses all the time and I must say it looks lovely every time she fishes it out of her bag. I can understand that not everyone would want to spend this amount of money, but, hey, this one is worth it in my opinion.
Here it is (this shea butter is Eco-Cert certified and Fair Trade approved. That's what makes me feel so good about it. I think this is refined shea butter though, I'm not 100% sure but the lack of smell is a giveaway, check this link for more information on this):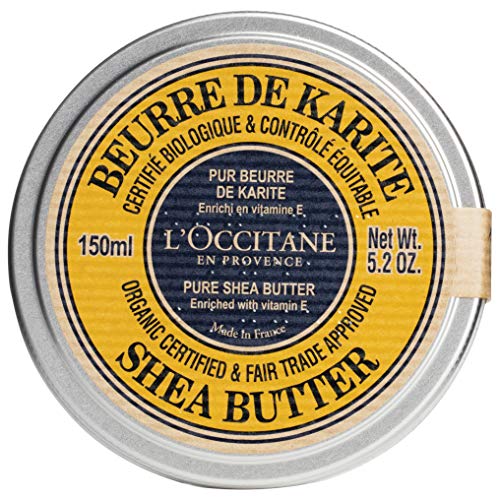 Last update on 2022-10-16 / Affiliate links / Images from Amazon Product Advertising API
Oh, What a Marvellous Product
There you have it. I hope I managed to somehow explain what's behind each of the wonderful properties this butter has and not just display a list of benefits that seem to come out of nowhere.
Shea butter is a stunning ingredient for many of my formulations. I use it as part of my lip balm formula, body lotions, hand cream and so on. Anything that needs to be on the thicker side with the added benefits of all the wonderful things it does to your skin. On its own or mixed with creams, serums and oils, shea butter makes a superb product as well as ingredient.
Hey, what's there not to like?
---
Resources
Besides the hyperlinks displayed throughout the text, the below are books I love (for beginners they're great). I bought them in London, UK, and really cherish them (with affiliate links).
Beauty Book by Neal's Yard Remedies (p. 67)
The Aromatherapy Beauty Guide by Danielle Sade, BSc, CAHP (p. 76)
Essential Oils book by Neal's Yard Remedies (p. 149)