Disclosure: This post contains affiliate links. I receive a small commission at no cost to you when you make a purchase using my link.
Intro
Shea butter is an excellent way of making sure your skin stays healthy without having to go through complicated beauty routines. It's as easy as applying it!
Before you continue reading, here's the links for all my Shea butter content:
---
The Wonders of Shea
There are many miracle natural ingredients from plants that WILL make an impact on your skin and hair. Shea butter is one of those natural ingredients that DOES make such a difference, but I know many people have no idea what Shea butter is or how to use it. I hope this page and all the articles that have been written on the topic will open up some eyes and help you discover the wonders of Shea.
Shea Butter is a secret weapon of mine that I use regularly to help heal, moisturize and protect my skin from environmental harm like dryness, wind burn, cracking and more.
When combined with other moisturizers, this butter can help the risk of flare-ups. (ncbi.nlm.nih.gov)
It has been proven to have extensive anti-inflammatory properties. (doi.org)
It can be called the "Forgotten Skin-Superfood" because not everyone knows it can heal , nourish and love the skin to the extent that it can.
Shea butter is incredibly versatile and can be used on hair as well as face and body.
It has a long history of use in Africa as we know it today, dating back centuries.
I discovered shea butter a few years ago and I have not looked back since. I use it in every single cream I make because it adds consistency as well as incredible benefits for my skin. I go through tubs of the butter as it can help in so many different areas when it comes to skin and hair needs.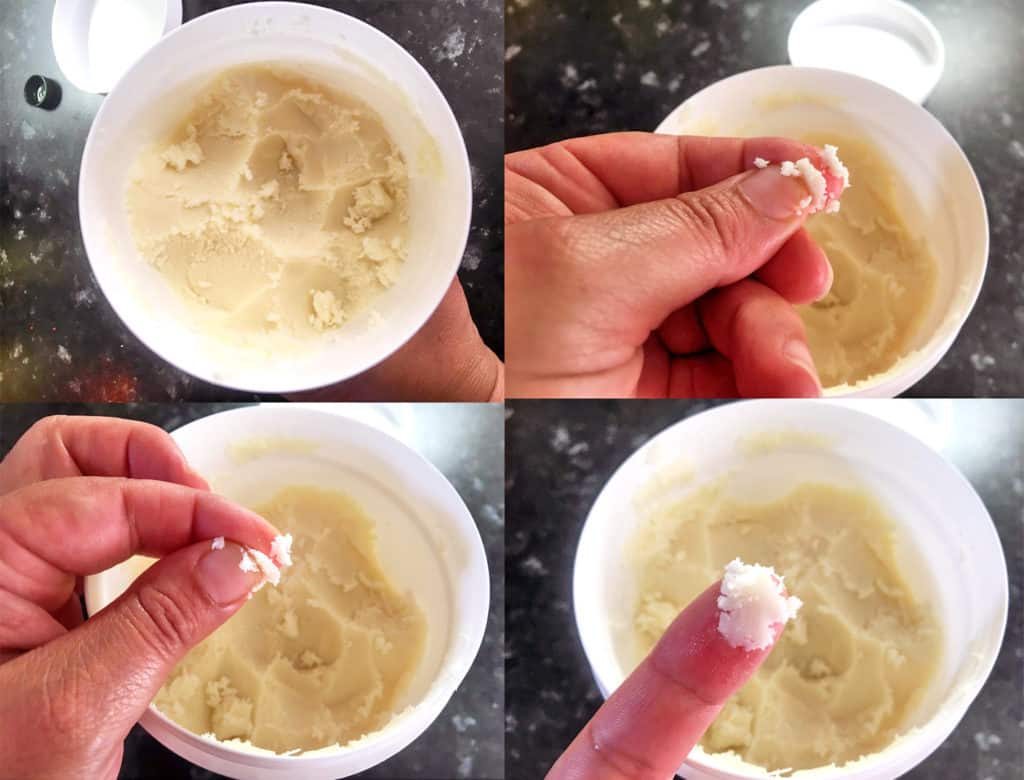 It is my wish that this information will be read, learned, loved, and passed on to family, friends, and acquaintances. It is important to me that everyone has access to all of the information about shea's incredible properties and uses.
Shea Butter: a Versatile, Natural Beauty Ingredient
Many people have no idea what Shea Butter is or how it can be used to benefit their skin and hair. Maybe they've heard of the name or have read it on an ingredient list, but they don't really know what it is.
Some people may even think it's some sort of synthetic product or that it's just some waxy repackaged vegetable oil, but that couldn't be further from the truth.
Shea butter is a versatile, natural beauty ingredient. It's a smooth, thick, creamy substance that is extracted from the nut of the African Shea Tree (Vitellaria paradoxa). Shea butter is great for conditioning skin and hair and has been used by African women for centuries.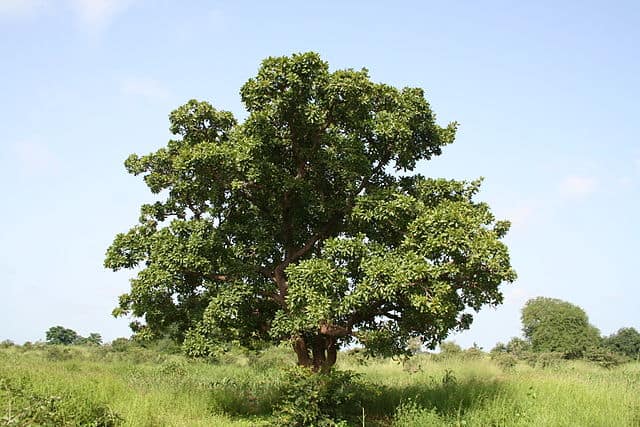 The butter can help reduce wrinkles and dark spots, relieve dry skin, help repair damaged hair and nails after their harsh treatments, reduce inflammation in skin disorders and burns, make hair shiny and manageable, and much more.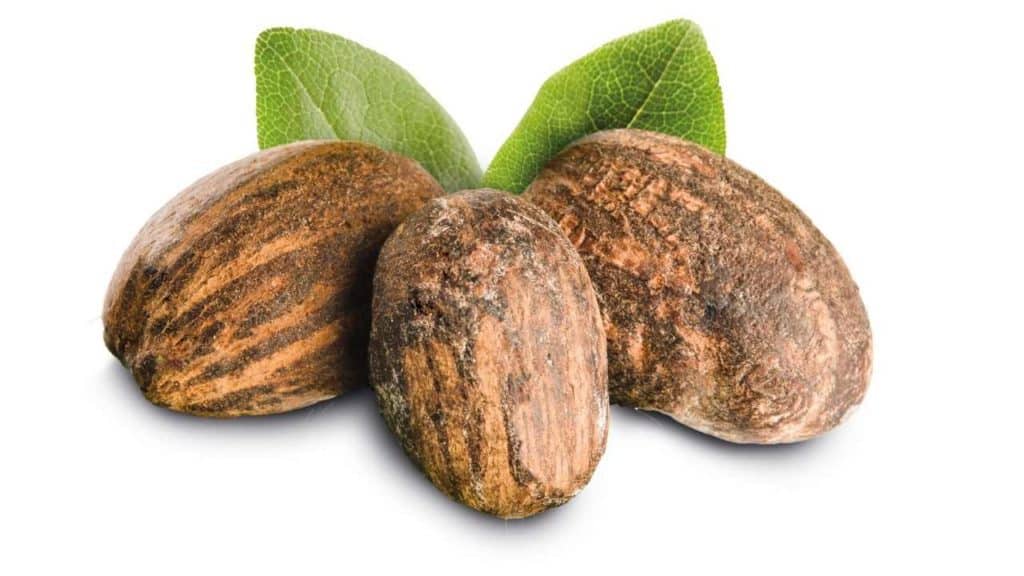 Below is a list of some of its wonderful benefits (I'll dig deeper into the benefits later on but this is a list for you to get a sense of how amazing it is):
Incredibly moisturizing and nourishing (skin, lips, hair, body)
Natural sun blocker
Anti-inflammatory
Alleviates eczema and psoriasis
Soothes bug bites and sunburns
A remedy for skin irritations
Heals and repairs skin damage
Prevents stretch marks
Offers relief to itchy skin (like psoriasis)
Anti-aging
Much, much more! (restores skin elasticity, is a natural hair conditioner, known to heal burns, fades acne scars, fades dark marks, is a wonderful aftershave , soothes sunburn and many more!)
Here are some ways in which you can incorporate this magnificent butter into your skin and hair routine:
On its own:
As a body butter
As a limp balm
To protect dry cuticles
As a balm for eczema, psoriasis, cracked or chapped hands
Applied topically for rashes, burns and other skin issues
As an ingredient in other products:
As an ingredient you add to your favorite cream for extra moisture and nourishment (here's an article on night creams with shea butter)
In natural oil blends to add extra richness
As part of homemade lotions and potions, hair conditioners, shampoos, etc
There are many, many other uses for shea butter, these are some of the most common ones.
You can use it as a:
vitamin/antioxidant-rich natural skin moisturizer,
emollient,
humectant to help keep skin feeling soft, plump, and hydrated.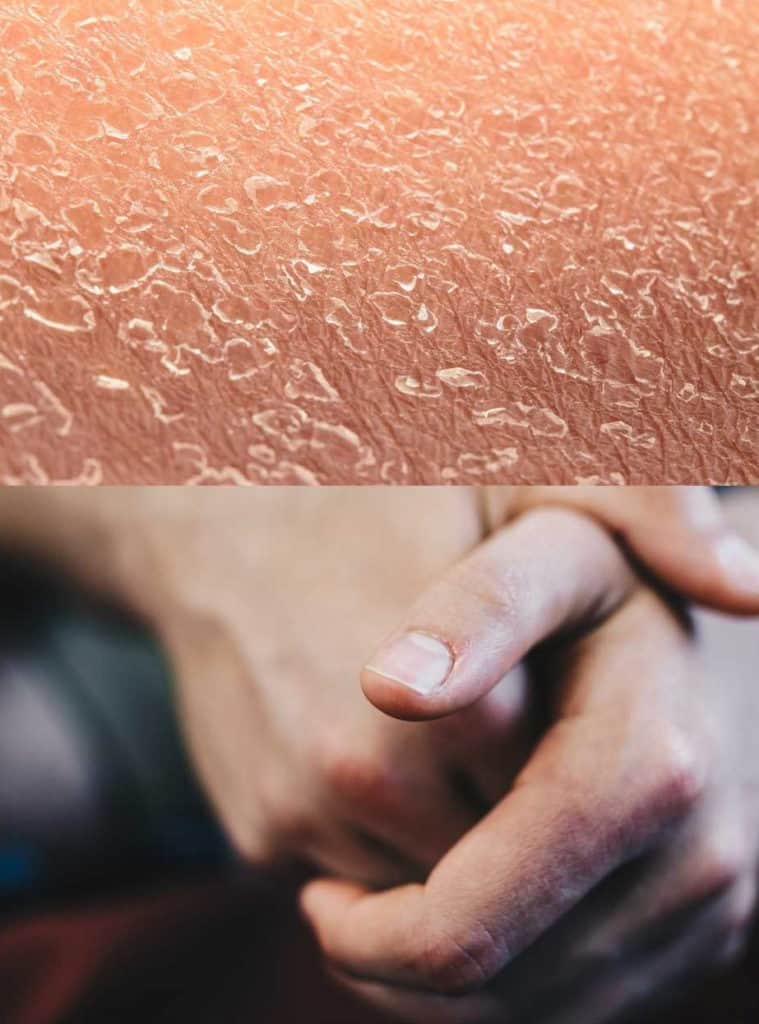 The information below will hopefully help you discover the many benefits of this wonderful natural ingredient so you can also make good use of the myriad of benefits it offers.
Check My Other Shea Butter Entries
Shea Butter is More than JUST a Butter or an Oil
Shea butter is so much more than just butter. It is a nourishing, multi-purpose natural beauty ingredient. It can be used as a "base" for other ingredients to bind together and create new products that are even MORE nourishing and moisturizing. I use it all the time and love mixing it with my own Aloe vera (which I grow in my land, 20+ adult Aloe vera plants and counting! ) and other ingredients like coconut oil, olive oil, cornmeal, essential oils, etc, etc.
Shea butter has been used for centuries by the women of Africa because of all its skin and hair benefits. Why the name? Shea comes from the word name meaning "nut" in the language of the Ga people of Ghana where the butter is produced. In fact, the butter is the main export of this country and the tree itself is called Vitellaria Paradoxa or Karite in West Africa which means "tiger's fat".
As I live near Africa (Tenerife, Canary Islands), I feel it is only right that I pay homage to this wonderful ingredient and offer you my knowledge on it so you can also reap the benefits of using shea.
How Skincare Companies Goes CRAZY for the Stuff
Because of the many benefits of Shea butter and because it's so incredibly moisturizing and readily absorbed into the skin, skincare companies go crazy for it. French company L'Occitane, for example, uses the butter prominently in their lines. Other companies like Kiehl's, Weleda, Clinique, Dr. Hauschka, The Body Shop, and many more also use int in their products.
Shea Butter Facts and Information
Shea butter is rich in unsaponifiables, natural antioxidants, and vitamins, including vitamin A (which is anti-aging and reparative of damaged skin), vitamin E (which is a powerful skin softener and protector), and vitamin F or linolenic acid which is a powerful anti-inflammatory.
Oleic acid (45%): this acid is the main fatty acid and the main component of shea butter. It's what makes it a great moisturizer as it penetrates deeply into the skin. Perfect for aging skin and/or dry skin.
Stearic acid (44%): this acid is what makes the butter a great emollient and conditioning ingredient. It protects skin from dehydration and irritation (acts as a barrier), therefore improving the skin's overall texture.
Palmitic acid (4%): helps lock in moisture and nourishment.
Linoleic acid (Vitamin F): this essential fatty acid (our body can't produce it) is responsible for many of shea butter's benefits like anti-aging, moisturizing and healing. It can reverse UV damage caused by the sun.
Linolenic acid (1%): essential in building block for ceramides, which are one of our skin's main moisturizing elements.
Cinnamic acid (1 – 7%): this acid is an antioxidant and antimicrobial. With skin lightening properties and helps prevent premature aging (can stimulate the production of collagen).
STEROLS:
Campesterol (11%)
Stigmasterol (20%)
Beta-sitosterol (68%)
Phytosterols offer UV protection. With anti-inflammatory effects they are the perfect ingredient to use in products that have been intended for treating atopic eczema.
Allantoin: A wonderful component, allantoin is anti-inflammatory and helps calm irritated skin. It can also help to heal wounds because it increases cell growth.
VITAMINS
Vitamin A: helps maintain healthy, toned and balanced skin. Also good for conditions such as psoriasis and eczema.
Vitamin C (ascorbic acid): helps produce collagen, and is also an anti-aging vitamin. Helps strengthen our skin against free radical damage. Can also lighten the skin.
Vitamin E (tocopherol): helps protect skin from the harmful effects of UV rays (moderately), and is a powerful antioxidant. Also helps reduce scars and is anti-inflammatory.
Vitamin D: Helps maintain skin barrier. Deficiency of this vitamin can cause skin irritations.
Vitamin K: Can help heal wounds. As a healing agent, it's used in the treatment of acne scars and scars in general. It can also help fade stretch marks.
Shea Butter Health BENEFITS. How this Stuff Is Amazing.
Here's a list of some of the properties:
Anti-fungal
Anti-microbial
Anti-bacterial
Anti-inflammatory
Balances sebum
Prevents split ends (hair)
Gets rid of dandruff
Relieves nasal congestion
Lowers cholesterol (cooked)
Soothes razor burns and cuts
Moisturizes, nourishes and hydrates skin
Helps repair damaged skin patches
Helps repair scars
Helps to heal acne scars
Soothes joint pain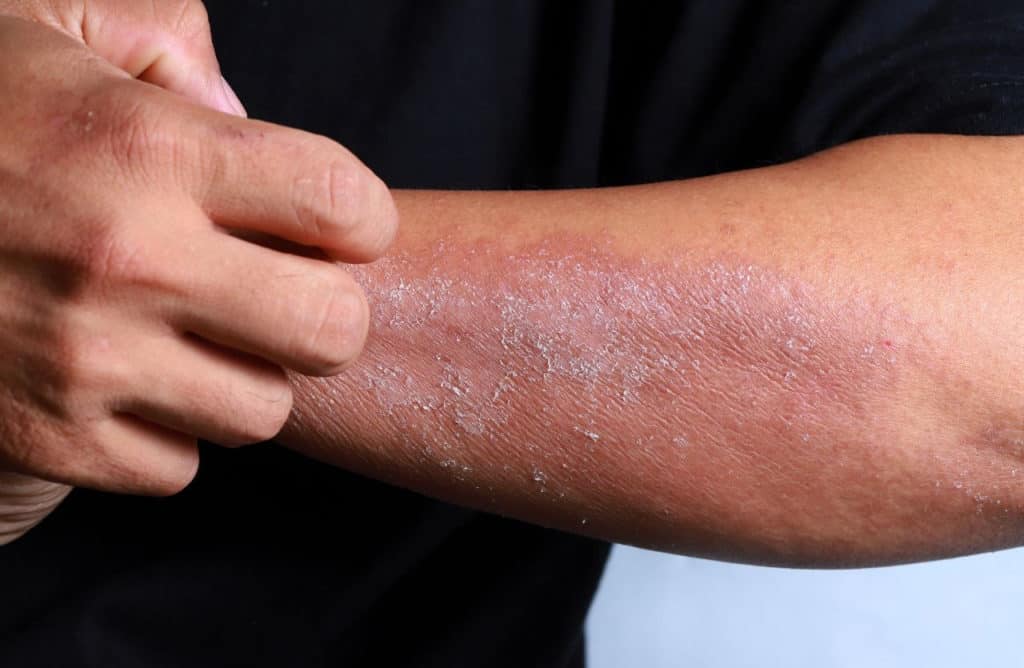 So, taking the above into account, it's clear that the benefits and uses are numerous, varied, and very useful. Shea butter can be used for everything from skincare to hair care to kitchen use! Here's how you can incorporate it into your everyday life:
Burns: (it's a strong anti-oxidant, so it can help heal burns and keep scarring to a minimum.
Dry Skin: moisturizing and hydrating, it is a godsend for skin that feels dry and lackluster. It's especially great for dry lips, cracked heels and hands.
Inflamed, Irritated and Swollen Skin: consider this butter as a natural anti-inflammatory. It can soothe irritated skin (especially the skin around the eyes) and reduce swelling, redness and inflammation. It's a super noutidhinh moisturizer and makes skin feel soft, supple and smooth.
Protects Skin from the Sun: it contains Vitamin F, which is an anti-oxidant that can help fight premature aging caused by UV damage.
Nourishes the Skin: shea butter's Vitamin E content is super nourishing. It can help prevent and repair cellular damage caused by free radicals.
Fights Acne: shea is a superstar for fighting acne and reducing the likelihood of breakouts. It moisturizes and softens the skin so it is less likely to clog pores. It can also help prevent inflammation and clogged pores.
Hydrates: it's extremely moisturizing, which means it's perfect for dry skin and really good for dry lips. It's also light enough to be absorbed by the skin fairly quickly so it won't weigh skin down (when I apply neat on my face it takes about 20 minutes or so for the greasy feeling to go. After 1 hour my skin feels supple and velvety to the touch. You learn over time how much amount to apply).
Anti-Aging: it's a great natural source of Vitamin E, which can help repair and protect against premature aging. It can also help with skin conditions like acne, eczema and psoriasis because of its healing properties.
Aids in the Healing of Wounds: it's rich in anti-oxidant nutrients which can help heal scars and other types of wounds.
Stretches, Softens and Soothes: the natural oils in the butter can penetrate deep into the skin, which helps soothe and soften it. It's great for dry lips as well as for sensitive skin.
A Good Choice for Men: it's a good alternative to traditional shaving creams, which can be too heavy and irritating for men with sensitive skin. It can also help relieve rashes caused by shaving.
A Good Choice for Women: It can work wonders on women's dry skin (particularly mature skin).
Evens Tone: it's great for treating inflamed acne, but it's also a good treatment for uneven skin tone.
Healing and Anti-Inflammatory: it can be used on the skin to help reduce inflammation caused by conditions like eczema
Ok, all of the above sounds wonderful. But how to use it effectively? It can be overwhelming to try to apply it, particularly if you're worried about the 'oily' or 'greasy' feeling after application.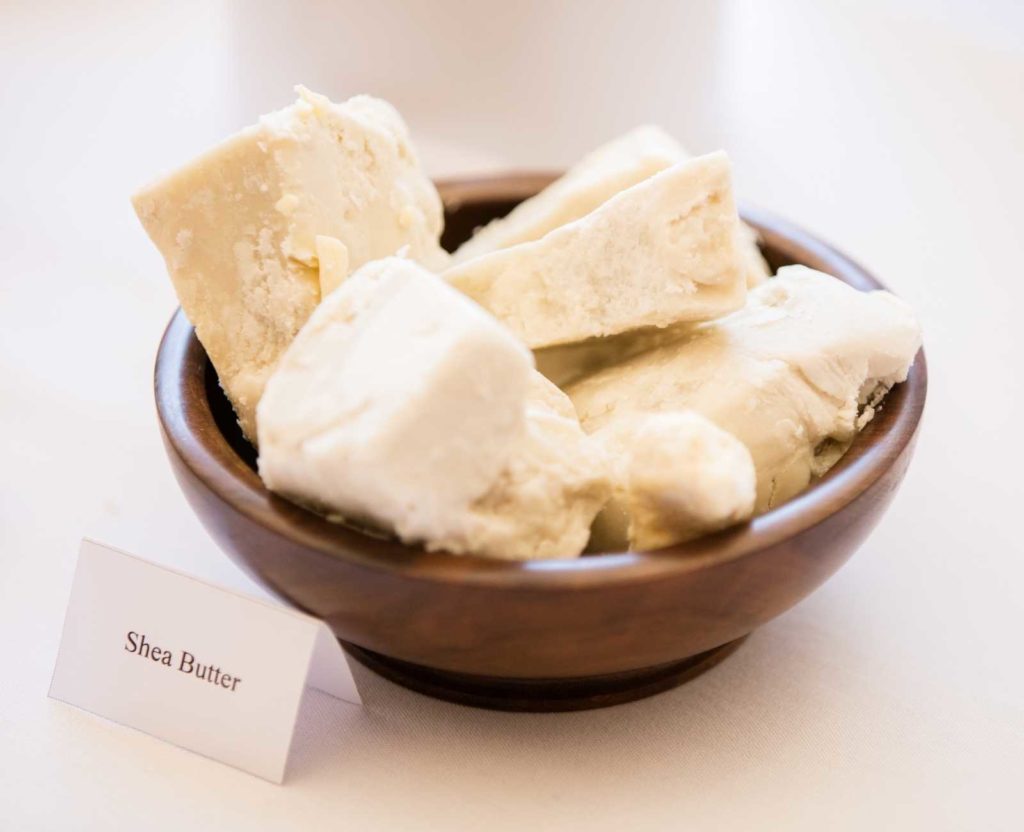 Here are a couple of ways to get started.
Treating Acne: combine it with argan oil to make a healing, soothing mixture for acne or eczema. Because it's a natural moisturizer, it can help soothe inflamed skin. Apply twice a day. Results should be visible after 4 weeks.
Treating Dry Skin: mix it with other natural oils like avocado or olive oil to make a creamy, lotion-like application that replenishes moisture and has antibacterial and anti-inflammatory properties. Apply on any dry areas, including lips, heels and cuticles.
Treating Cuticles: nourish your cuticles by rubbing Shea butter on them. At night would be ideal as you can increase the amount of butter you're applying.
Speeding the Healing of Scars: mix it with Rosehip oil (you might have to warm up the Shea butter first using the Bain Marie method). 1 part Shea butter, 1 part Rosehip oil. Apply once or twice daily to scars and leave it on for prolonged healing. This treatment is ongoing, try for 2+ months and assess from there.
Make a Shea Butter Lip Balm: use shea butter and beeswax to create a lip balm. 2 parts shea butter, 2 parts coconut oil, 1 part beeswax. Mix the ingredients together using the Bain Marie method, put the mix in a container to cool down and you're good to go. Use on lips, elbows, heels, as a hand moisturizer, hair ends, etc.
Making Body Lotion: Shea butter can be used in the place of beeswax in homemade lotion bars. To make one, mix it with other natural oils like coconut or almond oil. 2 parts Shea, 1 part vegetable oil. Optional: add in essential oils to make a customized scent.
Making Hair Products: mix Shea butter with other natural oils and/or your favorite essential oils to make homemade hair products.
In the Kitchen: Shea can be used as a replacement for cooking oil. It can replace a cooking oil in a recipe, or it can be used as a butter replacement. It's especially effective in baking and making baked goods like muffins, breads and cookies.
Just carry Shea Butter around with you to moisturize throughout the day.
The possibilities are endless!
That's more than enough for anyone to get started. Shea butter is absolutely useful in everyday life and can help anyone feel healthy, moisturized, and revitalized. It's also a bit of an investment because it lasts a long time.
Shea Butter For Skin – How Will it Benefit Your Skin?
It is beneficial for your skin because of all the chemica compounds as seen above. It's not going to solve all of your problems like acne, but Shea butter will help aid in reducing these issues when used directly on the skin.
Shea & Skin types
Shea is going to be good for all skin types, including dry, oily, and normal. It's a natural way to keep the skin moisturized and soft, especially during the colder months of the year. As mentioned, it will also help with certain skin conditions like eczema and psoriasis, as well as wrinkles caused by aging.
As long as it's a pure product (unrefined/raw Shea butter) that has nothing added to it like fragrances or artificial colors, it should work on any type of skin.
How to Use Shea on Your Skin & Hair
The best way to apply the butter is direct to the skin and hair. When applied directly to the skin, it will be absorbed within minutes. Now, Shea butter has a tendency to leave your skin feeling greasy and/or oily, so if you're looking for something that moisturizes but doesn't create an oil slick on your face, keep that in mind.
FACE
With your fingers, take a small amount of Shea from the tub and warm it up by rubbing it between the palms of your hands first. Once it feels warm and softened, rub it on the cheeks, chin, forehead, and neck area. You can also apply it on your eyelids to moisturize them. You will learn over time how much to apply and when (you will probably use more during the winter months and might want to cut back a little in the summer). At first, it might feel like you have a lot of it on your face, but once it is absorbed into your skin, you will realize that you actually didn't use as much as you thought.
HAIR
You can rub the butter directly on your hair and scalp. It works wonders if you have dry hair. Use it for split ends and also as a hair mask (as a leave-in conditioner or as a deep conditioner). You can leave for as long as you like. (A note: your hair will feel greasy. If you are ok with that, leave it on overnight or for a few hours.)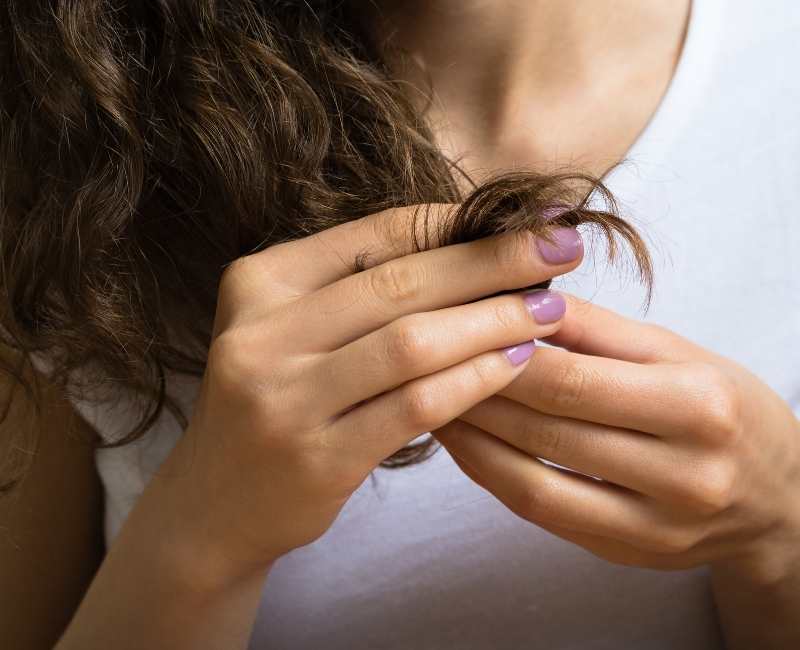 BODY
For the body, you can use the Shea butter as a moisturizing lotion. It works well when mixed with coconut oil. You can make your own homemade moisturizing lotions by mixing them and adding in some essential oils for fragrance (optional).
Here's a video showing you how to melt Shea and coconut oil using the Bain Marie method (my preferred method).
CHEST
You can mix a small amount of shea butter with coconut oil or olive oil and apply it to the chest or any other areas where your skin is extra dry.
Products for Skin & Hair with Shea Butter I Recommend
According to Healthline: "The easiest way to use shea butter for your face is to purchase a cream that includes it". Although I agree I also like to dab it neat from the tub and mix in my hand with my own creams.
Up to you – either way you'll reap the benefits.
Coming soon.
Recipes that Will Make You Weep with Joy
I feel this is probably one of the most perfect ingredients on earth, this butter can be used in various beauty and skincare products. I'm adding recipes here as I create them.
Caution: Allergies, Precautions, Warnings & Side Effects
If you have a known allergy to nuts be careful if you're thinking about using this product.
If you have sensitive skin and experience any irritation or sensitivity when using Shea products, stop using them immediately and seek medical attention if necessary.
That's It!
I think that about sums up everything you need to know about one of my all-time favorite products. I hope you learned a lot reading this article and that it was all useful information.
---
Q&A Section
How Often Should You Apply Shea Butter?
You only need to apply it once or twice a day, depending on the area. It will feel greasy for 15-20 minutes after applying, but the oiliness will disappear as the butter is absorbed by your skin. In my view, you can apply it as often as you need it. It is such a quick and easy (and safe) fix for dry patches!
Shea Butter Scent
Shea Butter has an earthy/smokey scent to it and some say it can be a bit pungent although I do really like it. The scent comes from the natural oils that are extracted from the Shea Nut Tree. It reminds me of the crayons we used when coloring in the books as a kid.
The scent isn't too strong (and definitely different to cocoa butter) but I was able to smell it from the tub. See if you can get used to it. By the way, the more refined the Shea butter, the less it will smell. I also found that different types of shea butter (colors can be different) can have a stronger scent. Here's an article on the difference between raw, unrefined, refined, ultra- refined. Don't let this discourage you, if in doubt, always choose raw/unrefined Shea.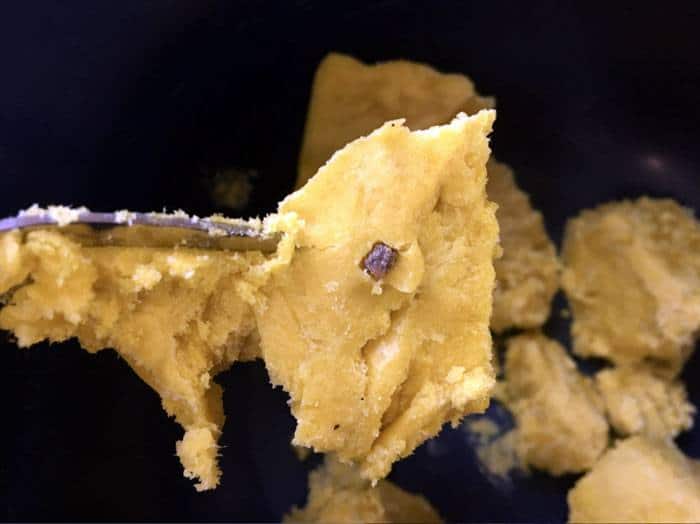 How Do I Store Shea Butter?
Shea Butter should be stored in a dry, cool place. Keep the container out of direct sunlight. You can also store shea butter in the refrigerator. It's not necessary to do so, but it will help to keep the product fresher for a longer period of time. Do not freeze the Shea Butter. Protect it from moisture and humidity as well. I've had tubs that have lasted me 2 years or more.
Where to Buy Quality Shea Butter Products?
Try local beauty supply stores – Shopping local (here's a place a sometimes go to in UK) is a great way to support small businesses and keep your money in your community. However, some of the best deals are on products online. You can buy shea butter in stores or online on Amazon, eBay, and websites in general that sell beauty and natural ingredients and products. Email me if you can't find it in your area and I'll try to help out (at some point I'll add a list of places where you can buy it). The price range is anywhere from $10 – $50, depending on the product and the quantity.
Get to Know Me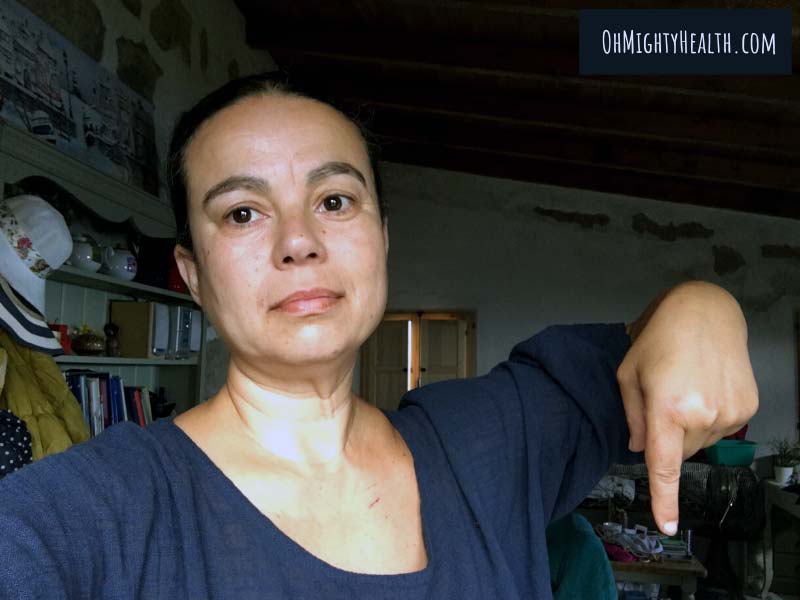 My name is Patri Hernandez and I'm an accredited skincare formulator since 2018. I teach people how to make their own skincare and I help them achieve naturally beautiful skin, healthy hair, and wellbeing. I promote my workshops and cosmetics at the local market here in the Canary Islands (Spain, Europe).
Get to know me. I'm a beautiful, fun, and loyal friend to have. I want you to get involved in the world of natural products and, ideally, you'll end up either making your own cosmetics or at least buying only natural ones! I've reviewed many of my articles where I discuss natural ingredients and I praise mother nature for the gifts it provides us with daily and the fact I can write about them on this website.
So, as you can see, I am not just another person who sits at home and writes about this stuff. I've been a natural cosmetics entrepreneur for a few years now, a cosmetic formulator, and a natural cosmetics teacher in my hometown. I'd love to hear from you so please send me an email with any queries and I will reply as soon as I can.
Welcome to the world of Shea butter!
Articles on Shea Butter